Britain's F1 stars of the future? Meet the 2017 BRDC Award finalists
The McLaren Autosport BRDC Award is the highest accolade for young British drivers - and now it's time to meet 2017's finalists.
By Matt Morlidge
Last Updated: 15/11/17 1:44pm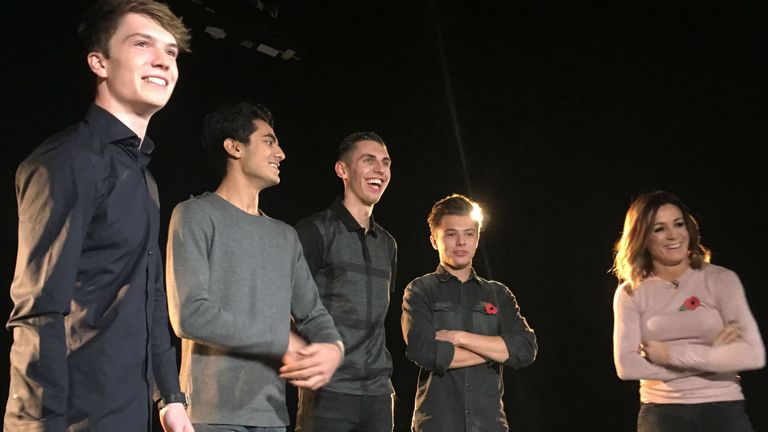 It's a coveted award that can provide a footstep into Formula 1, has helped launch the career of world champions and is the most prestigious accolade any junior British racing driver can hope to receive.
And now it's time to meet the four talented finalists for the 2017 McLaren Autosport BRDC Award: BRDC Formula 3 champion Enaam Ahmed, Formula Renault race winners Max Fewtrell and Dan Ticktum, and Euroformula Open champion Harrison Scott.
There's plenty at stake, with Dario Franchitti, Jenson Button, Anthony Davidson and Paul di Resta just a handful of the previous winners who have gone on to greater things, while current F1 hopefuls George Russell and Lando Norris have also collected the award in recent years.
Best of British still to come?
Rachel's Diary: Lessons for Brazil
The Formula 1 Gossip Column
This year's winner will also be offered a McLaren simulator role for 2018, as well as receive a test in a Formula 1 car.
The announcement will be made at the Autosport Awards on December 3, but the nominees have already been put through their paces. Following fitness and simulator work with McLaren, the youngsters took part in a two-day, closed-door Silverstone test (no phones allowed!) - in which they drove several cars including a Mercedes DTM and an F2.
And ahead of the big day next month, the four finalists joined Sky Sports F1 for a special sit-down interview as Natalie Pinkham got to know this latest batch of British talent that little bit better...
McLaren Autosport BRDC Award: Previous winners
| | |
| --- | --- |
| Year | Driver |
| 1989 | David Coulthard |
| 1990 | Gareth Rees |
| 1991 | Oliver Gavin |
| 1992 | Dario Franchitti |
| 1993 | Ralph Firman |
| 1994 | Jamie Davies |
| 1995 | Jonny Kane |
| 1996 | Darren Turner |
| 1997 | Andrew Kirkaldy |
| 1998 | Jenson Button |
| 1999 | Gary Paffett |
| 2000 | Anthony Davidson |
| 2001 | Steven Kane |
| 2002 | Jamie Green |
| 2003 | Alex Lloyd |
| 2004 | Paul di Resta |
| 2005 | Oliver Jarvis |
| 2006 | Oliver Turvey |
| 2007 | Stefan Wilson |
| 2008 | Alexander Sims |
| 2009 | Dean Smith |
| 2010 | Lewis Williamson |
| 2011 | Oliver Rowland |
| 2012 | Jake Dennis |
| 2013 | Matt Parry |
| 2014 | George Russell |
| 2015 | Will Palmer |
| 2016 | Lando Norris |
| Drivers in bold have raced in F1 | |
It's been nothing short of a sensational year for Enaam Ahmed. After making his debut in the BRDC British Formula 3 Championship last year, finishing fifth, the 17-year-old made the format his own in 2017 with a superb title victory.
Not only that, but by claiming a mammoth 13 race wins in the season with Carlin, Ahmed broke an F3 record previously held by childhood hero and F1 legend Ayrton Senna.
But while he credits Senna with igniting his interest as a youngster, Ahmed says he only started racing after a certain four-time world champion claimed his first crown.
"When Lewis Hamilton won the title in Brazil in 2008, I drove a go-kart for the first time the next day," Ahmed, the youngest of this year's finalists, said.
"My family have nothing to do with racing, but even though I didn't like the go-kart at first and I cried quite a few times - it was a lot of fun about a year later! I started doing it properly and here I am today."
And though Hamilton could be the only British driver on the F1 grid next season, Ahmed is adamant there is British talent coming through the ranks and says two previous winners of the BRDC Award are creating a pathway.
"Lando and George are the best drivers of their generation and Lando has set a new benchmark for other drivers, winning everything he's ever done," Ahmed added.
"I'm really happy with what he's done because it shows the capability of what young drivers can do - just like Max Verstappen. It gives me encouragement because it shows that the sky's the limit."
Harrison Scott is the most experienced of the four drivers and is the only 2017 finalist who has been nominated for the award before - but that isn't to say he isn't as hungry or determined to come out on top.
Scott was second in the British Formula Ford Championship in 2013 and 2014 before finishing fourth in Eurocup Formula Renault 2.0 last year, though his breakthrough campaign and first single-seater title came this season.
The 21-year-old truly obliterated the competition, winning 12 out of 14 races, to claim the Euroformula Open Championship with RP Motorsport, and now has another 2017 honour in his sights.
And Scott admits he is taking inspiration from a previous award winner, having karted with Russell for some time before the Mercedes junior made the step up. Russell made his F1 debut in practice with Force India at the Brazilian GP.
"It drives me on more," says Scott. "Having competed with George I know I'm on the same level as him and we both won at different times.
"Seeing him get there, I know with my ability I'll be able to get there, so it's just waiting for that right break."
Even at the age of 18, motorsport has been a roller-coaster ride of joyous ups and crushing downs for Dan Ticktum.
Back in 2015, the teenager was battling Lando Norris and Ricky Collard for the MSA Formula title when he drove into the latter under the Safety Car period at Silverstone - an incident which Sebastian Vettel's shunt into Hamilton at the 2017 Azerbaijan GP was compared to.
However, while Vettel was handed a 10-second stop-and-go penalty for his actions, Ticktum was harshly banned from racing for a whole year. But after missing all of 2016, it's safe to say Ticktum is now firmly back on track and flourishing - showing maturity beyond his years.
He was signed to the Red Bull junior programme at the back end of last year, and took three podiums and a victory in the Formula Renault 2.0 with Arden International this season. He also completed four races in GP3, and is gearing up for his first Macau Grand Prix.
"I hope I've managed to prove to people that I've worked hard to get back where I am and overcome the problems I had," Ticktum, now preparing for more simulator work with Red Bull, said.
"I have been to the awards quite a few times and I remember the nominees for the award walking up that stage and I wondered whether I would ever be in that position. I'm now here and it's surreal, it's very exciting.
"I'm very grateful to everyone who gave me the opportunity."
Max Fewtrell is another of the finalists who has recently been brought into an F1 junior programme, having been signed up to the Renault academy. And it's easy to see why.
Fewtrell took the British F4 championship in his first year last season, scoring 15 podiums with Carlin, and finished an impressive sixth in the 2017 Formula Renault 2.0 with Tech 1 - winning one race and claiming the top rookie award.
And now he's aiming to finish the year with a momentous award.
"George Russell is obviously testing now - Matt Parry, Will Palmer and all these big names, it's great to be recognised and associated with them for my career," he said.
But the hardest part of the process? That would be being kept away from phones and social media during the finalists' two-day Silverstone test!
"On the first day I got lost on the way to the track," he admits. "We were in a Silverstone prison and disconnected from the outside world!"