F1 Testing: Lewis Hamilton welcomes Ferrari surge
Ferrari set new test-best lap time on penultimate day of pre-season running while Mercedes focus on heavier-fuel runs
By Pete Gill in Barcelona
Last Updated: 13/12/18 4:12pm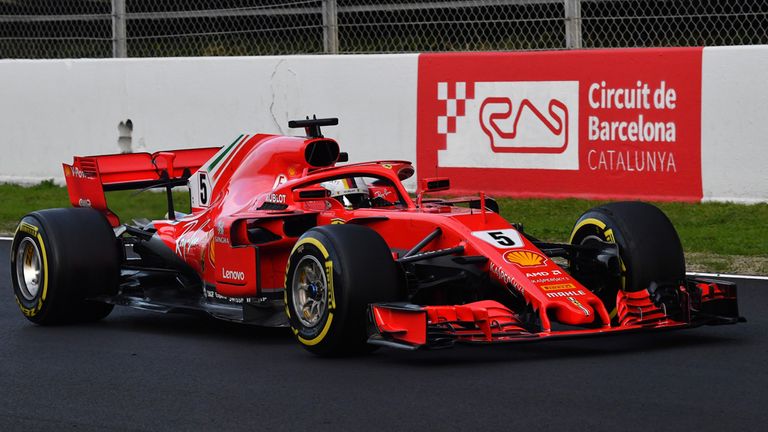 F1 world champion Lewis Hamilton has welcomed Ferrari setting the fastest time so far in winter testing amid rising expectation of a close fight between Mercedes and the Scuderia when the new season begins.
Vettel set a new test-best on Wednesday, the penultimate day of pre-season action at the Circuit de Catalunya, and also completed a full race simulation on a near-perfect day for the Scuderia.
"I hope it is a good time because it means they are strong and we have a race on our hands," said Hamilton.
"I can't wait for the first race to see where we all come out. We want people to be on the edge of their seats."
F1 Testing: Fastest laps so far
The fastest laps of winter testing per driver (up to Day Three, second test)
| | | | | |
| --- | --- | --- | --- | --- |
| Driver | Team | Test Day | Tyre | Lap Time |
| Sebastian Vettel | Ferrari | Seven | Hypersofts | 1:17.182 |
| Daniel Ricciardo | Red Bull | Six | Hypersofts | 1:18.047 |
| Kevin Magnussen | Haas | Seven | Supersofts | 1:18.360 |
| Pierre Gasly | Toro Rosso | Seven | Hypersofts | 1:18.363 |
| Lewis Hamilton | Mercedes | Six | Ultrasofts | 1.18.400 |
| Valtteri Bottas | Mercedes | Six | Ultrasofts | 1:18.560 |
Vettel's time of 1:17.182 was a second quicker than Red Bull had produced on the same compound on Day Two, although the cooler conditions aided lap times on Thursday.
"We've made good progress in understanding the car," said Vettel. "For now, the important thing is that we know our car is working in the way we want and the way we expect. But it's the wrong time to draw any conclusions."
While Mercedes remain adamant Red Bull are contenders, it was Ferrari's form which stole the limelight on Day Three in Barcelona.
Hamilton completed the majority of his running on the slower medium tyres, but Vettel also produced a lap on ultrasofts that was four tenths ahead of the best Mercedes have so produced in winter testing on the ultras.
"We haven't been on low fuel yet so l have no idea where the car can go yet," said Hamilton.
Hamilton has never made any secret of his general indifference towards testing.
The Mercedes driver claimed ignorance of Ferrari's benchmark time, while his preparations for his run on Thursday included a game of tennis against his father in the morning and Hamilton admitted he kept himself occupied in the car whenever it returned to Mercedes' garage in the afternoon by sending emails on his phone.
"Then they say 'go' and l give the phone back and l go and do my laps," said Hamilton. "Then l come back in and do the same!"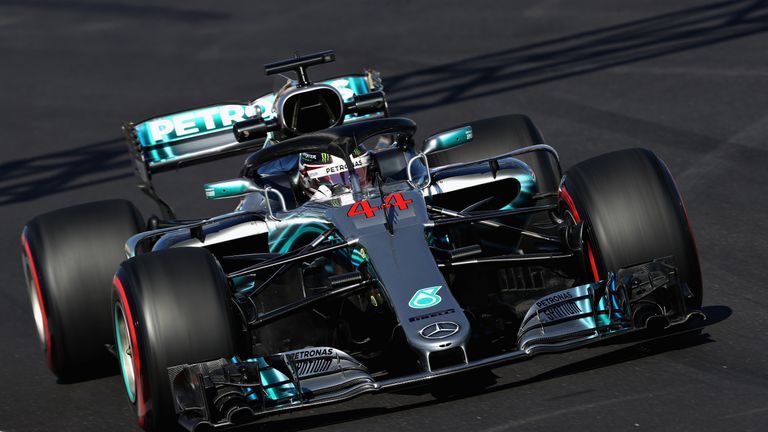 Hamilton: New Mercedes is an improvement
Mercedes are still yet to fully show their hand with just one day of testing remaining but the world champions have run reliably throughout and Hamilton's lap of 1:18.945 on Wednesday on the medium compound may be, when tyre corrected, the fastest time of all so far.
For 2018, Mercedes have sought to tame the 'diva' characteristics of last year's car while building on its strengths. And Hamilton has been happy with the first impressions of his new car.
"We are just getting to know each other so I can't really call her a diva," he joked. "But l am enjoying driving the car. It is an improvement. Last year's car was great but this car feels better."
"Where we are compared to the rest, I don't know. But l feel strong right now."