F1 Testing: McLaren savour late 'boost' as Fernando Alonso shines
Alonso finishes as third fastest driver of the winter; Woking team insist no cause for alarm despite series of Renault engine setbacks
By Matt Morlidge, James Galloway and Pete Gill
Last Updated: 13/12/18 4:11pm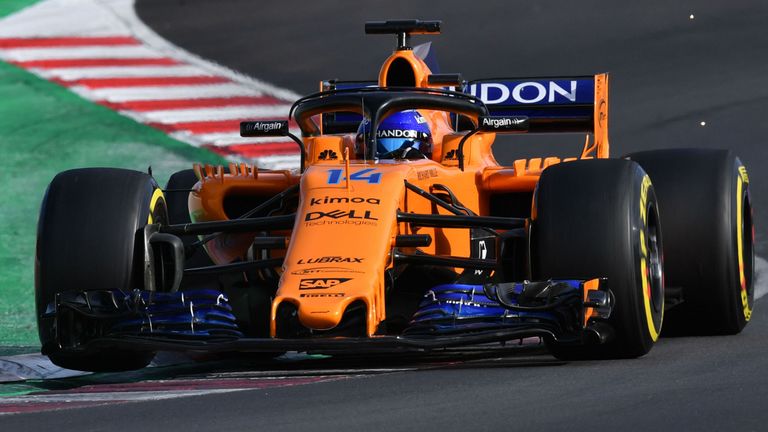 McLaren were delighted to end F1 testing on a high after Fernando Alonso unexpectedly set the third-fastest time of the winter, with Eric Boullier now confident the team are fully prepared for the 2018 season.
The former world champions were plagued by pre-season unreliability and finished at the foot of the mileage charts, with their second week of running with the MCL33 compromised by five separate on-track breakdowns in the space of four days.
F1 Testing: What's the pecking order?
The fastest laps of 2018 testing
However, Alonso recovered from a final-day engine setback to post a 1:17.784 in the final half-hour of track action, just half a second adrift of Kimi Raikkonen's leading time and Ferrari team-mate Sebastian Vettel's testing benchmark.
Five fastest drivers of winter testing
| | | | | |
| --- | --- | --- | --- | --- |
| Driver | Team | Test Day | Tyre | Lap Time |
| Sebastian Vettel | Ferrari | Seven | Hypersofts | 1:17.182 |
| Kimi Raikkonen | Ferrari | Eight | Hypersofts | 1:17.221 |
| Fernando Alonso | McLaren | Eight | Hypersofts | 1:17.784 |
| Daniel Ricciardo | Red Bull | Six | Hypersofts | 1:18.047 |
| Carlos Sainz | Renault | Eight | Hypersofts | 1:18.092 |
"When Fernando crossed the line he was happy on the radio!" racing director Boullier admitted to Sky Sports News. "He's in a good mood.
"That's the boost we needed before we go racing."
After another miserable morning on Day Four, Boullier had earlier strongly denied the succession of problems and glitches meant the Woking team had lost their design touch.
"We are trying to get McLaren back to where it should be," he said. "Like anything, you don't do it in one day.
"There will be a few glitches but we haven't lost our ability to design fast cars."
The Frenchman argued that the relatively late decision to switch to Renault power for 2018 had played a role in the problems, but reiterated that they were only "minor issues" and the team would soon "get back to normal very quickly".
"We want to be competitive so we are pushing our boundaries to the limit," the Frenchman told Sky Sports News after confirming Alonso's early stoppage was "related" to the oil leak from Wednesday.
"With the engine change last year maybe it has stressed and stretched too much a bit our delivery time so that's why we had these couple of minor issues. But I think we're going to fix it and if we can be competitive we're going to have what we wanted."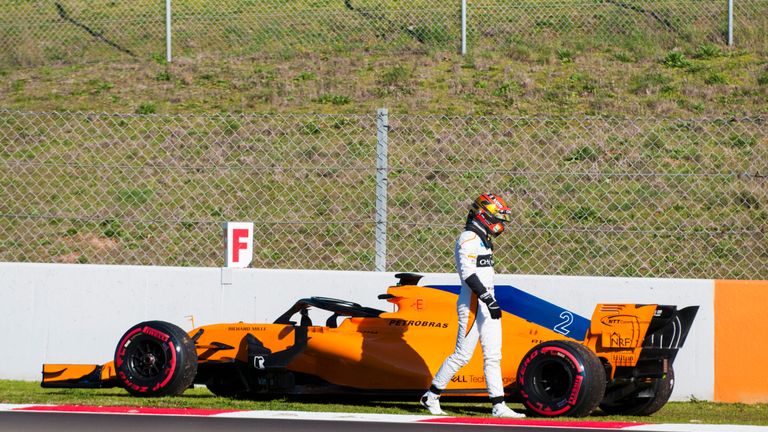 Brushing aside a question on whether McLaren were feeling the pressure ahead of their first season with Renault power, Boullier also defended his team after a calamitous practice pit-stop on Thursday sparked fresh concerns about their readiness for the new campaign.
"We did eight live pit-stops yesterday," said Boullier. "Seven were good, one was wrong. And this is the only one you refer to."
McLaren in the pack for Melbourne
While the eight days of pre-season has provided few definitive answers about the initial 2018 pecking order, one consensus is that the leading three teams of recent seasons - Mercedes, Ferrari and Red Bull - will go to Melbourne clear of the field.
McLaren's ultimate ambition is to challenge their supremacy, but initially they expected to be battling in an increasingly-competitive midfield which is set to feature engine providers Renault.
"We are trying to guess where we are. It is more complex than ever," he said.
"It looks like there are some teams which have progressed well, like Haas and Renault. The fight at the front will still be between Mercedes, Red Bull and Ferrari.
"The pack has got closer and we believe we belong in the middle of that one."
However, despite a relative lack of mileage, McLaren are not envisaging a repeat of their nightmare start to recent campaigns with Honda.
"We will see in Australia. But I'm quite confident we can be competitive," predicted Boullier.