Ferrari's smoking 2018 car: What's it all about and is it a problem?
Ted Kravitz explains unusual SF71-H trait and what it means
Last Updated: 15/03/18 10:48am
There was an unusual phenomenon during winter testing - the smoking Ferrari SF71-H.
Every time the Scuderia's new car left the team's garage it trailed a plume of oily smoke, which wafted across the Circuit de Catalunya pit lane.
So what exactly was going on - and why?
Sky F1's Ted Kravitz explains:
"Each of the Ferrari-engined cars - so that's the factory Ferrari, the Haas and the Sauber - has a letterbox shaped rectangular vent directly underneath the rain light housed within the rear crash structure.
"It's there to accommodate an oil breather.
"Breathers are essential parts of any power unit on every car, but this year they've been subject to a new rule which says they must vent to the outside and cannot be routed back into the engine. This suggests teams were doing that previously which could have given them a power boost - but anyway, what is unusual, is that these Ferrari-engined cars are spewing out more oil than Renault or Mercedes-engined cars.
"There's a fine mist of oil coming out the Ferrari, Haas and Sauber's vents when out on track or even just when they are going down the pitlane.
"You could notice it, for instance, on the test two, day one edition of Ted's Notebook.
"It was abundantly clear whenever Sebastian Vettel fired up in the garage because a huge plume spilled out of the garage.
WATCH: Ted's Testing Verdict
What's the F1 2018 pecking order?
"Asking around, it seems to be that the Ferrari engine simply uses an awful lot more oil than its rivals.
"It is, though, a different thing to oil burning which is now limited to 1.8 litres per race. That's oil that gets consumed within the combustion chamber. This is just used engine oil - a lot of it!
"The phenomenon of the smokin' Ferraris will be one to watch out for when racing starts."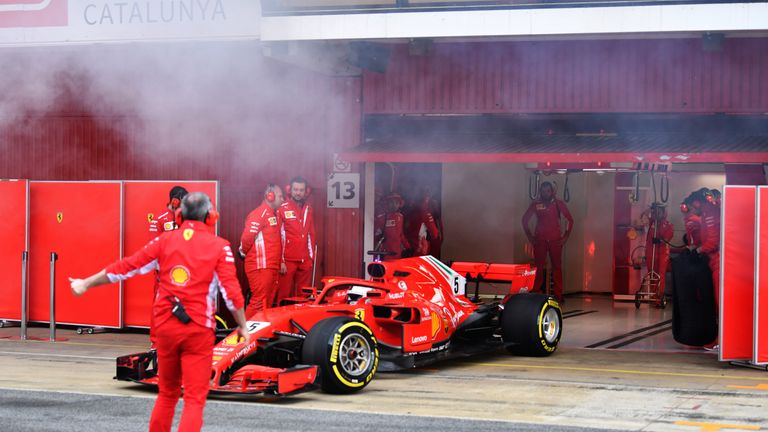 And something to watch out for if you're a TV reporter too!
Watch the video at the top of the page to see how the smoking Ferrari even caused trouble for Sky in Italy's Mara Sangiorgio during a piece to camera in the pit lane.
Talk about being smoked out…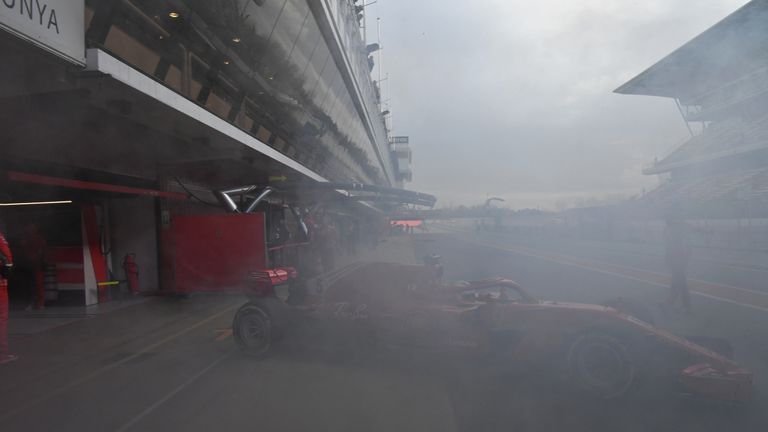 Sky Sports F1 is the only place to watch every Formula 1 Grand Prix, qualifying and practice session live in 2018. Get Sky Sports F1.