Australian GP: Daniel Ricciardo slams stewards over grid penalty
Three-place penalty for home driver for red-flag infringement; Red Bull chief Horner says: "I've never seen him that angry before"
By James Galloway in Melbourne
Last Updated: 13/12/18 3:06pm
Daniel Ricciardo has angrily criticised stewards for failing to use "common sense" in issuing him a three-place grid penalty for his home Australian GP.
Australia's only F1 driver fell foul of the new-for-2018 regulation which governs how fast drivers can go on track when the red flag is thrown.
Although stewards found the Red Bull driver "slowed significantly" and "proceeded with due care" when the red flag was shown during Practice Two for a loose writing loom on the pitstraight, Ricciardo still did not stay above the mandatory minimum time set by the FIA in the final two mini sectors of the lap.
Find out more about Sky Sports F1
They imposed a three-place grid penalty, meaning he can start Sunday's race no higher than fourth.
Usually one of the sport's most genial figures, Ricciardo's frustration was palpable when he arrived in the paddock on Saturday morning.
"I can agree with everyone, there are other penalties they could have used," he told Sky Sports F1.
"They could have given a reprimand, they could have given something [else]. To give me a grid penalty before the season has started is ****house.
"I slowed down. I knew there was a red flag, I didn't go slow enough. When I went in there [the stewards' office] I said I did break that rule but there are guidelines and one of them is a grid-place penalty, but as well you've got to have a bit of common sense."
Sky F1's Ted Kravitz was among those to criticise the stewards' verdict, tweeting: "Talk about not seeing the bigger picture: The red flag was for a loose wire on the startline, not a crash, and Ricciardo wasn't going to drive over it anyway as was coming into pits. Disproportionate 3 place grid penalty that could take home driver out of contention for race win."
Ricciardo, whose Red Bull team showed strong pace in practice and could be in the fight for the front two rows in qualifying, said he was especially frustrated by the severity of the punishment given the nature of the red flag.
"There was no incident, I still slowed down," he added.
"I wasn't speeding, I wasn't driving in danger and I wasn't trying to achieve anything from it. It was just an honest mistake.
"Does that really rob me of a front-row start? They could give me a reprimand, give me a fine for all I care, but don't rob me of a front-row start."
Red Bull chief Christian Horner told Sky F1: "It's tremendously frustrating. He's marginally committed the offence but as soon as it's triggered and goes to the stewards, the stewards have nowhere to go. I don't think they wanted to give him the penalty they had to.
"It's hard enough for us to understand let alone explain it to the viewers and the fans. You'd have thought a fine or slap on the wrist could have been more appropriate."
Horner added: "I've never seen him that angry before."
Oz GP: Mercedes ahead but not by much
Practice Three report
The F1 Friday Practice digest
The penalty is a heavy blow to both Ricciardo and Red Bull, who have pushed Mercedes close in practice at Albert Park.
Ricciardo was only seventh quickest in Practice Two but was on course to set a time good enough for the top five before the same red flag intervened - while he was sixth in FP3.
No home driver has ever recorded a pole position or podium finish in the 33-year history of the Australian GP, although Ricciardo did climb the rostrum in second place in 2014 only to be disqualified for a fuel flow technicality on his Red Bull car.
The 28-year-old endured a nightmare 2017 event in Melbourne when he crashed in qualifying and then retired from the race before half distance with engine problems.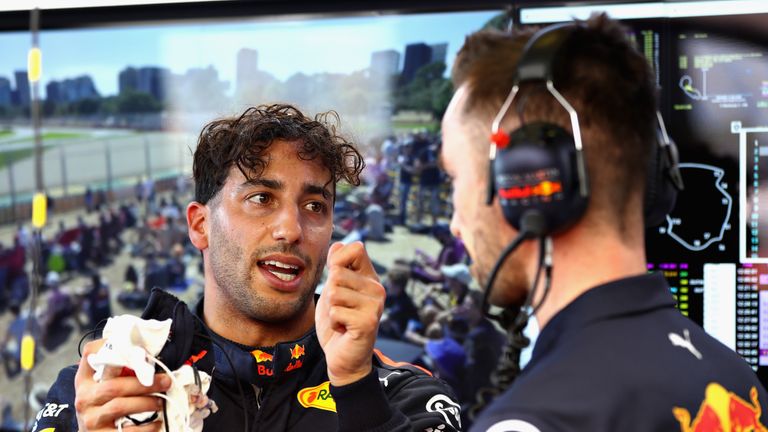 The full FIA reasoning for Ricciardo's penalty
'The Stewards examined telemetry, video, car position data evidence and hard from Daniel Ricciardo, the driver of car 3 and the team representative.
'The Stewards reviewed the data and video and found that Ricciardo did in fact fail to stay above the minimum time set by the FIA ECU in the penultimate and final mini marshalling sectors. The Stewards also found that Ricciardo slowed by as much as 175kmph from his fast times at Turn 12 and was consistently and significantly slower in the final three turns, indicating that he was fully complying with the requirements of Appendix H of the International Sporting Code. However, he admitted an error in reading his dash and was slightly below the minimum time.
'As the regulation states, Article. 31.6 was added this year to ensure that drivers reduce speed sufficiently during a red flag. Breach of this regulation is seen to be an extremely serious matter. However, in this case, the Stewards thoroughly reviewed the breach and found that the driver slowed significantly, such that no danger was created, and that the driver proceeded with due care. The Stewards therefore are imposing a lesser penalty than usual, and impose a three grid place penalty and two penalty points.'