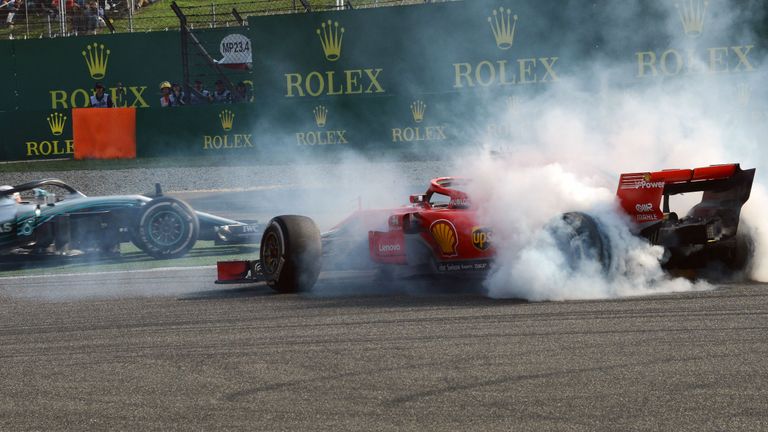 Max Verstappen and Sebastian Vettel were involved in a dramatic collision at the Chinese GP - with the Red Bull driver penalised for his actions.
Vettel was in third but had Verstappen right on his tail on fresh soft tyres in a frantic end to the race, but the Dutchman attempted an extremely optimistic overtake at the hairpin and failed, ramming into the Ferrari.
Both cars span off, with Verstappen slipping down to fifth and Vettel, championship leader and winner of the 2018's first two races, back to seventh.
Charging Ricciardo wins thriller
Chinese GP: How the race unfolded
"I don't need to say anything," Vettel said over team radio, who was later passed by Fernando Alonso to drop more points.
Verstappen made progress again, overtaking Lewis Hamilton, but was then handed a 10-second penalty by race stewards and finished fifth.
The Dutch youngster late apologised in person to Vettel and to his Red Bull team on social media.
Verstappen accepts blame for Vettel collision
Daniel Ricciardo, meanwhile, made the most of the spin to pass his Red Bull team-mate, and went on to take a stunning race victory after overtaking Hamilton, Kimi Raikkonen and Valtteri Bottas.