The Formula 1 Gossip column
The latest gossip, social media and speculation from around F1!
Last Updated: 26/06/19 10:17am
Hamilton backs Wolff for top F1 job, but...
Lewis Hamilton has hailed Toto Wolff as the best manager in F1 - but would he be the ideal candidate to oversee the sport? Hamilton discusses the rumours...
"I don't believe there's a better manager than Toto within the whole of Formula 1.
"However, sitting back as a fan when you sit in the room with people who ultimately make decisions, we as humans are, and this is my opinion, we can be biased.
"We've got Jean Todt who, and I know Jean's level, but the fact that he's been with the red team for so long, surely when he wakes up and there's a red t-shirt and a silver t-shirt, he probably goes for a red one. You know what I mean? Just like when I see 44 and I see 6, I will go for 44.
"Toto has been Mercedes through and through for such a long period of time, I don't know if there's anything in that… but if it's a choice of management, I think he would be the best.
"I think the best thing is someone outside who's just neutral… if there could be such a thing."
Has Hamilton 'broken' Bottas?
Lewis Hamilton is glad he is starting to get the better of Mercedes team-mate Valtteri Bottas after "everyone was hyping him up" earlier this season.
Hamilton trailed Bottas in the championship earlier this year, but has won the last four races.
"I definitely didn't expect to have six wins at this point and it doesn't feel real," he told reporters in France.
"Particularly as you see that Valtteri has been quick, he's been punching in great qualifying sessions and even in race pace in others he was strong. Everyone was hyping him up.
"But I just had to remain centred and continue to believe that I will figure it out and gain ground. You're now seeing that."
Mercedes boss Toto Wolff is confident Bottas can bounce back, adding: "I hope [Hamilton hasn't broken him].
"We do everything in order to make sure that Valtteri is in a good place. I think he knows that the team is absolutely neutral and we're trying to give them both equal material and equal opportunity.
"With a decent start in some of the last races he could have won two of them, and he knows that. I'm optimistic that Valtteri just needs one good weekend in order to come closer again to Lewis and not let him run away with the championship."
Mercedes aim to make Austrian amends
They head for the Styrian mountains aiming to match the F1 record of 11 victories in a row, but Mercedes are wary of over-confidence after a rare double DNF with unreliability here last year and the forecast of very high temperatures for this weekend.
"This year, our race finishing record has been good, but it would be complacent to ignore the fact that for two weekends in a row now, our mechanics had to perform the equivalent of "open-heart surgery" on our cars," said Toto Wolff. "We've faced a number of different issues on different components, each of which could have easily caused us to retire, so we need to get on top of those challenges as quickly as possible.
"The forecast for Austria predicts temperatures of 30 degrees Celsius and more - combined with the reduced air density owing to the track's location at altitude, this means that cooling could become a real challenge in Spielberg. Add to that the short lap and the close gaps on that circuit and our direction is clear: we need to keep working diligently, stay humble and give it everything to do a better job than we managed 12 months ago."
The unseen overtake of the French GP
Unseen no more...
F1 stars teeing off
Carlos Sainz, Ross Brawn, Christian Horner and Sky F1's Damon Hill are among the big names signed up to a celebrity charity golf tournament ahead of the US GP in October.
Austin's Omni Barton Creek Canyons Course will play host to the 'Grid to Green' event in support of the Susan G. Komen breast cancer organisation.
Renault praise Hulkenberg, but looking at F1 2020 'options'
Renault boss Cyril Abiteboul has praised Nico Hulkenberg since joining the team in 2017 but admits both the team and driver are looking at their "options" for next season.
While Daniel Ricciardo is signed up for two years at Renault, Hulkenberg's contract expires at the end of F1 2019.
Abiteboul said that the team do have an option to extend that deal, but Renault have also been linked with Esteban Ocon - who they nearly signed instead of Ricciardo last year.
"Maybe that we continue our journey with Nico," he said.
"Frankly, Nico has delivered for the team, clearly, and if you look at where we were when Nico joined us and where we are today, it's crazy and the change to the team, to the buzz."
But he continued: "So I think we need to give credit to that but also we need to look at the options, like everyone is doing, like I'm sure Nico is doing.
"Things are open for him and for us but there is also an option in place so that we can possibly continue our journey together."
Abiteboul added that they would probably start negotiations "after the summer break".
Verstappen targets Le Mans with father Jos
Max Verstappen says he wants to compete in the Le Mans 24 hours one day, and would like to do so with his father Jos.
Jos Verstappen has competed in the prestigious event twice before, and Verstappen admitted: "My desire is to do Le Mans one day, when that happens I don't know.
"I'm talking to my Dad as well so he needs to train a bit! If I want to do Le Mans, I would like to do it with my Dad.
"I've watched it a lot and I've been there when my Dad was driving. I think it's a very cool race."
McLaren add Sirotkin as F1 reserve
McLaren have added a reserve driver with F1 experience to their 2019 stable after confirming that Sergey Sirotkin will be their official back-up - though the Russian still keeps his ties with Renault.
Sirotkin, who was on the F1 grid with Williams last season, remains a Renault reserve but McLaren 'can call upon his services when needed'.
McLaren also have F2 frontrunner Sergio Sette Camara on their books.
Leclerc targets qualifying improvement
Charles Leclerc admits he doesn't expect Ferrari's updated front wing to have a major impact in France this weekend - but he is determined to improve on his record in qualifying.
Leclerc has beaten team-mate Sebastian Vettel in qualifying on just one occasion this season when he claimed pole position in Bahrain.
"I made some mistakes in qualifying that I need to work on - that's my main target at the moment," he said. "During the race [in Canada] my performance was very strong on my side, so I was very happy with it.
"In qualifying unfortunately I did some mistakes, and I think I was lucky to start from third position. I need to learn from this and try to get better in this particular session, and then the results will come together."
Ferrari have made some amendments ahead of arriving at the Circuit Paul Ricard, and the Monegasque driver added: "Hopefully it suits my car well.
"We have some new parts on the car this weekend, so hopefully it will work well for this track."
"I don't think we expect significant changes on this track, but we should see some results, and hopefully it'll be better. But we don't expect much improvement on this track, particularly."
Hulkenberg: Human error held Renault back
Nico Hulkenberg says he has always felt his Renault car has been competitive, but that "human error" caused problems earlier in the season.
Renault sat eighth in the Constructors' standings before the Canadian Grand Prix, but they now sit two points behind McLaren in the battle for fourth place after Daniel Ricciardo finished sixth with Hulkenberg seventh in Montreal.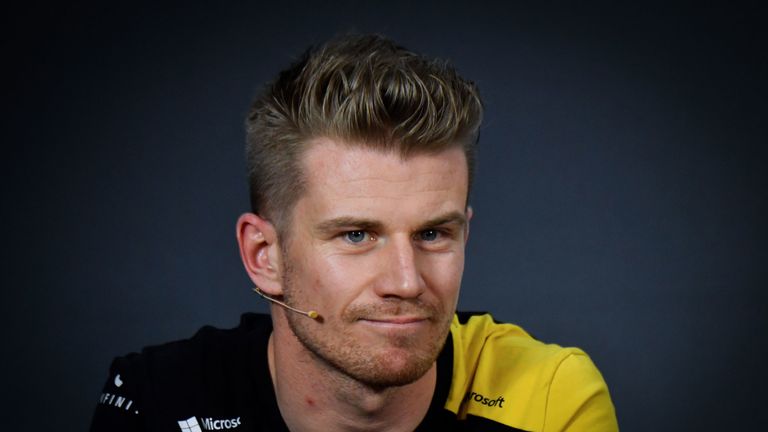 Speaking at the media call ahead of the French GP, Hulkenberg said: "It seems there has been progress when you look at the results prior to Canada, but I think the car was somehow a victim of circumstances.
"I think the race pace has always been pretty good, but for various reasons, often we were compromised from the starting position, coming from behind it was difficult to drive through the midfield when there are DRS trains, when cars are difficult to race. I've always felt the car has been pretty competitive, but I feel we've just had a lot of issues and human errors.
"That happened in the first five or six weekends of the year and we paid that price. Montreal was one of the first weekends when we stayed clear, made no mistakes, and did a solid job. Straight away we got a good reward for it."
Verstappen on Honda upgrade
Max Verstappen will hope to benefit from Honda introducing a more powerful engine at this weekend's French GP and the Red Bull driver believes the move represents another step in the right direction.
With a power increase expected over the version raced in Canada, the Dutchman said: "It's, again, a little step forward.
"At the moment it's a bit difficult to say how much because we have to experience that on track.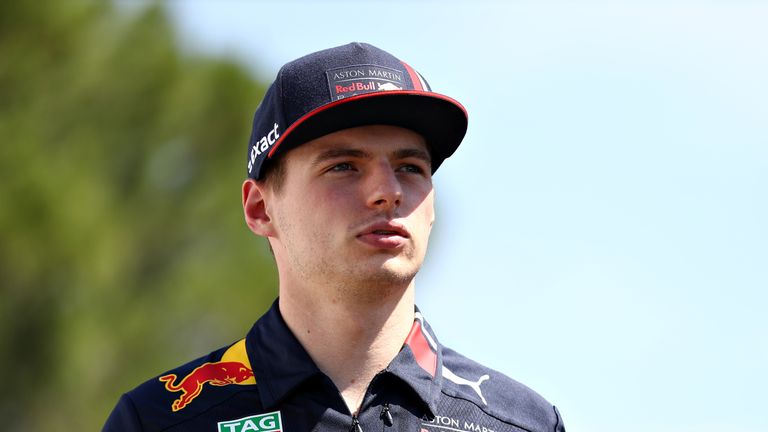 "It's not easy [to close to the front], they are also bringing stuff. Like I said many times, we just have to make sure we bring bigger updates to the car, but I'm also very relaxed."
Speaking at Thursday's news conference, Verstappen's team-mate Pierre Gasly added: "We have a new spec, a third-spec Honda. The last we introduced was more about durability, while this one will be a bit more focused on the performance, but we don't expect a massive gain from it.
"I think the overall performance will be slightly increased, but it's not it's going to change massively or that we're going to catch the teams ahead of us massively.
"Let's see what we can do over the weekend, and it should give us a bit more in the race, but it's not going to make a massive difference in qualifying.
"I feel this is a track that suits our overall package a little bit more than Canada. You still have a lot of long straights that are a bit tricky for us, even though we're making progress, but we should be a little bit more competitive than we were in Canada."
Alonso: I'd return to F1 for 'winning car'
Fernando Alonso has reaffirmed that he is "open" to a return to Formula 1 but would only do so if he had a chance of winning a third world championship.
Alonso, who won his second Le Mans title on Sunday, has already claimed that he won't be competing in WEC or IndyCar next year and admits he hasn't closed the door on F1.
"In the future I am open to interesting proposals," Alonso told AS. "If I decide to return to Formula 1, it is only if there is a real possibility of winning the World Championship.
"I am not interested in projects that start from scratch, I want a winning car immediately."
He added: "If Formula 1 appears again in an attractive way, I have no doubt: I would go back. "
Red Bull spice up their life!
If you ever wanted to see Christian Horner, Max Verstappen and Helmut Marko in Spice Girls t-shirts, now's your chance. The Red Bull trio went to watch the girl band at Wembley at the weekend, with Horner's other half Geri part of the reunion tour.
That's one way to spend your week away from F1!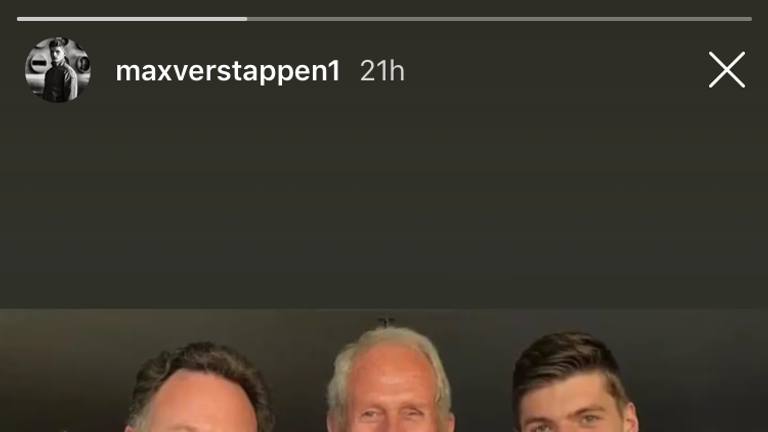 Hamilton congratulates Raptors
From a five-time champion to first-time champions, Lewis Hamilton has sent his congratulations to the Toronto Raptors after their stunning maiden NBA championship triumph.
Huge congrats to the @raptors on winning their first @NBA title. What a fight it was, one of the most exciting seasons. Proud to see people making history. Enjoy this moment 🙌🏾

— Lewis Hamilton (@LewisHamilton) June 14, 2019
Click here for the all the NBA news and reaction
Getting to know Alex Albon and Thailand's F1 history...
Ferrari 'forgot' to tell Leclerc about penalty
Mattia Binotto, the Scuderia's team boss, has revealed that Charles Leclerc was not aware of team-mate Sebastian Vettel's time penalty in the closing stages of the Canadian GP - because Ferrari forgot to tell him!
Leclerc was running third and crossed the line six seconds behind Vettel before the penalty was applied, which dropped the German to second behind Lewis Hamilton.
"It has been a mistake from our side," said Binotto. "We were very busy on the pit wall and simply we forgot. We should have done it but we didn't."
Hamilton offered Vettel a lift...
Rosberg: Vettel deserved penalty
It's a topic that has certainly split the F1 paddock and Sky F1's Nico Rosberg, the 2016 world champion, says Sebastian Vettel deserved the penalty that cost him victory in the Canadian GP.
Brundle on penalty
Button on penalty
"The rule says when you go off the track, you need to rejoin safely," Rosberg said on his YouTube channel.
"It's very, very clear that unfortunately it was an unsafe return to the track. That is the rule... a penalty is deserved in that case. Absolutely a fully-deserved penalty."
He added: "I wish I could say how awesome Sebastian is, like I did after qualifying but I can't," Rosberg added.
"Instead of complaining on the radio when the decision is made, which he knows he can't influence anymore anyway, he just keeps complaining and complaining rather than focusing on the driving and trying to get those five seconds out.
"So that was a weakness. He has such strong self-belief, and always thinks he is in the right and then always wants to blame other people and just loses focus in those moments and doesn't make the most of it. So that was not great to see from him."
Mercedes against early parc ferme
Toto Wolff believes proposals being discussed for 2021 to stop teams changing their cars from Friday onwards are not what the sport needs.
"We are not keen on the parc ferme format from Friday to Sunday," said Wolff, Mercedes' team boss. "There is no motor racing formula out there that doesn't allow the cars to be touched over the weekend and I don't think we should start with Formula 1, the pinnacle of motor racing.
"You open up a can of worms with penalties because cars will end up in the wall and they will need to rebuilt and I think from the sheer idea of how we can add more variability, more unpredictability, have more cars braking down, I think we will achieve the contrary. We will spend more time and resource in the virtual world, runs cars harder on dynos to make them last, because we know we can't take them apart over three days, so I don't think this is something we should touch."
Toro Rosso's Franz Tost agreed: "The parc ferme story is absolutely secondary. OK, it's being discussed now among the teams but I don't think these changes are important for the topics I just mentioned before. I think we don't need to change anything in this way."
Sky Sports F1 is the home of live and exclusive F1. Find out more here to watch the 2019 season live