Hamilton - Work still to do
Chinese GP winner Lewis Hamilton says McLaren still have work to do in order to make up ground to F1 pacesetters Red Bull.
Last Updated: 18/04/11 3:18pm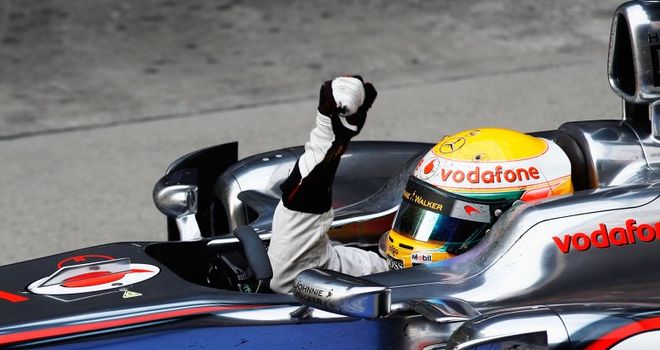 Lewis Hamilton may have won the Chinese Grand Prix but the McLaren driver says they still have work to do in order to make up ground to Formula One pacesetters Red Bull.
Hamilton took the chequered flag for the first time in 2011 on Sunday to break the stranglehold of world champion Sebastian Vettel, who won the opening races in Australia and Malaysia.
Vettel was leading in Shanghai until Hamilton passed him with four laps to go but the Briton said the win was more down to McLaren making the right strategy call.
Hamilton was able to close the gap to Vettel as he had fresher tyres owing to a decision to stop three times rather than the two stops made by his Red Bull rival.
The 2008 world champion also had an advantage in the race after sacrificing a qualifying run on Saturday in order to save his tyre allocation.
However, Vettel was still seven-tenths of a second faster than the field in taking pole position, with Hamilton hopeful McLaren can claw back more pace after the problems they experienced in pre-season testing.
"Looking back at these three flyaways, it still feels absolutely amazing to have a car beneath us that can compete," he said.
"We've still got some way to go to close the gap to the Red Bulls, but we had the better strategy and were able to execute it really well.
"The team will keep on pushing as hard as ever as we head into the European season."
Challenge
The 26-year-old also said his victory at the Shanghai International Circuit ranks among the top three of his career.
"It's up there with Silverstone and Monaco in 2008," Hamilton said. "I exist and I live and I breathe to win. I love winning and I just couldn't be happier.
"I'm struggling for words - that really was one of my best races."
Besides Vettel, Hamilton had to overtake team-mate and early leader Jenson Button and also battled with the Ferraris of Fernando Alonso and Felipe Massa, and the Mercedes of Nico Rosberg.
His performance typified an extremely close, incident-packed race that saw the top six covered by a mere 15 seconds at the chequered flag.
"It's rare to have battles like the ones we saw," Hamilton added. "You really had to think about the situation, and I loved that challenge, but having to overtake people made things so much sweeter."