Lewis Hamilton admits Ferrari will have strongest line-up after hiring Kimi Raikkonen
Lewis still hopeful of multiple victories before close of 2013
By Pete Gill
Last Updated: 19/09/13 3:56pm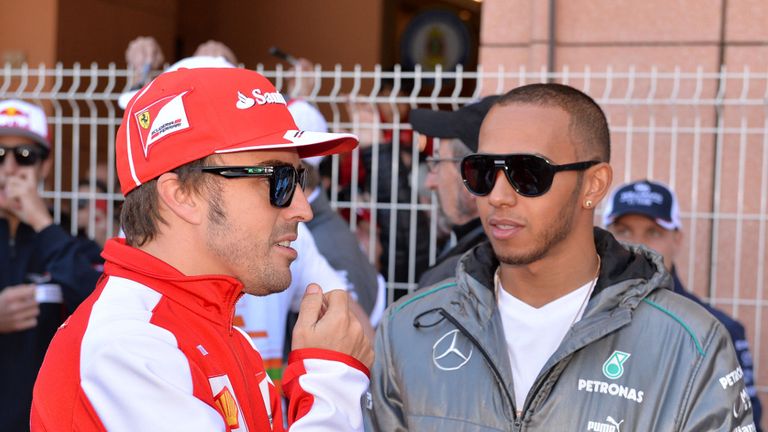 While Ferrari's decision to rehire Raikkonen in the place of Felipe Massa is widely considered to be brave but dangerous, there is no denying the team will start 2014 with a formidable driver line-up as they prepare to field two World Champions in partnership for the first time in sixty years.
Hamilton knows better than most about the risks involved when pairing two number one drivers after clashing to spectacularly mutually-destructive effect with Alonso at McLaren in 2007 to allow Raikkonen to snatch the World Championship.
If Ferrari are unable to maintain harmony between Raikkonen and Alonso then, seven years after his solitary season alongside the Spaniard ended in bitter acrimony and a swift divorce, Hamilton may well prove the chief beneficiary. Yet, for the time being, the Mercedes driver is more vexed by the prospect of the Alonso-Raikkonen union downgrading his partnership with Nico Rosberg to number two in the recognised pecking order.
"Kimi will give him [Alonso] a good run for his money, I'm sure," Hamilton told Sky Sports News. "It will be an incredibly strong line-up. They talk about me and Nico being the strongest package, but I think they will now have it.
"We already know that this [an all-World Champion line-up] isn't their normal way of running things, but Stefano [Domenicali, the Ferrari team boss] is a great guy and I'm sure he will manage them very well."
It was exactly a year ago that Hamilton called time on his three-year partnership with Jenson Button by opting to leave McLaren for Mercedes, a decision that was made in the immediate aftermath of the Englishman retiring from the lead of the Singapore GP due to a technical malfunction on his MP4-27.
Speculation has persisted ever since that the crushing disappointment was pivotal in Hamilton deciding to leave the team which had nurtured him throughout his motor-racing career, but the 28-year-old insists that wasn't the case.
"I'd already forgotten about it the next day. It had no bearing on my decision," he insisted.
"Generally, if you make the mistake and you hit the wall or something then, jeez, it takes days to get over that. But when there's nothing you can do about it, especially, when you've been leading, you get over it very quickly."
Hamilton is one of only three drivers to have previously won the Singapore GP and, even if the World Championship is "over the hill" with leader Sebastian Vettel a speck on the horizon, the Briton has high hopes of landing his second victory in Mercedes colours this weekend.
"We should be quick this week and if we are not then I will be seriously surprised. With a street circuit and high downforce, we should be pretty good," he said.
"I'm just trying to get as many wins as I can and see how it goes. We've had a great year so far, and I would love to win [the World Championship], but what will be will be. I'm just going to push as hard as I can.
"A lot of the stuff we are developing on this car will go on next year's car and I will also get a much better feel of what next year's car will be like. And hopefully next year's car will suit me more."