Felipe Massa has a number of options for 2014, but does not expect a deal soon
Brazilian's eight-year stint at Ferrari will come to an end this season
By William Esler
Last Updated: 22/09/13 7:25pm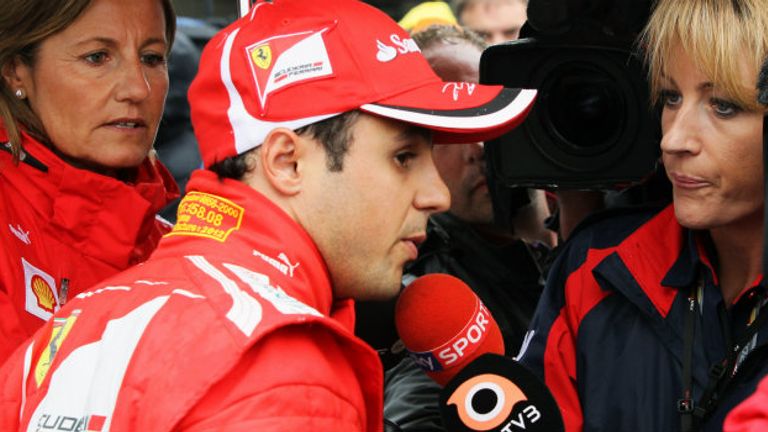 The Brazilian's eight-year stint at Ferrari will come to an end when he is replaced by Kimi Raikkonen next year and he has been heavily linked with the spot being vacated by the Finn at Lotus.
Massa's manager Nicolas Todt was seen having a meeting with the Enstone-based outfit's Team Principal Eric Boullier at Singapore, but the 32-year-old says it is just one of a number of options being considered.
"Well he [Todt] is speaking with a few people and we will see what is going to be the best possibility for me," he told Sky Sports F1.
"I don't think things are going to be decided so soon, but let's see how it is going to be and I hope I can choose the right the right direction."
However, Sky Sports F1 pundit Johnny Herbert believes his former team will need to sign a replacement for Raikkonen soon or risk their preferred targets being snapped up by rivals.
"You would think for Lotus that has to happen sooner rather than later because they need to get the right driver before someone else grabs him," the three-time race winner said.
"So the sooner they make their choice, the better - I would go for Nico Hulkenberg because he is younger, he has that fire in his belly to really take it to the guys on track - but they have to do it quickly otherwise they are going to lose them."
The consensus of opinion in the paddock is that Hulkenberg and Massa are engaged in a direct head-to-head fight for the seat, but Martin Brundle feels the team could opt for both and drop Romain Grosjean.
"It could be Massa and Hulkenberg - I don't think it is guaranteed they are going to put Grosjean back in it," he said.
"I think finances are going to play a part - one of Felipe's personal sponsors, Richard Mille, is on the front of the Lotus which I can imagine is going to spin up into an interesting situation for the team financially and you know Massa is going to do a good job.
"He said he 'doesn't want to make up the numbers in F1' so it has to be a Lotus level team because if he goes back to Sauber in the second half of the grid it is kind of over."