Marussia's John Booth says finishing tenth in constructors' standings a 'massive boost'
Team Principal says financial gain is "almost negligible", however
By Mike Wise
Last Updated: 09/12/13 4:15pm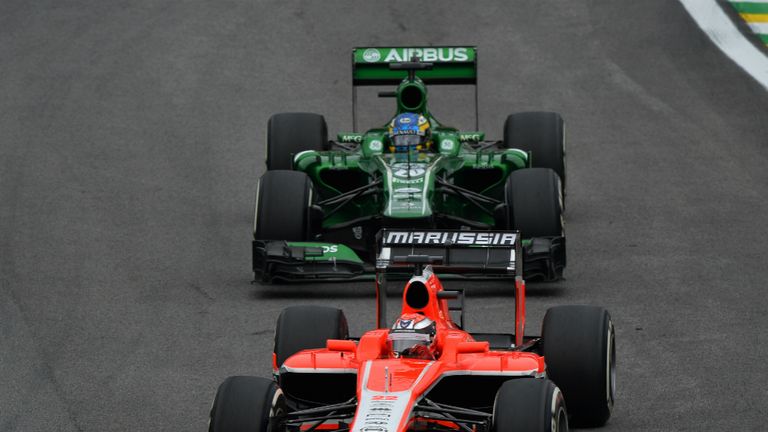 The Banbury-based outfit secured the all-important result in Brazil after Caterham failed to match the 13th place-finish Jules Bianchi gained for Marussia at the Malaysian GP in March.
As such, they have finished ahead of their rivals for the first time since both teams entered F1 in 2010. There was also a measure of revenge for Marussia, who were also on course to take tenth place last year before Caterham's Vitaly Petrov passed Charles Pic in the closing stages at Interlagos for eleventh position - the best result either team achieved in 2012.
Pic was on Caterham's side 12 months on but his retirement on lap 58 of the race ended any realistic hope they had of another last-gasp turnaround.
"It's a massive boost to everybody. It gives us confidence that we are going forward and is a real kick-start for next year," Booth told Sky Sports Online afterwards.
Although neither team had a car capable of climbing as high as 13th on performance alone, Booth said the threat of rain - which had already affected both practice and qualifying - could have changed everything.
"In the end it turned out okay. We struggled at the beginning of the race with our drivers doing their first dry laps. It takes a while to learn braking points and grip levels and that kind of thing," he said.
"So they struggled on their first stints but we got to the second stints and they started making headway."
As drizzle started to fall, Booth said Marussia had to keep an eye on the Caterham pit but added that they themselves were never tempted to gamble on wet tyres.
"I think that's why they kept Pic out so long, they were taking a punt on it raining," he said.
"We stretched a couple of stints out longer just in case the rain did come. It was so hard to read it; we had a spotter out on the circuit and it's raining in Turn 12. But the next thing you knew, it had stopped raining at Turn 4.
"But we never had any thought of going near the wet tyres."
Booth added: "There were quite a few cars close to each other on the track, so there was potential for there to be lots of non-finishers."
Much has been made of the financial impact finishing outside the top ten has on a team like Marussia, who made a loss of over £57million in 2012 and subsequently held exploratory talks about merging with Caterham.
Yet according to Booth, "it's almost negligible, the difference. Morale is the biggest thing. If you'd seen the reaction of the guys afterwards, it was incredible - like we'd won the bloody race. I'm sure it was the same back in Banbury."
The race also marked the end of Marussia's association with Cosworth power. They use a Ferrari powertrain next year, with Booth targeting an improvement in qualifying pace.
"The next goal is getting into Q2 on a regular basis; that's what we want to do and what we have to do. We're less than one per cent off doing that now," he added.
"The first step is to improve that one per cent and start getting into Q2 on a regular basis. And then we can start thinking about points."