Lotus's Eric Boullier says they can help Pastor Maldonado become more consistent
Team boss reckons new recruit can follow Romain Grosjean's lead
By Mike Wise
Last Updated: 06/12/13 1:44pm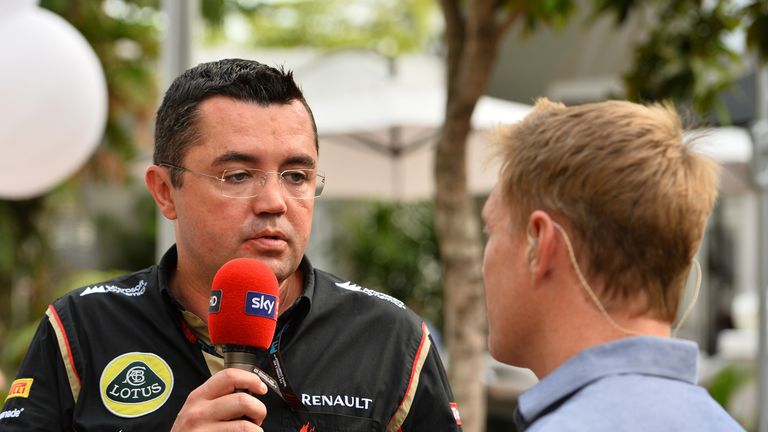 Speaking in Sky Sports F1's Lotus end-of-season review show, the Frenchman cited Maldonado's new team-mate Romain Grosjean, who has calmed a similarly erratic reputation with a series of strong performances in 2013, as a success story they hope the Venezuelan can emulate.
Maldonado won last year's Spanish GP but has endured a difficult season at Williams, where he was outperformed by rookie team-mate Valtteri Bottas.
Even so, the Enstone team announced his arrival last week after choosing the 28-year-old in preference to Nico Hulkenberg.
"He's a friendly guy, he's a fast guy. He won a race in Formula 1 and it was on merit - it was not gained from some lottery," Boullier insisted.
"I think we just need to make sure he can keep his focus - actually similar issues we had with Romain last year - keep his focus on track.
"I'm sure that with the proper support and team around him, we can do something nice with Pastor."
Boullier added: "Maybe there is still some fine-tuning to do with him. And I think one the most important parts, having talked to him already, is obviously feeling the support of the team behind him."
Maldonado's arrival is sweetened by substantial financial backing and with Lotus's cashflow problems no secret, Boullier admitted it was an important factor in their decision to opt for him rather than the highly-rated Hulkenberg.
The team, owned by Genii Capital since 2009, are still hoping that a deal with Quantum Motorsports - who first announced their intention to buy a 35 per cent stake in June - will go ahead.
With the 2014 season pressing, Boullier suggested the money Maldonado brings will be used in the short-term. His career to date has been backed by Venezuelan state oil company PDVSA, to the tune of an estimated $30million per year.
"We are still confident something is going to happen," Boullier said of the Quantum deal. "But timing is an issue.
"Obviously there is a financial support with Pastor, which in these days we may need. And unfortunately, as I said before, timing is an issue.
"Even if Genii is deeply involved in funding the team, there are some solutions that need to be done. And it's true that Quantum Motorsports is the best one we can have but timing is everything, especially in Formula 1.
"We have to deliver a car in less than eight weeks now."
Boullier also said that Lotus would probably have kept Kimi Raikkonen had finances not intervened.
Although happy in the team's relaxed working environment, the Finn's dismay at their failure to pay his salary eventually led him back to Ferrari, with whom he won the 2007 world title.
"It was coming regularly into the media and actually more tiring to see these stories dragging on for months. It's not the kind of image you want to have or the kind of press you want to have," Boullier added.
"Obviously I knew the situation and I was not surprised that Kimi would be tempted to leave - even if I know it would be against his wish to stay, let's say."
'Lotus - Against All Odds', in which Team Principal Eric Boullier talks about a tumultuous season for the Enstone-based squad, will be shown on Friday, December 20th at 7pm.
Sky Sports F1 will review each team in reverse order of their constructors' standing. The first show, looking at Caterham's season, will be shown on December 13th.