Bernie Ecclestone steps down from the board of the holding company controlling F1
But 83-year-old will still run sport on day-to-day basis; Board change follows confirmation that Ecclestone will face trial later this year
By Pete Gill and Mike Wise
Last Updated: 17/01/14 7:42am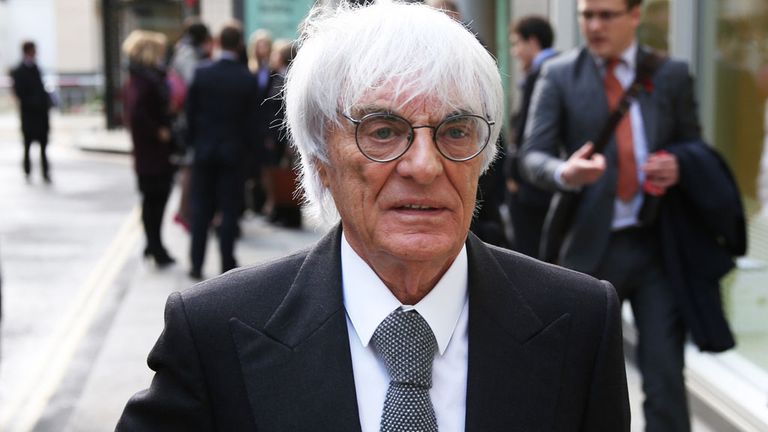 It was announced on Thursday that the F1 supremo will stand trial on bribery charges in a court case that is expected to commence in late April.
The 83-year-old, who has been in charge of F1 for the last four decades, has been indicted by Munich's state court on charges of bribery and incitement to breach of trust. They are connected to the alleged payment of a $44 million bribe to German banker Gerhard Gribkowsky.
Ecclestone has insisted he is innocent of the charges made against him and has vowed to "vigorously defend the case".
He has, however, stepped down from the board of the holding company which effectively controls F1 with immediate effect.
In a statement released by holding company Delta Topco Limited, it was confirmed: "After discussion with the Board, Mr Ecclestone has proposed and the Board has agreed that until the case has been concluded, he will step down as a director with immediate effect, thereby relinquishing his board duties and responsibilities until the case has been resolved.
"It is in the best interests of both the F1 business and the sport that Mr Ecclestone should continue to run the business on a day to day basis, but subject to increased monitoring and control by the Board. Mr Ecclestone has agreed to these arrangements.
"The approval and signing of significant contracts and other material business arrangements shall now be the responsibility of the Chairman, Mr Peter Brabeck-Letmathe, and Deputy Chairman, Mr Donald Mackenzie."
However, Ecclestone is adamant little will change with regard to his running of the sport.
"Business as usual," he insisted. "All that's happened is a few months' ago we decided that if I had to appear in court, during that period I would stand down from my role as a director of Delta Topco.
"For Formula One Management it's the same as before. There is no change at all.
"It's just that if I wanted to buy something I can't do it without board approval, but when it comes to races, circuits, it will be as we've always done. It will be the same thing."
Gribkowsky was formerly Chief Risk Officer at state-owned bank BayernLB, which owned a 47.2 per cent stake in Formula 1's commercial rights.
The stake was sold to CVC Capital Partners for $820 million in 2005-2006, although it has been alleged it was deliberately undervalued in order for Ecclestone to retain control of the sport.
Gribkowsky is currently serving an eight-and-a-half-year jail sentence for accepting the payment from Ecclestone and Bambino, the Ecclestone family trust.
Ecclestone has always denied that he bribed Gribkowsky, claiming instead that the payment was made in response to being "shaken down" by the German, who he said had threatened to report him to the British tax authorities.
The case is related to another held at London's High Court late last year, in which a German media company launched a $140 million damages claim.
Constantin Medien said they lost out on a large commission as a result of BayernLB's sale to CVC. A verdict is expected in the coming weeks.