Lewis Hamilton 'rescues' his title bid with the 'most important' win of his career
Two Merc drivers now separated by just four points in the standings
By Sky Sports Online
Last Updated: 07/07/14 10:35am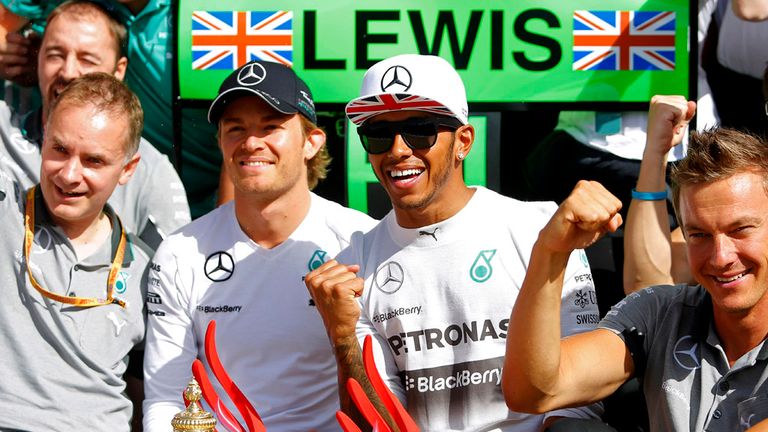 Fleet Street believe that Lewis Hamilton's victory of the British GP could be the pivotal turning point in the World Championship battle.
Despite Hamilton appearing set to fall further behind Nico Rosberg in the standings after a disastrous misjudgement in qualifying on Saturday, the two Mercedes drivers left Silverstone 24 hours later all-but level in the Drivers' Championship.
Capitalising on the misfortune of team-mate and title leader Nico Rosberg, who retired from the lead of the race with a gearbox failure, Hamilton is now just four points off the summit following his Silverstone triumph. And the Fleet Street scribes believe that, with momentum back on his side, Hamilton is once again the favourite to prevail in his riveting title battle with Rosberg.
Writing under a headline of 'Hamilton gets national pride back on track' in reference to the spate of failures endured by Britain's sportsmen this summer, Kevin Eason writes in The Times: 'There may come a moment a few months from now when Lewis Hamilton will allow his mind to drift back to the wide open spaces of Silverstone, with its fast corners and wild crowd, and decide this was the day he rescued the World Championship.'
That remains to be seen, but what's indisputable is that Hamilton's victory has immediately served to halt the momentum Rosberg had built up since a contentious Monaco GP two months ago and which was threatening to propel the German into an insurmountable lead at the top of the standings.
'Its significance was immense,' declared Jonathan McEvoy in The Daily Mail. 'Had he lost further ground to Rosberg, especially following his qualifying faux pas, the psychological advantage would have been squarely with the German.'
Reflecting on where Hamilton's latest victory ought to stand in the pantheon of his 27 career triumphs, Paul Weaver wrote in The Guardian: 'This was not one of the greatest…but it was undoubtedly one of his most important, coming at a time when Rosberg looked on the verge of breaking the Englishman's will, even though Hamilton's wounds are often self-inflicted.'
For The Independent, David Tremayne, a guest on this week's edition of F1 Midweek Report, sought to place Hamilton's victory in a historical context: 'A majestic second win at his home track, on his great day of redemption, and a 27th grand prix triumph which ranks him equal with the great Jackie Stewart…that will stay on the record for ever.'