Daniel Ricciardo says Belgian win increases Red Bull's hopes for Monza & beyond
Spa victor says team surprised themselves with low-downforce pace
By James Galloway
Last Updated: 25/08/14 9:02am
On-song Daniel Ricciardo believes his most unlikely of victories at high-speed Spa gives Red Bull hope that there are more "good things ahead" in the remainder of the season as the Australian begins to emerge as an outside championship contender.
For the third time in his maiden season at the World Champions - and the second race in succession - Ricciardo took full advantage of Mercedes mistakes - this time caused by their drivers running into each other – to win the grand prix.
Although his points deficit to Nico Rosberg, who chased him to the chequered flag at Spa as Red Bull gambled on making one less pitstop, remains a large one – 64 points – the spectre of the 50-point 'Abu Double' 2014 decider in November means Ricciardo could remain in mathematical title contention for a good while yet, particularly if Mercedes keep tripping up.
Renault-powered Red Bull had been expected to struggle at Spa owing to the circuit's long straights but by employing a low-downforce set-up managed to negate much of their well-documented straight-line speed advantage.
And with F1's fastest circuit of all, Monza, next up in two weeks' time ahead of some more traditonal Red Bull strongholds as the final flyaways begin, Ricciardo says he sees "some good things ahead".
"I can't really [believe it]. It feels a bit surreal again, especially around here at Spa. Everyone was saying 'you won't really have a chance around here' but I think we had some really good pace today and surprised ourselves," he told Sky Sports F1.
"If we can collect maximum points around here it gives some more hope for the circuits that are going to come later in the season. Singapore, Suzuka, just a couple to mention.
"It's great. We're really motivated right now. Monza we know will be tricky again but the package we brought here was pretty racy and trying to take something from here."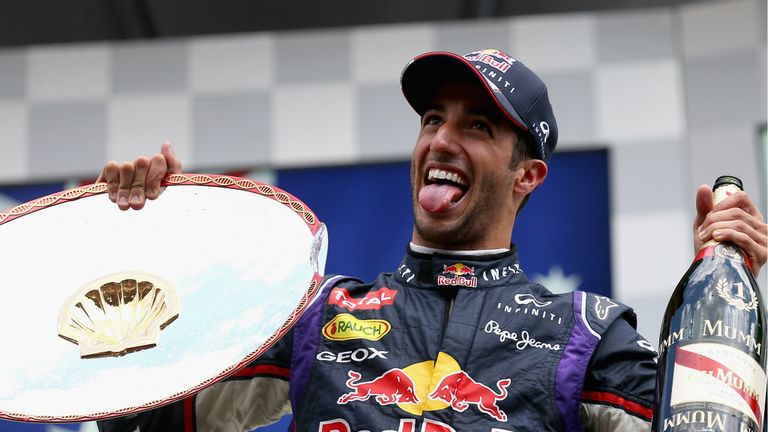 Despite being outqualified by team-mate Sebastian Vettel, Ricciardo finished a massive 51 seconds ahead of the quadruple World Champion at the chequered flag, having earlier overtaken the sister car when the German made a mistake at Pouhon.
Inheriting the lead when Rosberg pitted early to change a front wing, Red Bull took advantage of Ricciardo's strong tyre management in the RB10 to complete one less pitstop than the Mercedes – a bold tactic which the 25-year-old admits made for a challenging final stint as Rosberg closed in by up to three seconds a lap on fresh soft tyres.
"That was difficult," Ricciardo conceded. "When you're the leader as well you feel you're the most vulnerable whether to stop or not, but basically Simon my engineer came on the radio and said 'there's 11 laps left can these tyres get to the end?' I said 'yeah, I think I can more or less keep this pace' and was able to.
"In the last couple of laps I was able to get a couple of more tenths out of it, so I was just having a bit of fun then."
Ricciardo's previous two wins in Canada and Hungary were achieved via brilliant late-race overtaking moves, so the Australian was pleased to show a different aspect of his growing skillset on Sunday.
"There's been a lot of good things from the win," he added. "The last two came from a more aggressive style of race but today was more calculated. I don't mean to talk myself up but it was nice to win from different circumstances."
This week's Midweek Report will first be shown at 8.30pm on Wednesday on Sky Sports F1 with guests Alan Baldwin and Alex Brundle joining Anna Woolhouse in the studio to dissect the Spa fallout