Eric Boullier denies Formula 1 teams will be be fielding three cars in 2015
McLaren boss rejects claim "this is the last year of F1 as we know it"
By Mike Wise
Last Updated: 09/09/14 4:34pm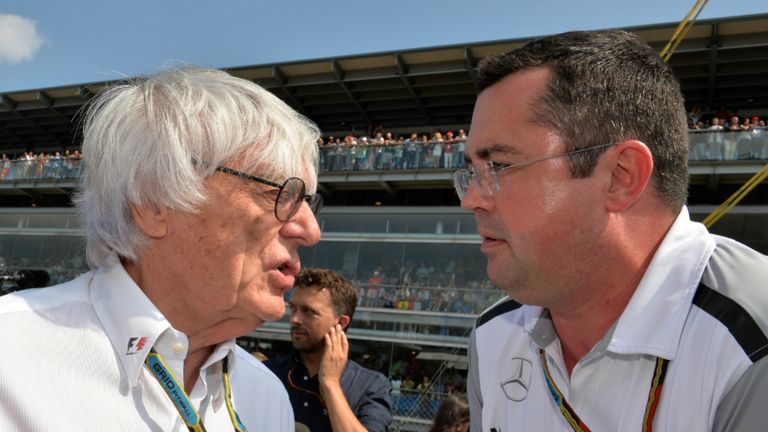 If it was Adam Parr's intention to provoke when he stated that three-car teams will definitely be on the F1 grid in 2015 then Eric Boullier for one isn't rising to the bait.
Parr, Williams' former CEO, took to Twitter on Sunday, posting: "This is the last year of F1 as we know it. In 2015 eight teams will contest the championship, with several teams entering three cars."
Speaking on Tuesday, however, Boullier played down Parr's intervention. But while McLaren's Racing Director categorically stated his belief that three-car teams aren't on the immediate agenda, he expressed fears for the futures of a couple of outfits.
"I think he's being a bit provocative," Boullier said in a McLaren-Mercedes phone-in. "We all know anyway that Formula 1 is going through a transition time; with the car manufacturers in the last decade, budgets have literally gone through the roof and now we are in a different economic situation and there is some transition. So there is potentially a couple of teams which may suffer [because] of this and I don't know if they will still be on the grid.
"But I don't think we'll go to eight teams and three cars per team next year and definitely not in such a short-term notice. I think everybody is aware of this and I think F1 is aware of that as well."
Although the notion of three-car teams has been mooted for a number of years, it was placed back in the spotlight during the summer when Bernie Ecclestone expressed his support.
Speaking to Gazzetta dello Sport, Ecclestone said that if smaller teams cannot keep up with rising costs then "they must stop."
The F1 supremo added: "If you don't have the finances, you quit. I'm ready for a Formula 1 with eight teams with three cars each. "
Instead, Boullier suggested that teams should meet rising costs with a greater share of F1's revenues.
"There is as usual a lot of discussion around this situation which are not comfortable for some teams and I obviously hope that there will be some understanding and some development maybe in the business model of F1 in the near future to not go that far – and not be that provocative," he added.