Engine failure limits Sebastian Vettel to just five laps in P2 at Singapore GP
But World Champion still optimistic Red Bull are closer to Mercedes
By Mike Wise in Singapore
Last Updated: 19/09/14 6:08pm
Sebastian Vettel reckons Red Bull are closer to Mercedes this weekend, even though his own running at the Marina Bay Circuit was limited during Friday practice.
The defending World Champion completed just five laps at the end of the second session after an earlier engine failure had left him pushing his RB10 back to its garage.
Vettel, three times a winner in Singapore – and in dominant fashion 12 months ago – isn't expecting a similar result on Sunday but shares the suspicion held by many that Red Bull might at least be within touching distance of the Silver Arrows this weekend.
"It was surely not ideal [just] to get a run on the options but thanks to the mechanics we got a couple of minutes at the end, so better than nothing," Vettel said after setting the fifth-fastest time.
Using his third different chassis in three races, Vettel - who has also used his limit of five engines per season - said it felt "All right. This morning it felt very good; this afternoon, obviously it was difficult to go out and nail the first lap right away. But I think it was pretty close.
"I wasn't able to get the best out of the tyres straight away because I didn't have the feel before. But overall I'm pretty happy and I'm sure we could improve the car.
"We should be in a good place tomorrow. Obviously it's difficult to say today but we are a lot closer to Mercedes than we have been."
He also said that the FIA's clampdown on pit-to-driver radio traffic doesn't make a big difference.
"Obviously there was a revised rule coming out last night and the fact we're allowed to receive messages about engine management made our lives a lot easier," Vettel added.
"But in terms of coaching and stuff, I don't think we were excessive on that."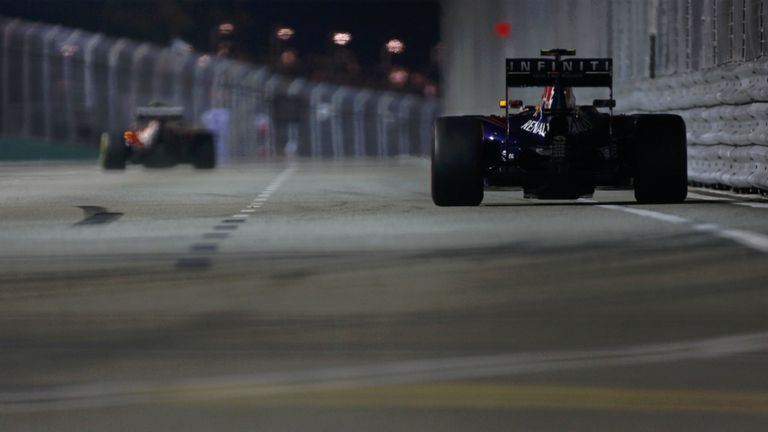 Vettel spent a large part of the second session on Red Bull's pit wall studying the progress of team-mate Daniel Ricciardo, who wound up third fastest 0.3s off the pace set by Lewis Hamilton.
The second session revealed a big difference in performance between the soft and supersoft tyre compounds and the Australian reckons it could prove crucial in Sunday's race.
Not for the first time, however, Ricciardo thinks that Mercedes will find more speed in qualifying. Hamilton might have been fastest overall but a red flag left Nico Rosberg 13th after he failed to complete his qualifying practice run.
"It looks good but I feel they've got a bit more in the tank," Ricciardo, who lies third in the drivers standings behind the Mercedes pair, said. "To get the best out of their car today, I think they'd probably be more like half a second in front.
"If it is three tenths, it's a reachable gap. If that's true then I'm fairly satisfied."
He added: "Race pace is an interesting one. I think the lap times are important but it's how long you can keep the tyres.
"I think there's going to be quite a few pit stops during this race, it's not going to be one, or probably not even two.
"So maybe three stops and whoever looks after the tyres will make a difference."
The 2014 Singapore GP is live only on Sky Sports F1 this weekend. Our race-day coverage begins at 11.30am on Sunday with lights out at Marina Bay at 1pm.