Mercedes suspect Rosberg was too conservative after being passed in U.S. GP
But Nico can still win the title even if Hamilton claims victory in Brazil
By Pete Gill
Last Updated: 03/11/14 1:11am
Mercedes believe Nico Rosberg lost the United States GP to Lewis Hamilton because he was too conservative with his tyres.
After building up a comfortable three-second lead ahead of the first round of pit-stops, Rosberg was overtaken by his team-mate – and sole title rival – on lap 24 in Austin after the Englishman produced a devastating turn of speed on an identical set of brand-new set of medium tyres.
"We haven't spoken to Nico yet but when it mattered he was probably too conservative on the tyres," conceded Mercedes boss Toto Wolff. "At the end, he was much quicker and he caught up on Lewis - not enough, but he was much quicker and I think it was really a matter of managing the tyres too much."
Rosberg, though, simply believes he took too long to adjust his set-up to race conditions after excelling in qualifying twenty-four hours previously.
"I just didn't drive well enough," the German admitted to Sky Sports F1. "It took long to reach my rhythm. By the time that Lewis got past, five or six laps later I started to nail it but by then it was too late.
"I overdrove the front tyres and a lot of the understeer I was creating myself."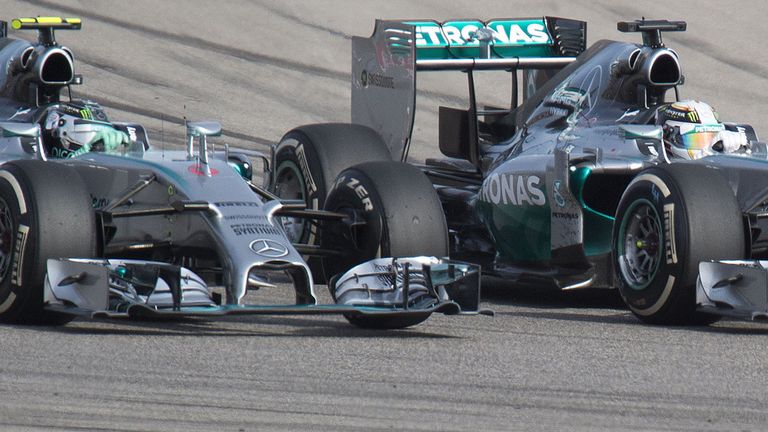 With both Hamilton and Rosberg beating the third-placed Daniel Ricciardo to the chequered flag, Mercedes are now guaranteed a championship double as it is mathematically impossible for the Red Bull driver to win the championship.
However, despite Hamilton securing his fifth successive victory in Austin – more than Rosberg has claimed in the entire season so far – the championship battle between the two Mercedes driver is also guaranteed to go down to the wire in Abu Dhabi. Even if Hamilton were to win next week in Brazil and Rosberg failed to score, the Englishman would still start the final race with a 49-point advantage – one less than is on offer in the season finale at 'Abu Double'.
"It was the wrong decision, we underestimated the impact," Wolff admitted when asked whether he now regretted the format change.