Why Mercedes' advantage isn't as big as we thought
Sky F1's Mark Hughes explains how Ferrari got the better of Mercedes in Malaysia, why the Silver Arrows were in fact flattered in Melbourne and what might happen in the next two races
Last Updated: 28/04/15 11:59am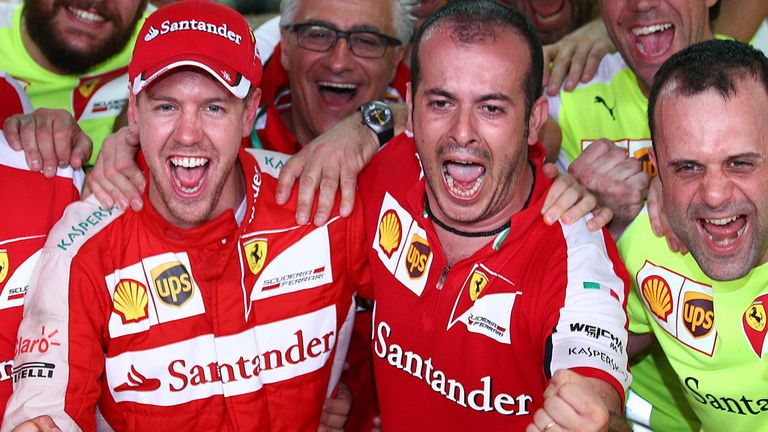 Sebastian Vettel's Ferrari victory in Malaysia was a timely re-invigorating boost for F1 which for over a year has delivered only crushing Mercedes superiority.
Although Daniel Ricciardo's Red Bull won three races last year, each of them came only after one Merc or another had suffered problems. In Sepang Mercedes were beaten in a straight fight – the first time this has happened since their new era of domination began in Australia 2014.
But let's not get too carried away just yet. There were extenuating circumstances. The Ferrari is vastly improved from last year and furthermore in Sepang was benefiting from an engine that was delivering even more performance than in Melbourne. But it is still not yet as outright fast as the Mercedes.
All the evidence suggests that a dry qualifying would have seen the red cars at least a couple of tenths behind the silver ones, rather than Vettel splitting them. Through the practices the Merc was consistently 0.6s faster through the aerodynamically-demanding middle sector and the Ferrari would make up around 0.4s in the straight-dominated sectors one and three.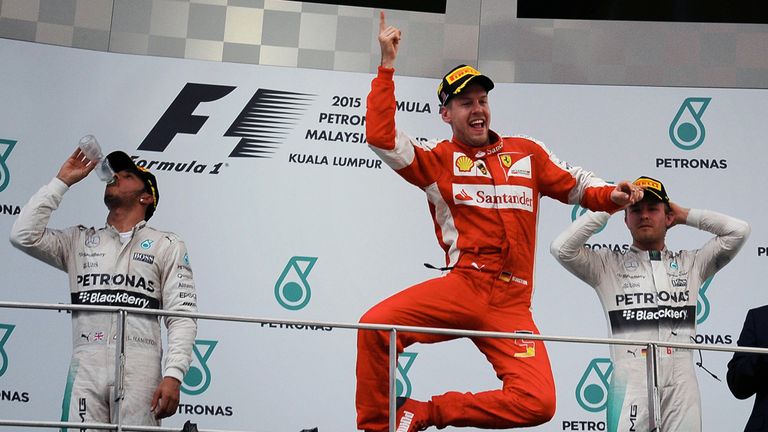 But where Ferrari had the beating of Mercedes in Malaysia was race-day tyre usage. In conditions of extreme heat on a circuit with fast and long sweeping corners, the Ferrari's tyre advantage bought it more than it lost through lower peak performance by allowing it to do the faster two-stop strategy.
Forget timing of safety cars; the Ferrari's combination of pace and tyre usage would have beaten the Mercedes regardless because there was no way Mercedes could make the option tyre (the medium) last long enough to do the faster two-stop race.
That put them around 10s behind Ferrari on strategy. Normally even that strategy disadvantage (an average of around 0.17s per lap) would have been overwhelmed by the Merc's greater pace. But while its pace advantage early in the stints was around 0.2s, it couldn't hang onto that for long enough before the rear tyres lost grip while those on the Ferrari hung on just fine for many more laps.
On the day, in the specific conditions of that track in those temperatures, the Ferrari was simply a better all-round car than the Mercedes. Put another way, Ferrari was able to unleash all its car's performance whereas the Mercedes pace was tyre-limited.
It won't always be that way. In Shanghai, for example, it won't be as hot and the corners are not as demanding of even the soft/medium combination that will be used there. In such circumstances we might expect the Mercedes advantage to be resumed – but it is definitely a smaller advantage than it enjoyed last year, small enough that only the slightest slip from them should see the Ferraris right there.
In Melbourne, the massive qualifying superiority of Lewis Hamilton made it appear as if Mercedes had stretched their advantage since last year. But it's now looking as though that was simply down to the individual driver performances in what was an extremely tricky session.
"That lap was more Lewis than car," said Paddy Lowe of Hamilton's advantage of 1.4s over the best non-Merc in Melbourne qualifying. "The wind was gusting and the track temperatures were dropping, making it very tricky. Whenever you have to improvise like that, Lewis delivers you lap time over the others."
In Melbourne second-fastest Rosberg had been around 1s faster than the Williams and Ferrari in qualifying but both Vettel and Kimi Raikkonen had made serious errors in the tricky conditions. Although Vettel finished 34s behind Hamilton in Australia, he'd spent much of the race restricted to the pace of Felipe Massa's Williams. "The numbers suggest that cost us a total of around 15s in Australia," said Ferrari's technical director James Allison at the start of the Malaysia weekend.
If a gap of 20s between Hamilton and Vettel in Australia would have been the more accurate gauge of actual pace, it suggests the Ferrari's were in reality only around 0.3s per lap off in Melbourne.
In Malaysia further engine progress together with conditions and track layout that leveraged its superior tyre usage saw that peak pace deficit down to 0.2s – enough that the strategy advantage and the ability to run close to its limit for longer gave Ferrari the beating of the Merc on Sunday.
"I only know one half of the equation, ie our car," said Allison when asked if the Malaysia performance would carry through. "The track is quite rough and quite hot. That's hard for tyres and we are fortunate that the car goes well on its tyres. Quite what problems have been carried on the other side of the equation over in Merc-land I don't know but I'm fairly sure we will have our work cut out in China to do anything like as impressive a job as we've done here."
In Bahrain, however…
MH