Lewis Hamilton says F1 drivers need help from teams in managing cars
"We get a lot less information now than we did years ago," world champion insists
By Mike Wise and James Galloway
Last Updated: 19/06/15 9:34am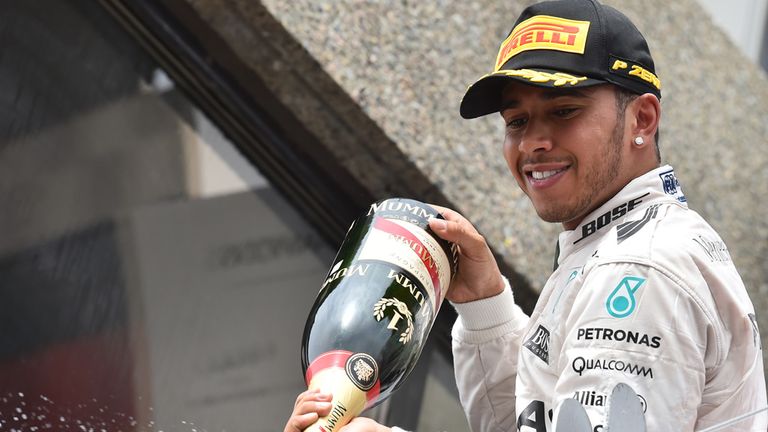 Lewis Hamilton reckons that removing radio messages from F1 coverage wouldn't make much of a difference for TV viewers and spectators, but insists the guidance is vital for drivers.
Speaking ahead of this weekend's Austrian GP, the world champion was asked about his victory in Canada two weeks ago, when Mercedes frequently asked both Hamilton and team-mate Nico Rosberg to manage their fuel and brakes - to 'lift and coast' - during the race.
Teams give advice on the use of fuel, brakes and tyres via radio messages, although they are no longer specifically allowed to give information on driver performance.
It's a practice that has increasingly become part of a race narrative in recent seasons, thanks to both the broadcast of radio messages and the requirements of more complex, fuel-limited, hybrid power units.
In Montreal, however, such an emphasis seemingly ruled out the prospect of a fight for victory between the two Silver Arrows.
Asked on Thursday whether drivers should be barred from receiving outside help, Hamilton said: "If I'm honest, if I think you took it all away, it wouldn't make any difference to the people watching. That's my personal opinion.
"For us drivers, with the way these tyres are, the optimum way to get to the end of the race, we don't have all the information in front of us.
"I can't feel how much fuel we're using; you're driving as fast as you can at the time and you need some guidance with that.
"With the tyres, sometimes as they start to lose rubber. For example, in the last race Nico used more rubber than I did. I don't know why; I drove a certain way but sometimes I'll use more, sometimes he uses more.
"It's difficult to feel it, it's very subtle changes. You don't know when the temperatures will start to drop, that's why you need the guidance."
With cars limited to 100kg of fuel during races, Hamilton reckoned that a few drivers might run out if they weren't instructed from the pitwall.
"What do I think's going to happen if they don't tell me about the tyres? I'm still going to drive the same; and if they don't tell me about the fuel maybe more cars won't finish. If that's more exciting then they can do that," he said.
"We get a lot less information now than we did years ago. A couple of years ago, we got loads more information. So I think people are just looking to blame something because they're unhappy about something."
Hamilton also thinks that if the messages weren't broadcast, it wouldn't make much difference to TV viewers and spectators.
"I don't think the people fully understand it anyway, that are watching. I honestly don't think they know what we know," he said.
"So therefore it's just noise that they're hearing. It's easy for the TV people to just turn those things off and not announce it.
"I bet you any money that if, on the TV, you dubbed, or didn't announce what everyone was saying, the race would still be the same."
Ahead of this weekend's race, meanwhile, Hamilton, who leads the Drivers' Championship by 17 points, said he remains wary of the threat posed by Ferrari.
Mercedes' closest rivals ultimately had a difficult weekend in Canada, where Sebastian Vettel finished fifth – one place behind team-mate Kimi Raikkonen - after coming through the field from 18th on the grid.
"Sebastian was probably in traffic the whole time, so we've not seen the true pace of the Ferrari. So I think this weekend there's a chance we'll see that," Hamilton told Sky Sports News HQ.
"I'm conscious of it. But I have so much confidence in my team and the things that we're doing and the development we're carrying on. And I'm also aware that naturally at some stage someone's going to get close, or pass us maybe who knows, but I always feel like we've got an answer to that.
"I feel confident in that respect. But I want to have the races and I think the fans want to see it as well."
Don't miss Sky Sports F1's exclusively live coverage of the 2015 Austrian GP. The race begins at 1pm on Sunday, with build-up underway from 11.30am. No Sky Sports? No problem! Watch the Austrian GP for £6.99 with NOW TV