Valtteri Bottas bought out of 2016 Williams deal by Ferrari - Report
Italian press claim Ferrari will pay Williams €12m to buy out Bottas as they line up replacement for Raikkonen; Sky sources understand no 2016 deal for Bottas in place
By James Galloway
Last Updated: 27/07/15 2:26pm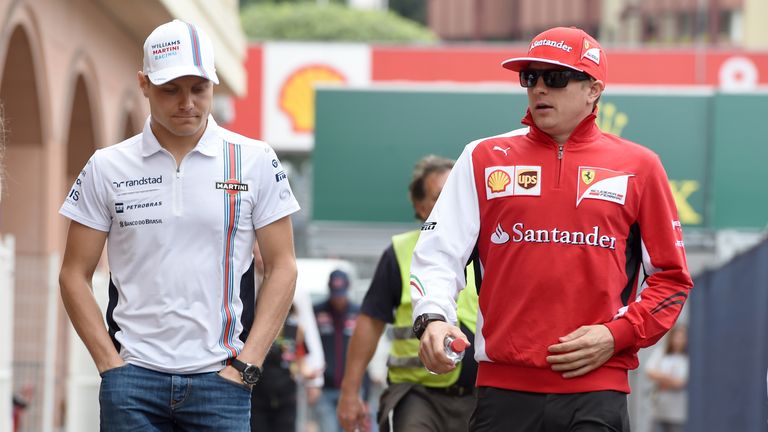 Ferrari have agreed a deal with Williams to buy Valtteri Bottas out of his Williams contract for 2016 to replace Kimi Raikkonen, according to the Italian media.
Sky sources understand that Bottas has not signed a contract for next season while the report that Ferrari have agreed a deal with Williams has also been described as "speculation".
Bottas has long been considered the front-runner to replace countryman Raikkonen should Ferrari decide not to take up their own option on the 2007 world champion's services for next season.
The unconfirmed report in Italy's Corriere dello Sport newspaper claims that Ferrari have struck a €12m deal with Williams to release the 25-year-old Bottas from the option they have on him for 2016.
The newspaper reports that Ferrari's own option on Raikkonen expires on July 31 and no announcement will be made before then.
A Williams spokesperson said: "We don't ever comment on our contracts, this particularly applies to driver contracts so we have nothing further to add to this."
Were Bottas to ultimately join Ferrari over the winter then Raikkonen, who turns 36 in September, would likely call time on his F1 career having said on several occasions since returning to Maranello last year that Ferrari will be his last team.
Bottas, who has been with Williams since 2010, has established himself as arguably the next driver in line for a move to one of F1's biggest teams over the last 12 months with seven podium finishes. He currently sits one point ahead of Raikkonen in this year's Drivers' Championship. 
Since returning to Ferrari from Lotus at the start of 2014, five years after having the final year of his previous contract at Maranello paid off, Raikkonen has struggled for results alongside first Fernando Alonso and now Sebastian Vettel.
Although Raikkonen finally delivered the first podium finish of his second Maranello spell at the Bahrain GP in April, he has consistently been outperformed by Vettel and trails his German team-mate by 59 points in the standings.
Were Bottas to move to Ferrari then the 2016 driver market would inevitably whirl into life with a seat at Williams then becoming the grid's next most sought-after vacancy.
Speculation in recent weeks has already placed three former Williams drivers, Jenson Button, Nico Hulkenberg and Felipe Nasr, in the frame to fill any such opening at Grove.
Bottas's veteran team-mate Felipe Massa is currently enjoying a rich vein of form and is likely to stay at Williams for a third season, however.
"We have an option for next year, [and] I don't see really why we wouldn't take it and carry on," Massa recently told F1's official website."Results are always the best [way] to keep you happy and relaxed and in the right mind. I feel happy; we're doing a good job."