Development concerns for Toro Rosso
Former Red Bull driver David Coulthard warns of potential pitfalls from the team's all-rookie line-up of Verstappen and Sainz
By William Esler
Last Updated: 14/01/15 10:57am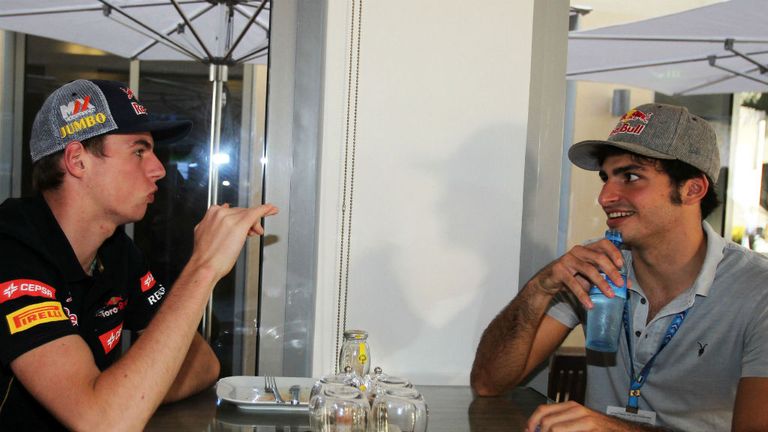 David Coulthard believes development will be difficult for Toro Rosso in 2015 without an experienced driver to guide the team's engineers.
As F1 embarks on a second season of hybrid turbo technology, there is still much that can be learned and improved up and down the pitlane.
However, Toro Rosso head into 2015 with two F1 rookies in the shape of Carlos Sainz and Max Verstappen, with the latter only boasting a solitary season of single-seater racing to his name. While the line-up remains faithful to Toro Rosso's policy of promoting young talent, Coulthard fears there could be a steep price to pay.
"The engineers and designers have to go with what they believe is the best package to develop the car, but you need leadership from behind the wheel," the former Williams, McLaren and Red Bull driver told Sky Sports Online.
"You need a great interaction between the driver and the aerodynamicist or the chief mechanical engineer and that interaction is so important. In the respect of young drivers without the experience, they have to get the experience somewhere, but a better pairing in many respects would be one experienced and one rookie. But that is the format for Toro Rosso, it is a proving ground for young drivers and if they do well then they can move up to the next level."
The 13-time grand prix winner thinks Toro Rosso will have to alter their engineering meetings this season to coax the right information from their young drivers.
"They've got to run a slightly different format of debriefs and understanding and educating the drivers and really trying to eke out from them, asking the right questions," Coulthard added.
"With the benefit of experience you hone in on what they key area of development needs to be – what is it that is making it difficult for you to go faster? It seems like a simple thing to ask, but actually separating aerodynamic from mechanical is such a difficult thing to do at times."
Toro Rosso had originally announced they would pair Verstappen with Daniil Kvyat, himself a shock call-up for 2014, for the 2015 campaign, only for Red Bull to call up the Russian youngster as a successor to Sebastian Vettel following his unexpected defection to Ferrari.
Sainz was confirmed as a replacement for Jean-Eric Vergne in late November, with the Frenchman, who scored 22 of Toro Rosso's 30 points last year, joining Ferrari as the Scuderia's new development driver.
The Sky Sports F1 Online team will be providing live commentary of all three winter tests, starting in Jerez on February 1, with live updates from trackside also on Sky Sports News HQ.