Lewis Hamilton: Sebastian Vettel respect higher since Baku 2017
Hamilton says respect between F1's current two most successful drivers "has grown a considerable amount" since 2017 Baku clash
By James Galloway in Baku
Last Updated: 27/04/18 7:48am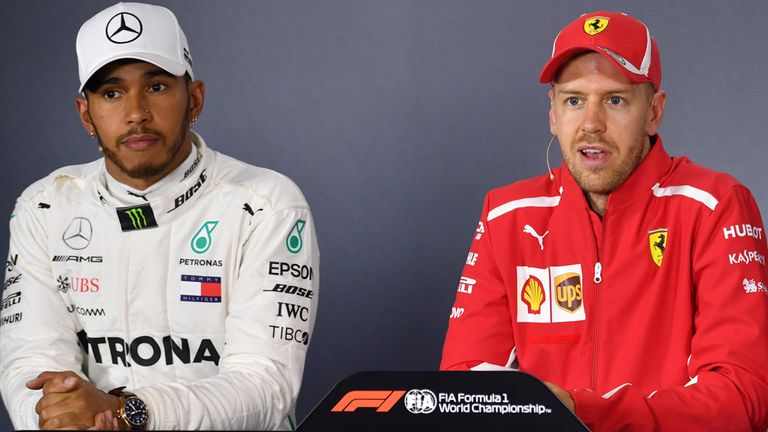 Lewis Hamilton says his respect for Sebastian Vettel has grown since their collision in last year's Azerbaijan GP.
F1's two four-time world champions this weekend return to Baku for the first time since the acrimonious clash behind the Safety Car.
Running under yellow flags at the head of the field, an enraged Vettel drew up alongside Hamilton and rammed into the Mercedes after incorrectly suspecting he had been brake tested.
Vettel received an in-race penalty and was summoned to a subsequent meeting with FIA president Jean Todt at which he took full responsibility for the incident.
Hamilton called Vettel a "disgrace" after the race and ultimately beat his Ferrari rival to the 2017 world title.
Ten months on and Hamilton, who trails Vettel by nine points after this season's opening three rounds, was asked to reflect on what the 2017 clash had told him about his rival.
"Not much really; it's good to see fire within the people that you're competing with, it's also good to see that they're not perfect because I guess nobody's perfect," said Hamilton.
"We all make mistakes but it's more so how people handle it and how they progress [that] is what you can really learn from. He's continued to progress as the champion that he is. How he presents himself, how he speaks, he continues to grow and the words that he uses today.
"The respect has grown, actually, a considerable amount since then. I'm sure it will continue."
As a possible example of that growing mutual respect, Vettel recently stepped in to defend Hamilton in the post-race press conference at the Bahrain GP after a journalist asked the Briton to explain a derogatory term he had used to describe Max Verstappen.
Is 2018 Mercedes' biggest challenge?
As was the case last year, Vettel arrives in the Azerbaijan capital holding a slender points advantage over Hamilton at the top of the Drivers' Championship.
However, whereas last year Mercedes had won four of the seven opening races by the time F1 arrived in Baku, this season they are yet to win from three attempts.
Despite leading the Constructors' Championship, the world champions face what Mercedes chief Toto Wolff this week called a "massive challenge" to retain their crowns - but Hamilton feels they are up for that fight.
"The others have definitely stepped up. We've made a step forward but they have made a bigger leap," he said.
"Coming to the end of last year, all the teams were a lot closer at the last race. It's always easier to catch up but to be pioneering, which we have been for the last four years, has been exceptional.
How to follow the Azerbaijan GP on Sky F1
| | | | | |
| --- | --- | --- | --- | --- |
| Friday April 27 | Sky F1 digital live blog | 10am: P1 LIVE! (Build-up 9.45am) | 2pmm: P2 LIVE! (Build-up 1.45pm) | |
| Saturday April 28 | Sky F1 digital live blog | 11am: P3 LIVE! (Build-up 10.45am) | 2pm: Qualifying LIVE! (Build-up 1pm) | 3.45pm: The F1 Show LIVE! |
| Sunday April 29 | Sky F1 digital live blog | 11.30am: Pit Lane LIVE! | 12.30pm: On the Grid LIVE! | 1.10pm: The Azerbaijan GP LIVE! |
"Catching up is always easier than arriving with a car that's ahead of everyone else's. That is what this team is always able to do - we arrived at the first race and we were ahead of everyone. There are certain operations and things in the background that can be better but it's all about the whole team working at 100 per cent.
"It is small, small percentages that are going to make the difference. We are still the same team that has won in previous years. I think we really can battle out these guys. Now we have Red Bull at their best, or closest to their best, and Ferrari at their best. If we are able to pull through and deliver as we have in previous years it would be the biggest achievement this team will have accomplished."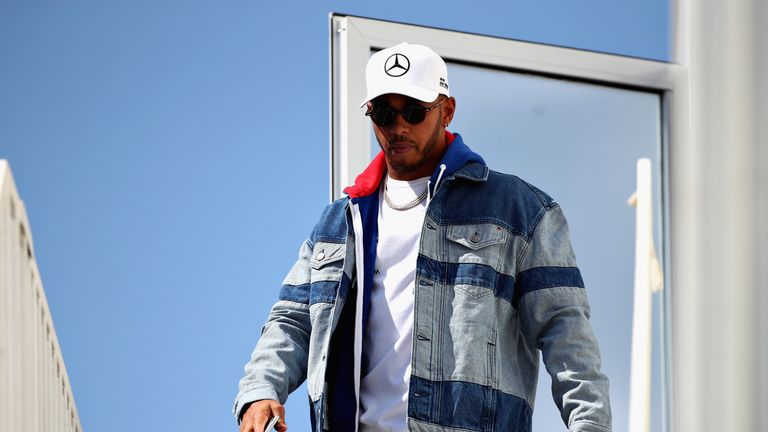 Hamilton also does not believe there is anything fundamentally amiss with Mercedes' 2018 car, citing fluctuations in tyre performance on the W09 as the key problem area.
"We believe [the car] is sound," he told Sky Sports News. "That's probably not been the biggest issue.
"Understanding the tyres has been something that we're still learning about - one weekend we have it and the next weekend we haven't and the tyres are having a big effect for everyone. The car has been great but in the last race it wasn't performing the way it normally does. But I think the tyres came into play. I think if we can get on top of the tyre situation we will be able to show the true performance of the car."
Who will come out on top in round four of Ferrari, Mercedes and Red Bull's battle for supremacy in F1 2018? Watch the Azerbaijan GP live on Sky Sports F1 this weekend. Get Sky Sports F1.
Comment below to get involved in the debate, but please adhere to our House Rules. If you wish to report any comment, simply click on the down arrow next to the offending comment and click 'Report'.