British GP: Mercedes vow to be aggressive in Ferrari fight
World champions concerned by potential of fast starts from Ferrari
By Pete Gill at Silverstone
Last Updated: 06/12/18 4:06pm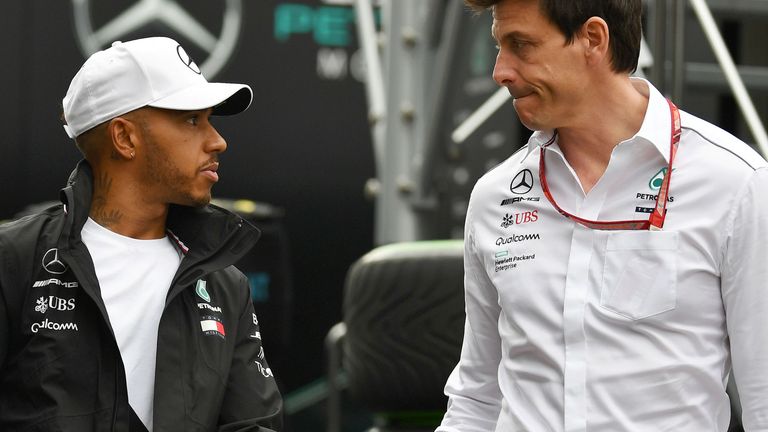 Mercedes will employ aggressive and attacking strategies at the British GP, says Silver Arrows boss Toto Wolff.
Although Lewis Hamilton will start the race from pole position, Ferrari's Sebastian Vettel, who missed out on pole by less than a tenth of a second, is confident he has the faster car for race day.
"Ferrari had a fast car but always the car which was fastest on the stopclock is the quickest package and today that was a Mercedes," countered Wolff.
But with Hamilton predicting "one of the toughest" races of his career due to the intensity of the fight and the ongoing British heatwave, Mercedes' plans have been complicated by a mistake by Valtteri Bottas on his qualifying run after the Finn chewed through his tyres to finish fourth.
How the grid will line up
Hamilton: My toughest ever lap
"We will be going full attack," vowed Wolff. "Part of that could be two different strategies, trying to be aggressive.
"It is a tough championship. The gaps are very marginal, it swings from race to race, and a few thousandths makes all the difference."
Mercedes have already proved vulnerable this season and neither Bottas nor Hamilton finished last week's race in Austria, enabling Ferrari to take the lead of the world championship.
"What happened in Austria was a freaky but something which stays in your mind," Wolff admitted.
But the Mercedes boss was more concerned about the potential of Ferrari making a fast start in Sunday's race - just as Vettel did in France before hitting Bottas and Raikkonen did in Austria when he almost took the lead at the first corner after starting third.
"If we can stay in the lead, Lewis at Silverstone is a force," said Wolff. "But if we are overtaken at the start or on the first lap then it's very different.
"Our starts are ok, but Ferrari were exceptional. We are under risk at the moment at the start."
Adding to the concern is the loss of performance usually suffered whenever a car is overtaken and has to follow in 'dirty air'.
"The moment you have to attack you are more likely to be under threat of blistering or degradation than the lead car," said Wolff.
"In Austria, when Max had the lead, he had no problems. But the other car, which was the same [type of] car, had heavy blistering. Our car doesn't like heat but it could be a difficult race for all cars.
Wolff added: "We saw some blistering on the Ferrari on Friday, their long-run pace wasn't spectacular."