Hungarian GP: Valtteri Bottas, Lewis Hamilton on Mercedes' team order
Drivers relished wheel-to-wheel battle late on at Hockenheim, but understood situation from Mercedes' perspective too
By James Galloway
Last Updated: 27/07/18 9:50am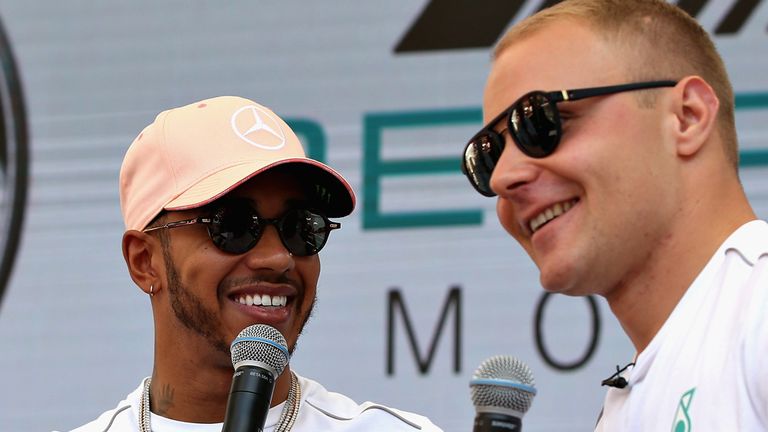 Valtteri Bottas believes he and Lewis Hamilton could have been left to race to the finish without jeopardising Mercedes' one-two in the German GP - but both team-mates understand why they were told to hold station.
Against all expectations after starting second and 14th at Hockenheim, Mercedes found themselves running first and second with 14 laps to go last Sunday after Ferrari's Sebastian Vettel crashed out from the lead and the front positions shuffled under the Safety Car.
When the race restarted, Bottas used fresher tyres to launch an immediate attack on Hamilton which ran for several corners but, after the Englishman successfully kept his team-mate at bay, the Mercedes pit wall told the Finn to hold position to the end of the race.
Team boss Toto Wolff later admitted the team were loathed to make "unpopular" calls but stressed that on the back of some tricky races which saw them lose the championship leads to Ferrari, they did not want to run the risk of their cars colliding and losing 43 points.
Both Mercedes drivers were asked about the team order on their arrival in Budapest for this week's Hungarian GP, with Bottas telling Sky F1: "Of course we would do everything, both me and Lewis, to avoid that [a collision].
"We had a nice battle, nice racing. We feel we could have handled it, but obviously with the team what we had experienced in the last few races I think just really wanted to be 100 per cent sure we were getting those points."
Hamilton described the post-Safety Car battle between the two Silver Arrows as "great" and that Bottas' attempts for the lead were "fair game".
But with an opportunity to score a maximum points haul at their home race in front of them, Hamilton said: "When I spoke to Toto [Wolff], I understand his perspective. We are at the German GP, all of a sudden we are first and second, and you see other team-mates cause trouble and lose points through silly mistakes.
"And while he's got the upmost respect and trust in us, you see how passionate Toto is, he doesn't want to lose what we've worked so hard to get. We were in a great position and he was like 'I just want to keep it the way it is'."
Hamilton added: "I don't think at this point we need to have those kind of things, but as a team we are there to get those results so ultimately we do need to work together in certain scenarios.
"But I was happy with the battle that we did have and were quite respectful in the space that we did give each other. That space probably wouldn't have been there if he was racing against a Ferrari or vice versa."
Hamilton believes Mercedes chose the right moment to issue the instruction to Bottas and suspects that, had the battle continued, the Finn would have found overtaking difficult in any case.
"The cool thing was when we were back in the meeting room Toto stood there, said 'come over' and Valtteri was like 'it's fine, because by the time he gave the order he had already pulled away'. So it wasn't like he had told him whilst we were in battle," added the world championship leader.
"But for the fans, of course they want to see us keep racing.
"I had pretty good pace through that Sunday and if you look it's not an easy track to overtake. Sebastian was quick in the first part of the race and couldn't overtake Kimi [Raikkonen]. So that's how it would have been pictured anyway if we were left to fight it out right to the end."
Who will sign off for the summer break in style? Watch the Hungarian GP live only on Sky Sports F1 this weekend. Sky Sports F1 is the only place to watch every Formula 1 Grand Prix, qualifying and practice session live in 2018. Get Sky Sports F1.