Hungarian GP: Valtteri Bottas penalised for Daniel Ricciardo clash
10-second penalty for Bottas but Finn keeps fifth position; Driver and team clarify comments over Wolff's 'wingman' remark
By James Galloway and Matt Morlidge in Hungary
Last Updated: 30/07/18 8:30am
Valtteri Bottas picked up a 10-second penalty for colliding with Daniel Ricciardo amid a chaotic end to a Hungarian GP for the Mercedes driver.
The time penalty is added to Bottas' final race time but does not affect his fifth-place finishing position.
Pierre Gasly finished 23 seconds behind the Mercedes driver on the road.
Stewards noted that Bottas 'had a damaged front wing' after an earlier clash with Sebastian Vettel and 'with the compromised line and less downforce' locked up and collided with Ricciardo at Turn One.
Bottas also had two penalty points applied to his previously clean licence.
Race report: Hamilton wins to extend lead
Latest F1 title standings
Speaking to Sky F1 before the penalty was applied, Bottas said: "With Daniel, pretty much a similar thing [to Vettel] but I was next to him on the inside.
"I had no half of my front wing so I was locking up as well. I'm sure he saw I was still going quite quick into the corner, but he turned in and then we touched."
Toto Wolff, Mercedes' team boss, said: "Daniel tried on the outside and didn't know that Valtteri's car was not in perfect state anymore and this is how they collided. There was nothing on purpose."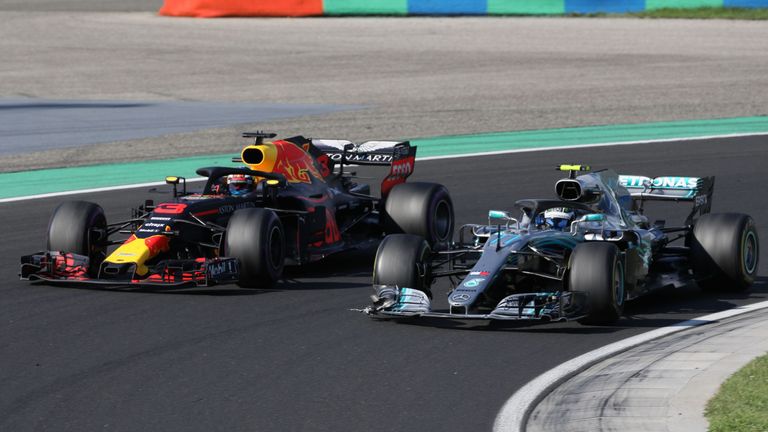 'Wingman' clarification
Having slipped from second to fifth inside the final six laps, Bottas appeared dejected in his immediate post-race TV interviews and said: "I don't see any positives in this race for me."
He also took initial umbrage at comments from his team boss Toto Wolff who, in praise of the Finn's drive, described him as having been a "sensational wingman" behind race-winning team-mate Lewis Hamilton.
When told of the remark, Bottas said: "'Wingman' hurts".
But Bottas and Mercedes later clarified their comments, with the Finn saying he had no issue with the team and knew what Wolff meant.
1/2
Some out of context news around..

I have not called a meeting with the bosses for Toto saying I was the perfect wingman in this race. There is no need to. I was disapponted with my end result in the race and saw everything in a negative way for a moment. I know what he ment

— Valtteri Bottas (@ValtteriBottas) July 29, 2018
2/2

And he would have said the same about Lewis if he'd be in same situation and had a similar race.
We are on equal terms and I trust the team 100% on that. All good. We'll keep pushing! It'll come. #VB77 @MercedesAMGF1

— Valtteri Bottas (@ValtteriBottas) July 29, 2018
Meanwhile, with Bottas having kept the Ferrari drivers at bay on tyres which were more than 40 laps old until the closing laps, Wolff said he had not been talking about 'wingman' in wider championship terms, on a day Hamilton won and extended his championship over Vettel lead to 24 points.
"In today's race, starting P2, Valtteri's race was the perfect wingman's race," he said. "I don't mean it in championship terms, because we have no number one and no number two, but just how he was racing was, from my standpoint, the best race so far from Valtteri with Mercedes in the last few years.
Hamilton: It would have been difficult to stop Seb
"The bittersweet feeling that I have is that he would have deserved to finish P2, where he started and where he was after lap one. Maybe the word wingman doesn't do him justice. He drove a sensational race and helped Lewis to build a lead. Lewis, on the other side, drove a faultless, spectacular race as well."
In Mercedes' post-race press release, Wolff said: "Valtteri drove what I think was his best race in his time so far at Mercedes."
The full stewards' verdict
'The Stewards reviewed video evidence, heard from the driver of car 77 (Valtteri Bottas), the driver of car 3 (Daniel Ricciardo) and the team representatives.
'Bottas had a damaged front wing from an earlier incident. As the two cars approached Turn 1, Ricciardo was on the outside of the turn and gave plenty of room.
'With the compromised line and less downforce from the front wing Bottas locked up, and collided with Ricciardo forcing Ricciardo off the track and causing damage. Both cars continued.
'The Stewards ordered a 10-second penalty, which will be applied to the final result, along with 2 penalty points.'
Sky Sports F1 is the only place to watch every Formula 1 Grand Prix, qualifying and practice session live in 2018. Get Sky Sports F1.