Mercedes surprised by Hungary win but claim Ferrari are still benchmark
Silver Arrows ahead of both championships after Hungarian GP win; Wolff says Mercedes are "very eager" to match Ferrari's power
By Matt Morlidge in Budapest
Last Updated: 30/07/18 2:58pm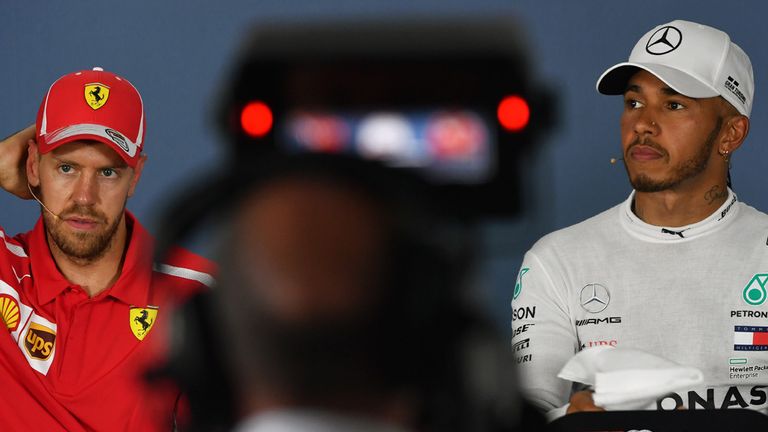 Mercedes boss Toto Wolff was delighted with a Lewis Hamilton victory that saw the Silver Arrows extend their lead in both championships at the Hungarian GP, but still believes Ferrari's recent power surge means they are the F1 2018 benchmark.
But Wolff has also warned his team's main rivals that Mercedes will "leave no stone unturned" in order to match their performance.
Hamilton enjoys victory against the odds
Wolff clarifies Bottas 'wingman' comments
Hamilton stormed away for the win on Sunday to open up a 24-point lead over Sebastian Vettel in the title race heading into the summer break, defying his team's fears that Ferrari, the quickest team in the dry at recent grands prix, would fight back in the Budapest's heat after a wet qualifying.
"We won a race in Budapest, in 60 degrees track temperatures, and that was not something we thought would be achievable for us," Wolff told reporters.
"That gives me a good feeling that we have understood more and we can be more competitive in the hot races in the future."
But despite their failure to challenge Hamilton at the Hungaroring - Vettel and Kimi Raikkonen finished second and third - Wolff is in no doubt who holds the engine advantage, claiming Ferrari were gaining almost half a second on the straights.
"We have been benefitting for many years with engine power, but Ferrari has done a job now that makes everybody need to catch up," he said. "We have fallen back since Austria."
Four-time double world champions Mercedes certainly have a fight on their hands - but are determined to battle back after the three-and-a-half-week break.
"I believe it's nice to be in a situation where we're the challenger," Wolff explained. "Since 2013 we haven't been the challenger and it's difficult to set the benchmark.
"You're basically running with a cross on your back. Now we know where the level of performance is with the Ferraris, and that is something that we are very eager and very motivated to achieve.
"We are not going to rest until we have done that."
Wolff added: "Andy Cowell [engine chief] and his troops, including the chassis integration teams, will leave no stone unturned in order to match it.
"We just need to really push hard on the chassis side and on the engine side and find that additional performance. It's there, it's not trivial, it's very complex, but it's there."
Spec three engine on the horizon?
With power tracks in Spa and Monza upcoming once an intense 2018 season continues, Mercedes know any kind of engine improvement will be crucial.
Ferrari have already debuted their 'spec three' engines, but only in customer teams Haas and Sauber's cars in Hungary, and Mercedes are planning to follow suit.
"We are in an interesting phase on the third engine and we are trying to extrapolate how much performance we can find until Spa and Monza," Wolff said.
Mercedes had to delay their previous power unit earlier this season, however, and Wolff continued: "Only when once we know that [performance] will we decide whether we need to postpone or do something else."
Wolff then explained Mercedes worries about finding that performance.
"It's very complex, and not straightforward at all," he admitted. "It's very difficult to extract additional performance without harming reliability.
"So every experiment you do that potentially adds performance needs to be validated against reliability.
"At the end, a DNF is going to kill you in the championship, much more than a tenth [of a second]."
Sky Sports F1 is the only place to watch every Formula 1 Grand Prix, qualifying and practice session live in 2018. Get Sky Sports F1.