Russian GP: Mercedes have 'tricky' Valtteri Bottas-Lewis Hamilton call
Mercedes to discuss team strategy on Sunday morning with Bottas ahead of title leader Hamilton on grid; Watch the Russian GP live only on Sky F1 at 12.10pm, with coverage from 10.30am
By James Galloway in Sochi
Last Updated: 30/09/18 4:16pm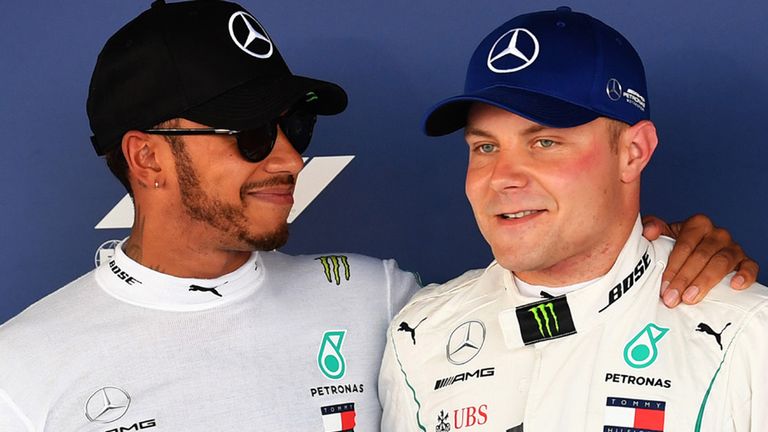 Mercedes admit they are faced with a "tricky decision" over how Valtteri Bottas and Lewis Hamilton go about racing each other in the Russian GP amid the Englishman's title battle with Sebastian Vettel.
In a surprisingly ominous show of speed at Sochi against an off-colour Ferrari, Mercedes comfortably locked out the front row but it was an impressive Bottas and not title leader Hamilton who won the race for pole position.
Bottas is effectively out of title contention with six races to go, whereas Hamilton leads the standings by 40 points from Sebastian Vettel, who qualified a distant third.
What happened to Ferrari's pace?
Hamilton rues late error
The Bottas-Hamilton order on the front row therefore presents Mercedes with a pre-race conundrum ahead of one of the most critical opening laps of the season, which features a long uninterrupted run to Turn Two.
Asked how they would handle the first corners, team boss Toto Wolff said: "I'm not sure.
"It was important for Valtteri to bounce back the way he did in qualifying and regain some confidence.
"But we are not in the part of the season where I particularly enjoy two Mercedes racing each other in the front. As much as I hate to say that as a race fan, but you need to calculate a little bit more at that stage."
On the face of it, Ferrari were faced with a similar dilemma at the Italian GP earlier this month when Kimi Raikkonen headed Vettel an all-red front row. Raikkonen held the lead, but Vettel lost out behind was overtaken by Hamilton and the Englishman went on to win the race.
Wolff makes no secret of his general distaste for team orders but, with the championship still finely poised, he says they will discuss the situation as a team and agree plans with the drivers on Sunday morning.
"None of us likes it because we have seen it in the past from other teams and we had that discussion between Nico [Rosberg] and Lewis," Wolff explained.
"Lewis wouldn't want it because he wants to give it a go on his own, and Valtteri wouldn't want it because he needs that win that he doesn't have this year.
"So it's a very tricky decision to make and we will be discussing it tomorrow [Sunday] morning with both of them and, as always, come to a solution with the buy-in of everybody."
Bottas' brilliant final Q3 lap delivered his first pole for seven races and the Finn remains without a race win this season.
And Wolff admitted to Sky F1: "It's going to be difficult to tell him now that you're not allowed to race after putting it on pole."
What do Mercedes' drivers say?
Bottas: "My approach to the race is definitely just trying to win the race. You can't have any other goal, starting from pole so that's going to be the aim, for sure.
"But, of course, we're here as a team, we're fighting for both championships. Lewis is leading the championship with a bit of a gap to Sebastian and a very big gap to me, so always need to keep those things in mind. But, yeah, my approach, starting the race, trying to win and we'll then see how it goes."
Hamilton: "I think all our goals is to try and win this race. It's a difficult track on which to try and overtake so the start will be an interesting one and after that it's all partly about strategy, we're all pretty much on the same [one]."
Sky Sports F1's Russian GP schedule
Sunday, September 30
9.15am: F2 Race Two LIVE!
10.30am: Pit Lane LIVE!
11.30am: On the Grid LIVE!
12.10pm: The Russian Grand Prix LIVE!
3.30pm: Paddock LIVE!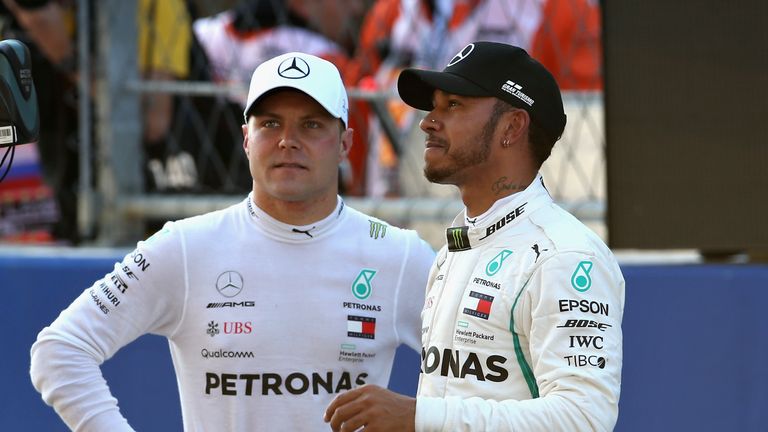 Sky Sports F1 is the only place to watch every Formula 1 Grand Prix, qualifying and practice session live in 2018. Get Sky Sports F1.