Japanese GP: Lewis Hamilton dominates practice but Mercedes insist Ferrari are holding back
Hamilton enjoying driving "more than ever" in Suzuka but are Ferrari in the hunt for pole?
By Matt Morlidge and James Galloway at Suzuka
Last Updated: 04/12/18 5:12pm
Toto Wolff insists Mercedes and Ferrari are still "neck and neck" at the Japanese GP despite the championship leaders' huge Friday advantage.
Ferrari are looking for a victory to reignite their title challenges this weekend, but an impressive Lewis Hamilton topped Mercedes one-twos in both of Suzuka's opening two practice sessions.
Sebastian Vettel was eight tenths behind his title rival in P2, and that was the closest Ferrari got to Mercedes all day.
P2: Hamilton enjoys 'best day'
Gasly reprimanded for Hamilton near-miss
The Scuderia are, however, thought to have been running their engines in 'conservative mode' and Wolff believes it is actually a lot closer than the timesheets suggest - even claiming Vettel could have been quicker on day one.
"Ferrari have turned down a bit," the Mercedes team boss told Sky F1.
"We are actually losing a bit through the esses, the fast corners, so I think probably Vettel's lap time is a little better at the moment."
Validating his theory, Wolff continued: "In the morning they were quicker through almost every corner but they had a softer tyre.
"Now when we have the same tyre, we seem to be gaining in a straight line so that makes me doubt whether they have really shown their full performance.
"Now through the esses they are quick so we are neck and neck, even though the lap times show a larger gap."
Hamilton currently holds a 50-point lead over Vettel in the championship, and no driver has ever overhauled as big a deficit since the current scoring system began eight years ago.
But Wolff stressed: "In 2007, Lewis had an equivalent of 45 points advantage with two races to go and lost by one point. So we are far from having it in the bag."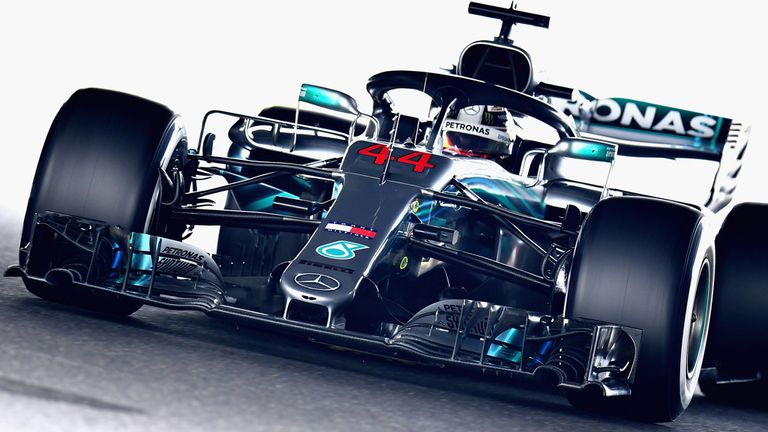 Hamilton loving driving 'more than ever'
It was a supreme day in the car for Hamilton, who led team-mate Valtteri Bottas by four tenths in both sessions.
"This track is awesome. I'm having the best day!" he giggled during Practice Two.
Hamilton expanded on those comments afterwards, explaining just how much joy he gets from driving around the iconic Suzuka circuit.
"They don't make tracks like this anymore - there's very little room for runoff, a little touch of the grass and you're off in the wall," said the Englishman. "Suzuka has to be one of my favourite circuits, if not the favourite one, it's very cool.
"The first section is the best roller coaster ride that I've felt in a Formula 1 car. The balance was in quite a nice place, so I was just enjoying it."
Hamilton added: "I'm just loving driving more than ever; when you get in the car, it's just the best, it's so fast and I'm so grateful to have the opportunity to do what I do.
"I've just been giving thanks all day today because this is what I've always wanted to do."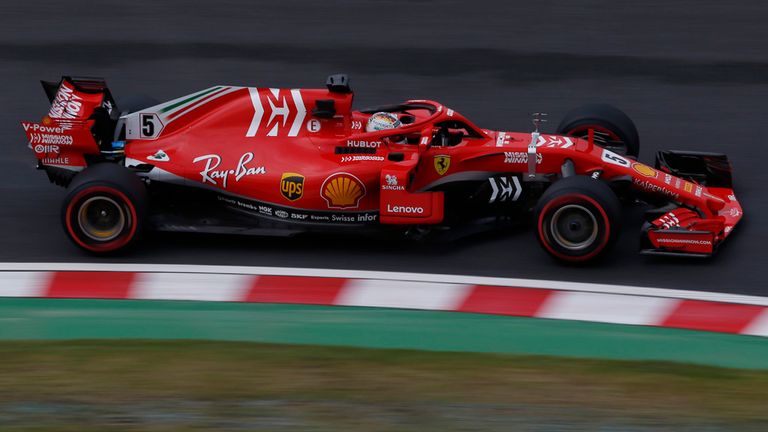 So can Ferrari battle Mercedes for pole?
Appearing to back up Wolff's claim that Ferrari are stronger than Friday suggested, Vettel appeared reasonably content with the team's start to the weekend - a day he described as a "clean Friday with no interruptions".
"I was pretty happy, it was pretty good," said Vettel. "It's a monster lap and you always think that there's a little bit more here. We can still improve.
"In the end we tried something on the car that seemed to give us a bit better feeling, so let's see if we can get it together tomorrow and find something else."
Asked if they can bridge the large Friday gap to Mercedes, Vettel replied: "Time will tell, I don't know. We couldn't do that today but it doesn't matter what they do, we look at ourselves, and we will try to get the best out of our package."
While their deficit has rarely been as large as this at the end of the opening day, Ferrari have consistently tended to not show their full had until Saturday when the car is run at full pelt.
"I don't think we tried something different to other Fridays," Vettel said.. "I think we know what the car can do. If we can grasp pole tomorrow, that is great, but if not we need to be there just right behind."
However, one concern was tyre wear after delivering blisters on his P2 long-run: "We were sliding a bit too much when the temperatures go up."