Lewis Hamilton can win fifth F1 world title at United States GP
If Hamilton wins in Austin for fifth straight season, Vettel must finish second to take title fight on to Mexico
By James Galloway
Last Updated: 07/10/18 12:00pm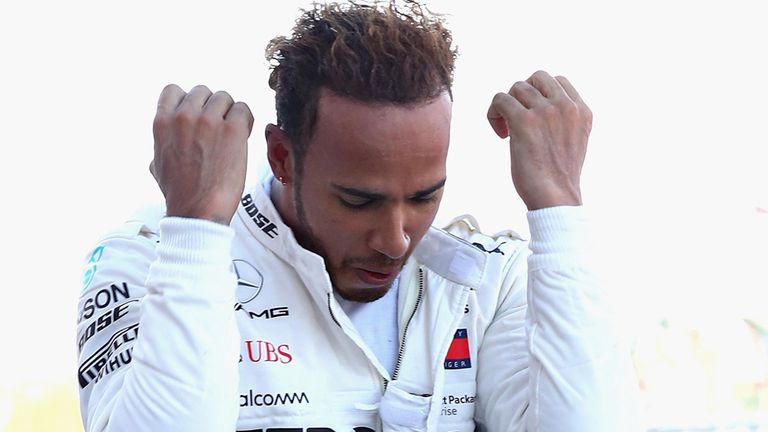 Lewis Hamilton will clinch his fifth Formula 1 world title at the next grand prix in the USA on October 21 if he outscores Sebastian Vettel by eight points.
Hamilton's serene win at the Japanese GP, his fourth in a row, and a sixth-place finish for Sebastian Vettel on an error-strewn weekend has set up the possibility for the Mercedes driver to settle their 2018 battle three races early in Austin.
Hamilton leads Vettel by 67 points and needs to be 75 ahead by the end of the US GP to become a five-time world champion.
The title permutations:
If Hamilton wins in Austin, Vettel must finish second to take the title fight on to the Mexican GP
If Hamilton finishes second, Vettel must finish fourth
If Hamilton finishes third, Vettel must finish sixth
If Hamilton finishes fourth, Vettel must finish seventh
If Hamilton finishes fifth, Vettel must finish eighth
If Hamilton finishes sixth, Vettel must finish 10th
If Hamilton finishes seventh or lower, the title race goes on to Mexico
Hamilton is already guaranteed to emerge ahead in any tie-break situation were he and Vettel to finish level on points at the end of the season.
Race report: Hamilton wins, Vettel implodes
Vettel under fire after colliding with Verstappen
Latest championship standings
Although Vettel can still match Hamilton's tally of nine race wins this year by winning the season's final four rounds (he currently has five victories), the Mercedes driver would still have at least one more second place finish to his name (currently three to two).
The United States GP weekend is live on Sky Sports F1 from October 19-21.
Where has Lewis won his previous titles?
| Year | Grand Prix | How may races left? |
| --- | --- | --- |
| 2017 | Mexico | 2 |
| 2015 | USA | 3 |
| 2014 | Abu Dhabi | 0 |
| 2008 | Brazil | 0 |
Hamilton aims for 2015 repeat
Austin's Circuit of the Americas was the scene of Hamilton's coronation when he beat Nico Rosberg to the 2015 world title, his third, and the Englishman will undoubtedly start as favourite to at least win the showpiece race.
Already the form man in F1 2018 with six wins in the last seven events, Hamilton is the most successful driver in the history of the US GP with six victories, with the last four coming in succession.
Since the Austin venue joined the calendar in 2012, Vettel in 2013 is the only other driver to win there.
Ayrton Senna is the only driver to win five grands prix in a row at the same venue, Monaco.
Sky Sports F1 is the only place to watch every Formula 1 Grand Prix, qualifying and practice session live in 2018. Get Sky Sports F1.