Mercedes can continue to improve W05, declare Lewis Hamilton & Nico Rosberg
"We're not sitting comfortably that's for sure," warns Lewis
By James Galloway
Last Updated: 02/05/14 11:22am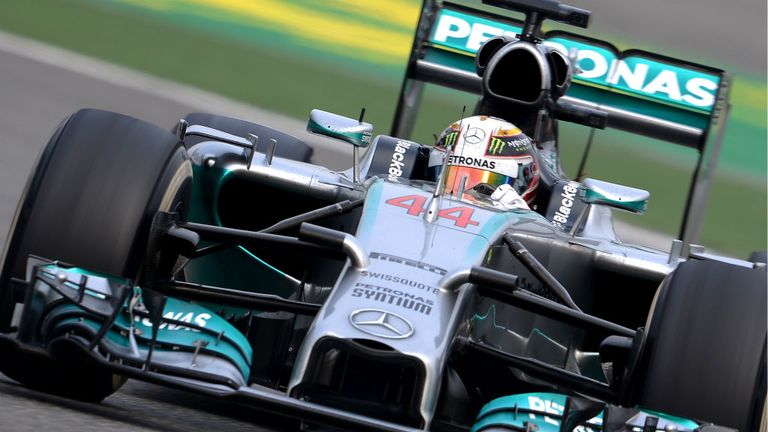 Mercedes have returned to Europe following the opening quartet of flyaway rounds having made the most dominant start to a season for 18 years courtesy of pole and race victory at each of the four grands prix so far.
With next week's Spanish GP ushering in the start of the European leg of races which traditionally herald the proper start of the in-season development race, Mercedes' so-far distant rivals, notably Red Bull and Ferrari, are aware they need to close the pace gap if the championship race is not to effectively be run by mid-season.
Theoretically, with by far the most competitive car in the field, Mercedes have less scope to make significant improvements to the all-conquering W05 - however, both of their drivers are adamant there is still lots more to come.
Hamilton, winner of the last three races, pointed to the car's aerodynamics as one such area for refinement.
"We're not sitting comfortably that's for sure. We've got more work to do," the Briton declared.
"The Red Bull is very, very fast through the high-speed, which tells me they maybe have a little bit more downforce than us. Last year was a massive gap between how much downforce they had [compared to what Mercedes had]. We've definitely closed that up but I think we can do a better job, we can do more.
"So we're going to keep pushing on that and undoubtedly Mercedes are going to keep pushing and I feel comfortable that they'll keep getting better in terms of the engine."
Since returning to team ownership in 2010, Mercedes have tended to start seasons relatively strongly only for their form to tail off later in the year. Only once in that spell - 2011 - have the Brackley outfit scored more points in the second half of the season than the first.
However, Rosberg, who has been with the team throughout that period, thinks they are now fully capable of maintaining the necessary rate of development.
"Concerned? No, because we really have a strong team now," the German insisted.
"It's taken four-and-a-half years and we're just well set up now. Starting with [Executive Directors] Toto [Wolff] and Paddy [Lowe] at the top, filtering down I think we have a good structure now and it's shown with this car. We've built a fantastic car and so that's proof of the structure we have now in place."
The 28-year-old did, however, add a note of caution given the nascent nature of the 2014 regulations.
"Very recently Red Bull was still the benchmark and is still the benchmark as a team - I don't think it changes that quickly - so we need to be careful and keep on improving ourselves, which we are doing, to keep our advantage or even extend it," he added.
"The target needs to be to extend it, that's going to be very ambitious, but that needs to be the target. At least keep our advantage and I'm optimistic that we can achieve that.
"But saying that, this year it's a development race which is much more extreme than we've seen in recent years because the regulations are so new.
"When the regulations are new the development curve just goes straight up for the first period and then it flattens off at some point once you can't really find so much more.
"But in the beginning the teams are learning so much...it's really important to keep on it because the chances for the teams behind us to catch up are much bigger than, for example, if we were being in the same situation last year because the development is just going to be huge this year."