Mercedes team orders row brewing after Lewis Hamilton holds back Nico Rosberg
"I was racing for myself, I wasn't racing for him," says Hamilton; Lewis cuts Nico's title lead to 11 points after stunning charge from pitlane
By Pete Gill
Last Updated: 28/07/14 12:02pm
An unrepentant Lewis Hamilton has insisted he "did the right thing" in refusing to yield to Nico Rosberg as a team orders row brews at Mercedes following a breathtaking but contentious Hungarian GP.
Ahead on the road and running to the end of the race on the medium tyres, Hamilton was told to give up track position to his team-mate, and solitary title rival, on the basis that Rosberg, on the faster but more brittle soft compound, had to stop again.
Hamilton refused to budge, repeatedly rebuffing his team's request by refusing to slow down in order for Rosberg to find a way through on the notoriously tight confines of the Hungaroring.
"I'm not slowing down for Nico," declared Hamilton over the team radio as tensions rose. "Get close and then he can overtake me."
Had Hamilton let Rosberg through then it's possible that the German would have gone on to win the race ahead of Red Bull's Daniel Ricciardo and the Ferrari of Fernando Alonso. But had the position been yielded it was also all-but certain that Rosberg would have extended his championship lead over Hamilton. Instead, the Englishman, who started the race from the pitlane, was just able to hold off Rosberg on the final lap after being caught by the German following his extra stop for fresh rubber.
"I would have lost points to Nico if I had let him past when they asked me, he would have beaten me. So I'm not quite sure what the situation was there. I don't want to comment, I'll go and speak to everyone and give them the benefit of the doubt, I'm sure it was for the right reasons perhaps," Hamilton told Sky Sports F1.
"Ultimately I would have lost points so it definitely feels strange for me, but I'm grateful I made the right decision for myself. At the end of the day, I was racing for myself, I wasn't racing for him."
Hamilton's unhappiness with the team's request - arguably more an instruction than an order - was reflected in his surprisingly subdued demeanour on the podium despite out-pointing Rosberg.
"As far as I am aware, in my mind I was racing him. Of course, he had to do one more stop but, looking back, if I had let him past when they asked me to let him past he would have finished ahead of me and that would have been quite significant for the championship. I'm a bit taken by it but I'm sure they will explain it back to me afterwards," said Hamilton to Sky Sports News.
Speaking in the press conference, Hamilton described himself as "very, very shocked" by the request.
"Just because he had one more stop than me doesn't mean I wasn't in the same race as him," he said. "And naturally if I'd have let him past, he would have had the opportunity to pull away and when he does pit, he's going to come back and overtake me, so I was very, very shocked that the team would ask me to do that, to be able to better his position. But to be honest, he didn't get close enough to overtake but I was never going to lift off and lost ground to Fernando or Daniel to enable him to have a better race. So that was a bit strange."
Rosberg was heard asking the team why Hamilton hadn't give up position as he ran behind the sister Mercedes but insisted afterwards that he hadn't sought any assistance.
"The team informed that he was going to let me through but I don't know what happened. We need to discuss internally. But I am still in the lead of the World Championship and I'll come back from the summer break on full attack mode," an uncomfortable-looking Rosberg told Sky F1.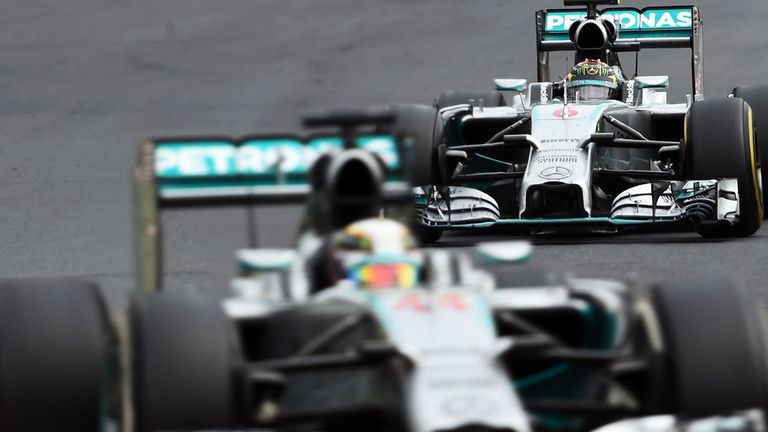 Rosberg now leads the World Championship by a slender 11 points after failing to find a way past Hamilton when his team-mate robustly defended third place on the final lap. 
"I had a chance on the last lap and I am very, very annoyed I didn't make it happen. Lewis made a small mistake into Turn One but it didn't work out," Rosberg reflected.
Rosberg had built up a substantial lead from pole position before his advantage was wiped out by the Safety Car deployed following Marcus Ericsson's crash. While focus will inevitably be trained on the repercussions of Hamilton's refusal to yield ground to Rosberg, team boss Toto Wolff was adamant that Rosberg would have cruised to victory but for the interruption.
"We were unlucky. The first Safety Car came out when the top three were along the main straight and this is why the top three [at that stage] - Nico, Sebastian Vettel and Valtteri Bottas - ended up nowhere."
Asked specifically about Hamilton's apparent refusal to heed the team's request, Wolff added: "They are fighting the World Championship, it wasn't an easy call, we need to look at all the pros and cons."
But the final word must go to Hamilton after his charge through the field after compounding his pitlane start by spinning off on the first lap.
"That was one of the worst moments in my life but I was just saying that if l hadn't had any luck then that was my little luck cushion right there," he told Sky F1. "As painful as it has been, physically and mentally, in the last two races, to punch through it and fight through the field is one of the greatest feelings you could have. I've enjoyed that."