Lewis Hamilton & Nico Rosberg may face 'unpopular' Mercedes calls
Wolff says the threat of Ferrari means pitwall may have to "manage" their drivers more; But team chief rules out "clear team orders"
By James Galloway
Last Updated: 21/04/15 1:01pm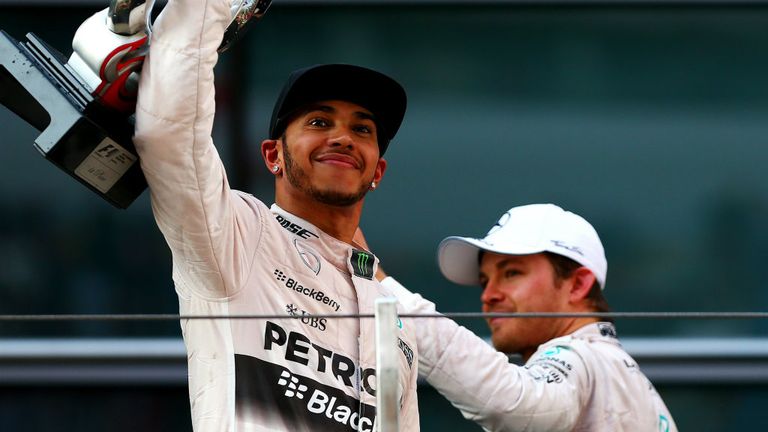 Toto Wolff has admitted that Mercedes may have to start "managing" their feuding drivers more during races in light of the rise of Ferrari in 2015.
The Mercedes management's handling of Lewis Hamilton and Nico Rosberg's in-house duel has been thrust into the spotlight once again by the latest spat between the pair after the Chinese GP.
After finishing second to his team-mate for the fifth time in the last eight events, a riled Rosberg accused his team-mate of driving "unnecessarily slowly" in the middle of the race and backing him up into Ferrari's Sebastian Vettel.
Hamilton, however, has since countered the German's claims by suggesting "Nico didn't try" to close on him and attempt to overtake during the race.
The reopening of the war of words has come amid the resurgence of Ferrari, the Italian team winning in Malaysia and then running the W06s close for much of last Sunday's race. With the rules of engagement having clearly changed as a result for Mercedes after they swept all before them in 2014, team boss Wolff says the pitwall could now have to make "an unpopular call" if they risked losing out on a race win.
"Our main objective is to be number one. This is what we decided. We have big a responsibility to the team and a big brand," the Mercedes executive director said.
"It is not just the two guys out there but about a thousand people working on these cars. If it ever comes to a point of interfering between the two of them because we risk to lose a race win, we would do that. We do not have the gap any more from last year where we can just let them push each over until the very end. We need to manage the gaps between the two of them.
"It could have come to a point on Sunday where we could have been very firm on the radio saying this is what needs to be done in order not to risk the race result. It could come to a situation where we risk losing the win to a Ferrari when we might have to do an unpopular call and manage them more."
However, drawing a clear distinction between team 'management' and a team 'order', Wolff ruled out the prospect of Mercedes employing the kind of divisive tactics used by Ferrari during their Schumacher and Alonso eras. The Austrian reiterated that a less drastic intervention into the Rosberg and Hamilton battle was still possible, though.
"We wouldn't freeze anything. That is something we decided not to do," he reiterated.
"What we understand as the clear team order, which we have seen in the past, [is] saying 'you are not allowed to overtake' because you are the faster car. This is not something honestly I can see happening.
"I can understand why teams did in the past did it because they were under threat of losing the championship. Touch wood, we haven't been in that situation yet. But managing more without making such a drastic call is within the possibility now."
Wolff has already admitted they may have to start splitting their drivers' strategies to fend off the challenge from Ferrari
"[Last year] we had a bit of a margin, but this year it seems that Ferrari have caught up and if we need to split the strategy in order to secure a race win then we will do that," he told Sky Sports F1.
The Rosberg/Hamilton row is unsurprisingly overshadowing the world champions' build up to this weekend's Bahrain GP, but Wolff insists Mercedes head to the desert in good spirits.
Asked if the Chinese GP altered their approach to the next race, Wolff replied: "In no way at all. What pleases me is that as a team we have bounced back. We've solved the problem of making the tyre last longer.
"We tackled the problem from different angles - aerodynamic, mechanical and the behaviour of the power unit. That worked. So in this respect, we are well prepared."