Mercedes not ruling out supplying Red Bull with engines
Red Bull reported to be in talks with Aston Martin; Deal would reputedly see former champions supplied with Mercedes engines in return for technical partnership
By James Galloway at Silverstone
Last Updated: 08/07/15 11:49am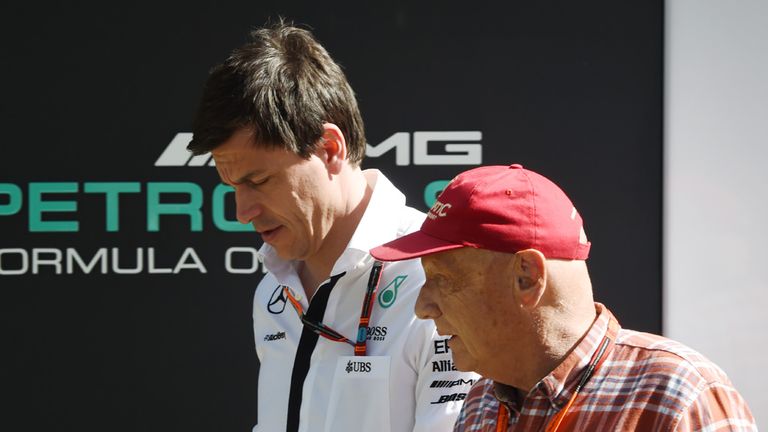 Toto Wolff has left the door open for Mercedes to supply rivals Red Bull with customer engines, making it clear that "you need to consider all the options".
A surprise report in Autocar ahead of Sunday's British Grand Prix claimed that Red Bull, currently struggling for form with engine partners Renault, were in talks about entering into a technical and brand partnership with Aston Martin which would help them broker a deal for a supply of the class-leading Mercedes engine from as early as 2016.
The prospect of Red Bull running the German manufacturer's power units has previously been considered unthinkable given their status as two of F1's biggest teams and winners of the last five world championships between them.
However, with the engine market set to be potentially shaken up by Renault returning to team ownership, most likely as the new owners of Lotus, Wolff said there would be ramifications from such a move.
And while he denied that talks with Red Bull had started, Wolff intriguingly suggested that "maybe there is a new enemy" following the ex-champions' fall from dominance since the end of 2013.
"There are many, many things to be considered. What happens if Renault decides to have their own team and buy another team? Will they continue to supply Toro Rosso and Red Bull and, if not, what are the solutions?" Wolff, the Mercedes motorsport boss, mused after another one-two finish for his team at Silverstone.
"Who's going to supply them in order to make them stay in the sport? What does it mean for us? Until now they were the enemy, maybe there is a new enemy. What does it mean in the great scheme of things in politics and the balance of things?
"There are no discussions ongoing, nothing has been started. But you need to consider all the options."
Asked if he was therefore leaving the door open to a Red Bull supply deal, Wolff replied: "I'm leaving the door open."
For Red Bull's part, team principal Christian Horner labelled the Aston Martin/Mercedes report as "purely speculation" and reaffirmed that his team's deals with Renault and title sponsor Infiniti, the luxury car brand of the Nissan-Renault alliance, run until the end of next season.
"The fact is we have a contract with Infiniti and a contract with Renault until the end of 2016, anything beyond the end of that agreement is purely speculation," Horner said. "Last week it was Ferrari, this week it is Mercedes, next week it will probably be Honda or Lamborghini. There is a lot of speculation at the minute with Infiniti, we have a very good relationship with Infiniti and anything beyond the end of 2016 is purely speculative at the minute."
Asked if he could therefore deny that he had spoken to them about such a deal, Horner cryptically replied: "I speak to lots of people."