Red Bull's F1 future in limbo after Ferrari 'reject request for engines'
Former world champions could leave F1 at the end of 2015 after Scuderia only offer engines to junior outfit Toro Rosso; Red Bull may have to reconcile with Renault to stay in sport
By Pete Gill and James Galloway
Last Updated: 09/10/15 4:48pm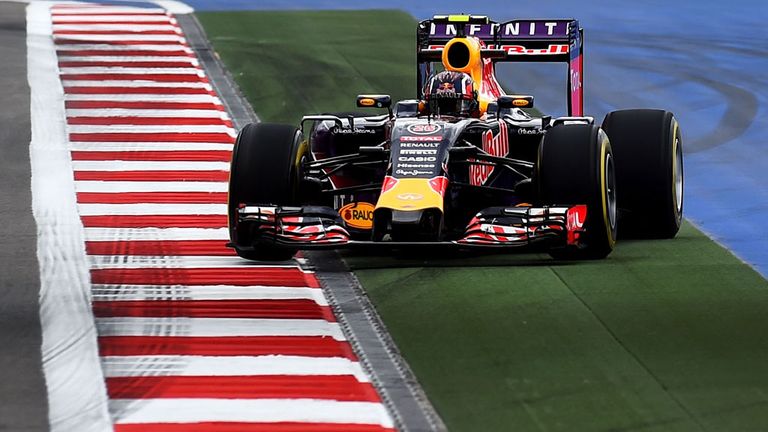 Ferrari are believed to have decided against supplying Red Bull with engines for 2016.
The news seemingly leaves the former world champions on the brink of leaving F1 at the end of the season.
"Red Bull don't have an engine - I think it's absolutely clear that Ferrari won't and can't supply them with 2016 engines," Sky Sports F1 pundit Martin Brundle confirmed.
Sky Sports F1 understands that Mercedes rejected fresh overtures from Red Bull for an engine supply last week - a month after first turning down their request.
"Their only option is to walk away or rebuild bridges with Renault," added Brundle.
German publication Auto Motor und Sport claim Ferrari are only willing to provide engines to Red Bull's junior outfit Toro Rosso amid fears the former world champions would be 'too strong' even if armed with a year-old set of V6 units.
"There are a lot of negotiations going on," Red Bull team boss Christian Horner told Sky Sports F1. "Nothing is fixed."
Dietrich Mateschitz, the energy drinks magnate and owner of both Red Bull and Toro Rosso, has repeatedly warned since the start of season that he would withdraw from the sport unless his teams were given a 'competitive' supply of engines.
Ferrari offered no explicit comment on the reports, other than to insist again that any refusal would be more a reflection on the difficulties posed by expanding their existing supply at late notice, rather than the threat a Ferrari-engined Red Bull might pose.
"They only reached out to us after the Monza race. If the whole thing had happened in June, we would have had enough time to think about collaborating," team boss Maurizio Arrivabene said. "This is not how the F1 works."
F1 supremo Bernie Ecclestone told reporters upon arriving in Sochi for this weekend's Russian GP that he was powerless to force Ferrari - who are already contracted to supply Haas and Sauber next year - to make a deal with Red Bull.
However, Ecclestone has insisted he still expects 22 cars to remain on the grid next year.
Divorce papers were served on their current suppliers, Renault, two months ago. Since then, Mercedes have formally rejected Red Bull's request for an engine supply while Honda, the only other engine suppliers on the grid, have an exclusive deal with McLaren for 2016.
"Unless the Renault contract has been declared null and void they still have a deal for next season," suggested Sky Sports F1's David Croft. "For 2017 there's nothing in place, but as far as I know for 2016 there is that contract in place.
"So Red Bull could carry on with Renault engines or they could walk away. But it's quite hard to see them making up to the extent they can all be happy families again." 
It was the inadequacies of Renault's engines, unchanged since the start of the year, which first gave rise to fears that Red Bull would leave F1 and Horner declared last week that he believed the French manufacturer were "at least two to three years" behind Ferrari and Mercedes.
Don't miss Sky Sports F1's live weekend-long coverage of the 2015 Russian Grand Prix. Our race-day show begins at 10.30am on Sunday, with lights out at 12 noon. Watch the Russian GP for £6.99 with NOW TV