'Red Bull being forced out of F1' claims Red Bull-owned magazine
Speedweek is the motorsports platform from Red Bull Media House; Publication claims team are likely to exit F1 and returning to Renault is not an option
By William Esler and Ena Bilobrk
Last Updated: 09/10/15 4:14pm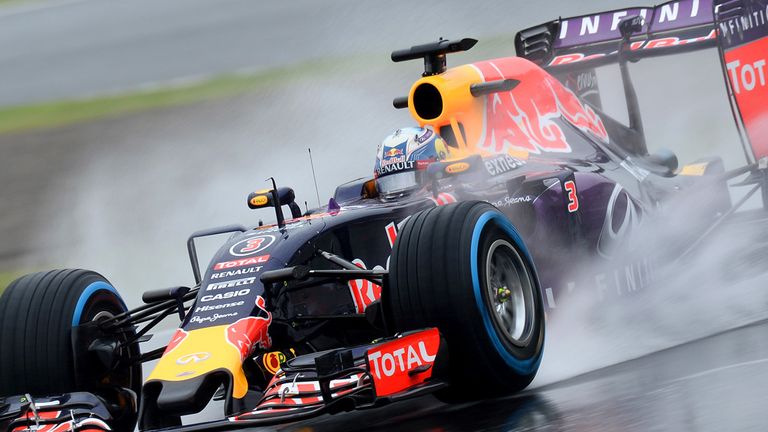 A scathing attack on Formula 1 has been launched by the Speedweek publication which is part of the Red Bull Media House.
Red Bull are struggling to find an engine supplier for 2016 after it emerged in Russia that Ferrari are unwilling to power four more cars next season.
The publication claims that an exit from F1 looks the most likely scenario for Red Bull next year, declaring "bravo F1, keep doing what you are doing".
According to Speedweek, the future of Red Bull's two teams now rests in the hands of the engine manufacturers and the magazine questioned the value of any silverware they win without racing a competitive rival.
'It seems like Ferrari and Mercedes are the ones to determine whether Red Bull and Toro Rosso will stay at the F1,' it added.
'But what are the victories of Ferrari and Mercedes worth, if they win against the Saubers and Manors of this world.' 
'The French have a huge backlog compared to Mercedes and Ferrari. Why should Red Bull split with Renault and then exit the F1?
'Christian Horner said recently that it could take Renault two to three years to reach the level of Mercedes and Ferrari. The contract had been eliminated for a good reason.'
Speedweek also described speculation Horner could stage a management buy-out to save the team as Ross Brawn did when Honda left F1 as "insane".
'What the gossip spinner, unfortunately forgot is that Honda handed their business over in late 2008 for a symbolic pound to Ross Brawn and they then financed their 2009 with millions. This is a scenario that is unlikely to be repeated.'
Meanwhile, Ferrari boss Maurizio Arrivabene has suggested the Scuderia had no option but to reject Red Bull's request after only being asked for a 2016 engine supply last month. 
"If the whole thing had happened in June, we would have had enough time to think about collaborating. But they only reached out to us after the Monza race," the Italian told the same publication.
"A fourth customer team would mean a larger engineering team in order to provide them with the same service as Sauber and Manor and the team can't be made up of freshers that have just left university.
"This is not how the F1 works. That means, if Ferrari president Sergio Marchionne calls me and instructs me to deliver engines to Red Bull, we would have to change all the plans we have made after accurate examination."
However, despite the pessimism, F1 boss Bernie Ecclestone is sure there will be 22 cars on the grid next year and has told Sky Sports News HQ that the Red Bull situation is being "cleared up".
Don't miss Sky Sports F1's live weekend-long coverage of the 2015 Russian Grand Prix. Our race-day show begins at 10.30am on Sunday, with lights out at 12 noon. Watch the Russian GP for £6.99 with NOW TV