Red Bull and Honda begin talks over 2019 engine supply
Could Red Bull ditch Renault for Honda? Talks have started, but teams have until May 15 to reach an agreement
By Matt Morlidge
Last Updated: 01/05/18 10:04am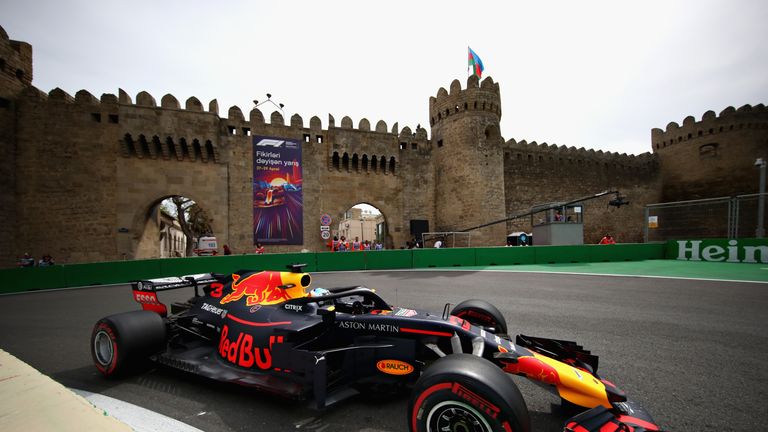 Red Bull and Honda have started "positive" talks regarding a 2019 engine supply as the former F1 world champions consider their options.
A meeting between Helmut Marko and Honda F1 chief Masashi Yamamoto took place at the Azerbaijan GP, and would suggest a split between Red Bull and current suppliers Renault is more likely than ever.
It would also appear Red Bull are giving serious consideration to swapping Renault, with whom their engine contract expires at the end of the season, for Honda power which was much-criticised over their three years with McLaren.
Hamilton leads but loses favourites tag
Red Bull won't impose team orders
Azerbaijan GP driver ratings
But the Japanese firm have made a promising start to life with Toro Rosso, the Red Bull junior team, with Pierre Gasly sealing a fourth-place finish in Bahrain - the best Honda-powered result since their F1 return in 2015.
Yamamoto, confirming the first official meeting between Red Bull and Honda, told the official Formula 1 website: "Because it was the very first meeting, we discussed the conditions of both sides, what do we expect of each other. It was the first discussion.
"Yes, it was positive. We do believe we were both satisfied. There is a good relationship between us. However, it's the first time we have an official meeting. It's the starting point for a potential future."
Red Bull and Honda would, however, have just over two weeks to complete a deal to meet an FIA deadline, with sporting regulations dictating that manufacturers must inform them by May 15 which teams they plan to supply in 2019.
"It's something we are starting to discuss now and it has to be smooth between Honda and Red Bull," added Yamamoto, who claimed that it could only be a two-year deal to fall in line with the Toro Rosso agreement, which runs until the next engine formula in 2021.
"I want to use the time we have left to discuss with the Honda board members before I take the feedback back to Red Bull to take the next steps.
"When we decided to come back to F1, the plan was not to just stick with one team but work with multiple teams.
"The board members are aware of discussions and there is a big respect for the relationship [with the Red Bull organisation]."
Speaking to Sky F1 at the Azerbaijan GP, Christian Horner described the Red Bull's relationship with Renault as a "roller-coaster" and admitted they were monitoring Honda's progress for next season.
Renault powered Red Bull to four consecutive constructors' titles from 2010 to 2013, but since then have struggled to match Mercedes and Ferrari power with only nine wins in the hybrid era.
"At the moment [the Renault engine] is performing alright, they're working hard and trying to introduce upgrades on their next batch of engines," Red Bull team boss Horner said. "But for the first time in almost 10 years we're facing a choice.
"We think Honda have done a good job so far this year. We've watched with interest how they're progressing and how their upgrades start to phase in."
As well as powering Gasly to a fourth-placed finish, Honda have also showed improved reliability this season.
Sky Sports F1 is the only place to watch every Formula 1 Grand Prix, qualifying and practice session live in 2018. Get Sky Sports F1.