F1 Report: Daniel Ricciardo and Max Verstappen's Azerbaijan GP crash is 'wake-up call' for Red Bull drivers
Jamie Chadwick and Jordan King join Natalie Pinkham to review the Azerbaijan GP and the all-Red Bull crash; Watch the full F1 Report
Last Updated: 03/05/18 9:17am
Daniel Ricciardo and Max Verstappen's all-Red Bull collision in the Azerbaijan GP will serve as a "wake-up call" to the two drivers, according to this week's F1 Report guests.
The Red Bull team-mates had already touched wheels twice before Ricciardo ploughed into the back of Verstappen's car when lining up a move for fourth into Turn One on lap 40.
Ricciardo and Verstappen were reprimanded by the Baku stewards and Red Bull team principal Christian Horner blamed both drivers for the incident, with the pair also apologising to the team.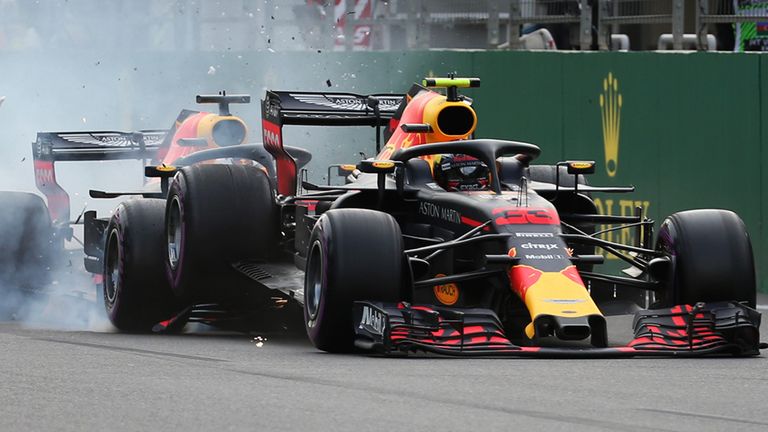 It was the second time in under a year that the Red Bull pair had collided resulting in at least one of them retired - after Verstappen ran into Ricciardo in Hungary last July - and British Formula 3 driver Jamie Chadwick thinks the incident will remind the drivers of their responsibilities.
"They are so evenly matched, such great racers, that they are always going to be fighting for the same bit of tarmac. I was surprised they made it that far into the race," Chadwick said on the F1 Report.
Red Bull won't impose team orders
Hamilton leads but loses favourite tag
Red Bull crash pair reprimanded
Ricciardo and Verstappen apologise
"It's got to go to that level for them to realise the position they're in.
"Red Bull haven't done badly out of it if you look at it from a coverage and exposure point of view, everyone is still talking about them.
"But they've lost a load of points and I think this will be the wake-up call that both drivers really needed."
Former Formula 2 driver Jordan King, who now races in IndyCar, joined Chadwick and Natalie Pinkham on the show and agreed the race-long battle had looked doomed to end in disaster.
"If I was a betting man I would have bet on them around lap five of them eventually coming together," he said.
"It's inevitable when you have two great racing drivers, the cars are evenly matched. You are always qualifying within a hundredth of each other because you've both got the same kit so you are inevitably on the same bit of race track."
Red Bull refused to employ team orders in Baku, with Ricciardo being encouraged to chase down his team-mate again after being overtaken through their pit stops, and Horner added following the race that the team would be loath to deny their drivers the freedom to race.
"I'm sure the number one rule they gave them was don't crash but the second rule as a driver is you have to beat your team-mate so they kind of counteract each other," King added.
"The top guys at Red Bull make the decisions. If they want them to race, and that's their attitude, then fine let them race but accept they may come together a couple of times.
"They are just as likely to crash with other people on the road, and Max has done so this year a couple of times already, but it is just a bigger storm given it's your team-mate."
Also up for discussion on the bumper show:
* The FIA's decision to introduce new aerodynamic regulations for the 2019 Formula 1 season in a bid to improve overtaking.
* The battle between Pierre Gasly and Kevin Magnussen in Baku, which led Gasly to call the Dane "the most dangerous driver I have ever raced with".
* Lewis Hamilton secured his first win of 2018 in Azerbaijan but only after Valtteri Bottas' late puncture, so is the reigning world champion off the boil?
* And was Sebastian Vettel's lock-up when challenging Bottas for the lead on the Safety Car re-start a sign that the Ferrari man is already feeling the pressure?
Sky Sports F1 is the only place to watch every Formula 1 Grand Prix, qualifying and practice session live in 2018. Get Sky Sports F1.