Daniel Ricciardo v Max Verstappen: Two years as Red Bull team-mates
As Daniel Ricciardo and Max Verstappen prepare for the race where it all began in Spain, Sky F1 look back at their spell as team-mates
By Matt Morlidge
Last Updated: 10/05/18 3:24pm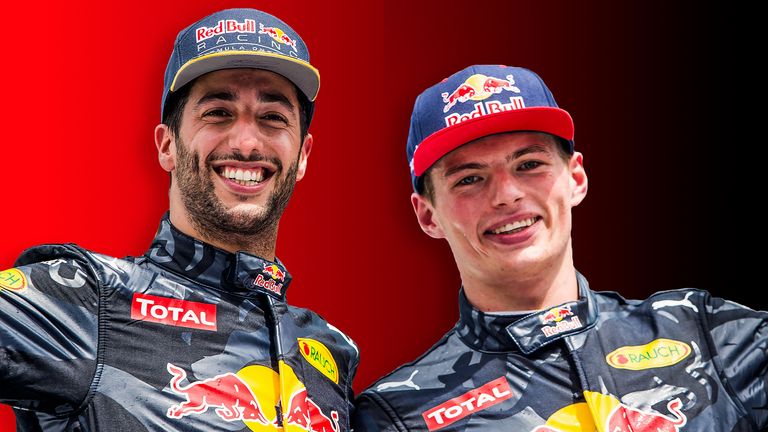 When Max Verstappen was promoted to take Daniil Kvyat's place ahead of the 2016 Spanish GP, Red Bull placed all their faith in F1's youngest and most sought-after driver in a move described as a "masterstroke" by Sky F1's Martin Brundle.
And the decision also kickstarted a driver pairing which team boss Christian Horner insisted was the strongest on the grid with Verstappen joining Daniel Ricciardo in an exciting and dynamic line-up.
Verstappen was the record-breaking rising star, Ricciardo was the smiling assassin who had seen off Sebastian Vettel but struggled against Kvyat.
Martin Brundle on Red Bull's "masterstroke"
Christian Horner's Q&A from Spain 2016
When's the Spanish GP on Sky?
So, two years on, how has their partnership progressed, what are the standout moments and who has had the upper hand? Come this way...
The record
Verstappen made history on his Red Bull debut in Spain by becoming F1's youngest-ever winner and was promptly tipped as a future world champion.
Indeed, other stellar drives in his first season - such as a Brazil masterclass in the torrential rain - seemed to back up those theories.
But it is Ricciardo who holds the head-to-head advantage - and in some categories, it's not even close.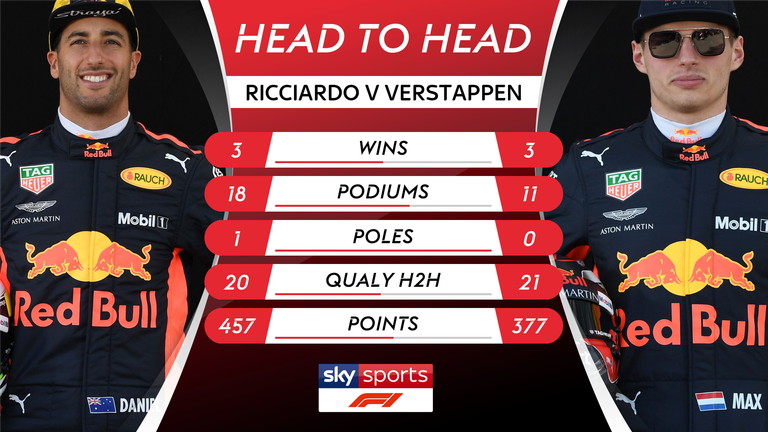 The Australian has outscored Verstappen in every season, and over two years has 457 world championship points compared to Verstappen's 377.
He has also notched 18 podium positions in that time, compared to his team-mate's 11.
Both drivers have secured three race victories, and though Verstappen is usually considered to be quicker over one lap with Ricciardo a more consistent racer - the record is tight when it comes to qualifying.
Ricciardo v Verstappen by year
| | Daniel Ricciardo | Max Verstappen |
| --- | --- | --- |
| 2016 | | |
| Wins | 1 (Malaysia) | 1 (Spain) |
| Podiums | 8 | 7 |
| Qualifying head-to-head | 11 | 6 |
| Points | 220 | 191 |
| 2017 | | |
| Wins | 1 (Azerbaijan) | 2 (Malaysia, Mexico) |
| Podiums | 9 | 4 |
| Qualifying head-to-head | 7 | 13 |
| Points | 200 | 168 |
| 2018 | | |
| Wins | 1 (China) | 0 |
| Podiums | 1 | 0 |
| Qualifying head-to-head | 2 | 2 |
| Points | 37 | 18 |
Verstappen only leads 21-20 in that intra-team battle, while he is still waiting for his first F1 pole position. Ricciardo has the only pole of the partnership, taking top spot in Monaco in 2016.
Verstappen may have been the more unlucky of the two drivers with three more DNFs, and he may have more potential and a higher ceiling in F1 when considering his age and talent.
But if looking for points and podiums, as well as smooth overtakes, Ricciardo has proved time and time again that he is Red Bull's best bet.
Memorable moments
With both drivers often plagued by a lack of Renault engine reliability, Ricciardo and Verstappen haven't battled each other for victories as much as they would have liked.
But when they have fought for positions on-track, it has been exciting and sometimes chaotic.
The most obvious example of a one-on-one battle for victory was at the 2016 Malaysia GP. With Lewis Hamilton retiring from the race and Nico Rosberg off the pace, the Red Bulls were left to fight it out, and fight it out they did.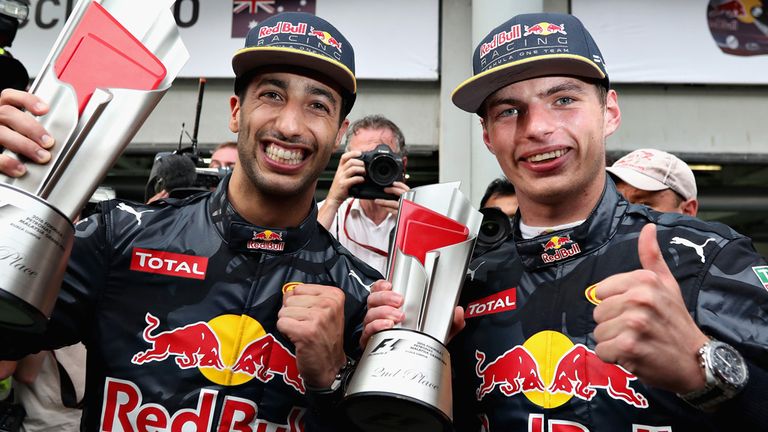 With Verstappen right on his bumper, even passing around the outside at one stage, Ricciardo had to defend with all his wiles through turns five to seven, eventually holding on for his first and only win of the season.
It was skillful, measured and most of all respectful from both drivers.
But respectful isn't a word you would use for their two major clashes.
There was the 2017 Hungarian GP, when Verstappen clattered into Ricciardo on the first lap in a mistake the Dutchman accepted full responsibility for.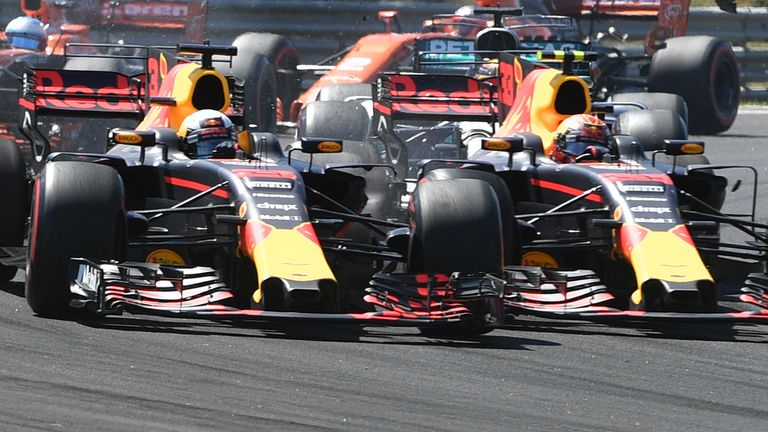 "Was that who I think it was," an angry Ricciardo asked over team radio. "****ing sore loser."
He later appeared to swear at Verstappen's car as it passed him and called his team-mate an "amateur".
Then there's the clash that has heaped strain and pressure onto the partnership ahead of this weekend's Spanish GP.
Ricciardo and Verstappen were battling for position throughout the last race in Azerbaijan with the Australian just behind his team-mate on Lap 40 after being caught out by the overcut.
But as he attempted to bluff a move to the outside of Turn One before cutting back to the inside, Verstappen covered him off and Ricciardo clattered into the back of the sister RB14.
This time, neither driver blamed the other and simply apologised for the collision, with Horner less than impressed.
For the most part of their two years together, the drivers have remained friendly and appear to possess the most relaxed and fun-loving partnership on the grid.
But if equipped with a title-winning and more reliable car, there have been signs that this rivalry would boil over, with Ricciardo and Verstappen hardly shy of making a bold overtaking manoeuvre.
What next?
Towards the end of last season, Verstappen committed his long-term future to Red Bull by signing a new contract. It was a welcome announcement for the team, but also created further intrigue over Ricciardo's position.
Verstappen and Ricciardo's contracts were both previously set to expire at the end of the 2018 season - so was this deal a sign that Red Bull were more keen to lock-in their youngster rather than a driver they admitted was "on the market"? And was this a sign of favouritism?
Ricciardo currently remains up for grabs, and though he insists he has yet to talk to other teams despite reports of a pre-contract agreement with Ferrari, his performances so far this year will surely spark interest from rivals.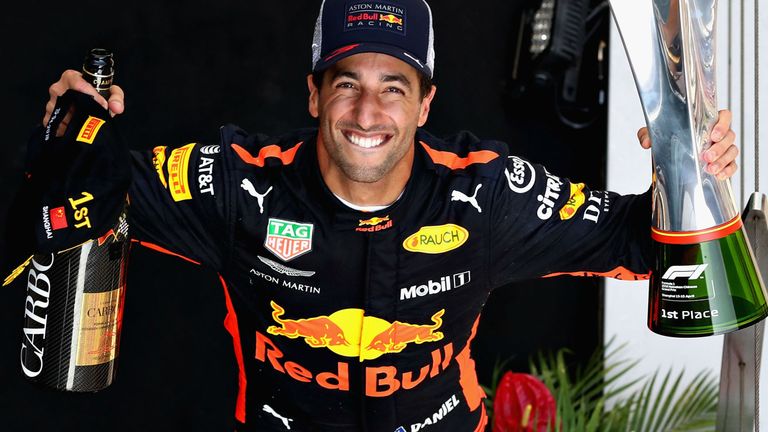 After all, both Ferrari and Mercedes could have an opening for 2019.
Ricciardo believes Verstappen has offered him a stern challenge but also wants to pit his skills against other drivers, as well as giving himself the best chance of a maiden F1 title.
"I would love to be challenged against the best and Lewis [Hamilton] is arguably up there," he said in Azerbaijan. "So for sure that would be a good challenge.
"I've got a good challenge now obviously with Max and I had Seb, so I don't want to say it's just Lewis I'm looking for, but that would be a good challenge."
But it is also clear that Verstappen would rather Ricciardo stayed at Red Bull, having endured a fractious relationship with Carlos Sainz at Toro Rosso in his only other pairing.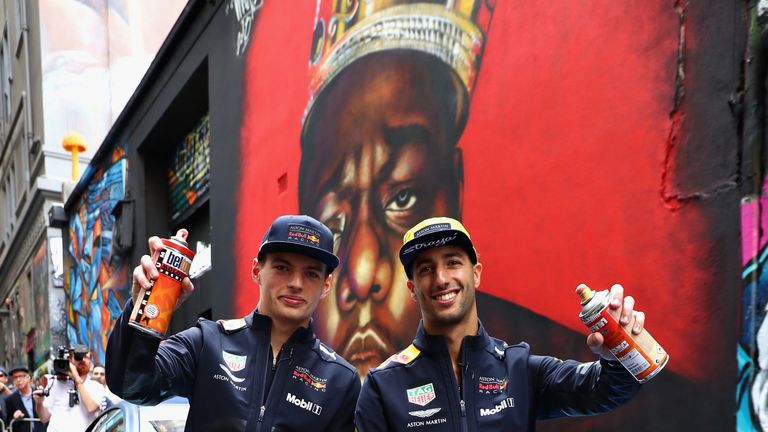 "We have a lot of respect for each other," he admitted at the start of the season. "And frankly, in my racing career so far, I've never had that much to do with a team-mate.
"Even if we give anything to fighting hard with one another on the track, Daniel is a great guy and we have a lot of fun next to the track.
"So I hope that we will be team-mates for a very long time."
How long will they remain team-mates? That's unclear. But they've certainly given us a fun two years up until now.
Will Lewis Hamilton and Mercedes make it back-to-back victories at the Circuit de Catalunya? Watch the Spanish GP exclusively live on Sky Sports F1 from May 11-13. Get Sky Sports F1.
Comment below to get involved in the debate, but please adhere to our House Rules. If you wish to report any comment, simply click on the down arrow next to the offending comment and click 'Report'.