Red Bull set to decide on Renault or Honda for future engine supply
Decision now expected by the Austrian Grand Prix; Renault say they can make Red Bull world champions again within two years
By Pete Gill
Last Updated: 11/12/18 11:38am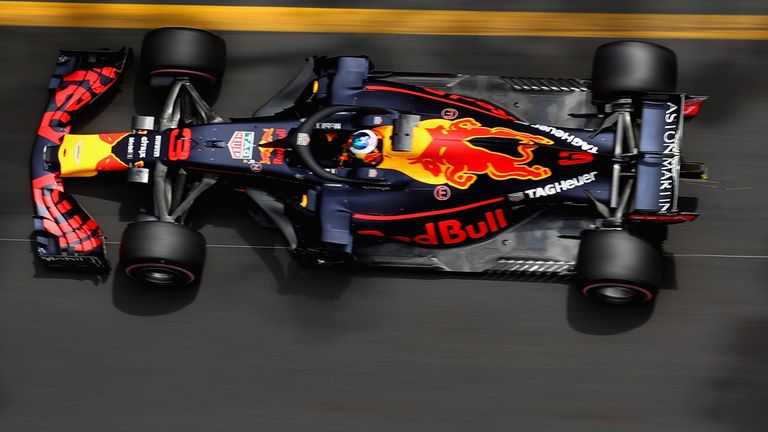 Red Bull are poised to make a decision on whether their engine suppliers for 2019 and beyond will be Honda or Renault.
An announcement could be made as early as the Austrian GP later this month.
Both engine manufacturers have introduced upgraded power units at this weekend's Canadian GP with their comparative performances set to be the driving force behind Red Bull's decision.
"We are at a crucial point in the season," Red Bull boss Christian Horner told Sky Sports F1. "The data we take out of this weekend will be fundamental to our decision making for the future. In an ideal world, we would like to see two samples of that - here and in France. But by the Austrian race we will have made a decision."
Red Bull are in the final year of their existing deal with Renault while junior outfit Toro Rosso are powered by Honda following a swap of power providers with McLaren at the end of last season.
"We want the best engine that gives us the most competitive chances going forward. Whether that is Honda or Renault is the decision we have to make in the next week or so," confirmed Horner.
Responding to Horner's comments, Renault chief Cyril Abiteboul told Sky F1: "Frankly with us they have a chance to become world champions again.
"With what they have now, what is in the pipeline, and their car - which is a great car and maybe the greatest - they have the chance to become world champions again in the next two years."
The length of Red Bull's next engine deal will also be the source of fascination amid the ongoing uncertainty about the sport's future direction and speculation Porsche could join F1 after 2020.
Meanwhile, Horner defended under-fire driver Max Verstappen after the Dutchman vented his frustration with questions about his 2018 form in Thursday's drivers' press conference.
"It's grating on him that he is having to answer the same question 50 times," said Horner. "I'm confident he will have a good weekend this weekend and that will break the tough cycle he has had this season. The best thing is to do your talking on the track. He's in a good place.
"It's what he does in the car that matters. He's a huge talent and that is what is so exciting about him."
On the other side of the Red Bull garage, Daniel Ricciardo appears set to avoid a grid penalty in Montreal for engine-related rule breaches and Horner believes the Australian still has a chance of winning this year's world championship.
"It's an outside shot. He has as many wins as Sebastian [Vettel] and Lewis [Hamilton] and if it isn't for the DNFs in Baku and Bahrain - he could have won in Bahrain - but that's all ifs and maybes.
"We have a quick race car and there is a long, long way to go in this championship. We are outsiders which in some respects is easier because you just go for it. We will pick up more penalties than Mercedes and Ferrari but that's just how it is. When you are the outside you can be brave on strategy.
And on the looming battle to persuade Ricciardo to stay - which has been adjourned while Red Bull make their engine choice - Horner added: "Daniel is in the form of his life at the moment and they push each other on," added the Red Bull boss.
"I think it's the best line-up in F1. Daniel knows we want him and the potential of the team. The missing piece for him is to see what our choice of engines is going forward. Once that is done I think things will fall into place pretty quickly."