Austrian GP: Max Verstappen wins after double disaster for Mercedes
Vettel and Ferrari take championship leads after Bottas and Hamilton retire; All Ferrari-powered cars in points
By Pete Gill
Last Updated: 11/12/18 11:19am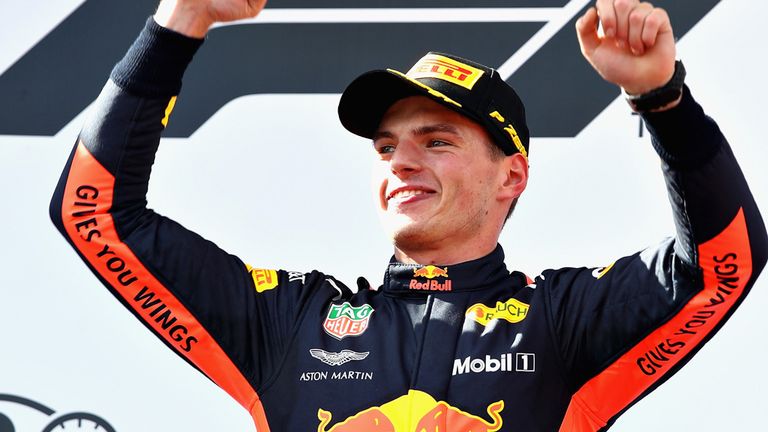 Red Bull's Max Verstappen won the Austrian GP after Mercedes suffered a day of double disaster following car failures for Lewis Hamilton and Valtteri Bottas.
Having lost the lead of the race after Mercedes mistakenly failed to pit their lead driver under a Virtual Safety Car deployed for Bottas' retirement, Hamilton was overtaken by title rival Sebastian Vettel and then suffered his first DNF in 34 races to lose the lead of the world championship as well.
Vettel, having started sixth following a controversial grid demotion, finished third behind Ferrari team-mate Kimi Raikkonen to move a point ahead of Hamilton in the title race.
Mercedes' double mechanical retirement is believed to be their first since 1955, while Vettel's return to the summit was the third change in leader in as many races.
"This is definitely the worst weekend that I can remember for a long time," said Hamilton.
Mercedes suffer double disaster
The Formula 1 Gossip Column
F1 2018 Drivers' Championship standings - top six
| | | |
| --- | --- | --- |
| Driver | Team | Points |
| Sebastian Vettel | Ferrari | 146 |
| Lewis Hamilton | Mercedes | 145 |
| Kimi Raikkonen | Ferrari | 101 |
| Daniel Ricciardo | Red Bull | 96 |
| Max Verstappen | Red Bull | 93 |
| Valtteri Bottas | Mercedes | 92 |
To add to Mercedes' misery, Ferrari's double-podium finish propelled the Scuderia to the top of the Constructors' Championship as well.
Romain Grosjean claimed his first points of the season in fourth ahead of Haas team-mate Kevin Magnussen, while Fernando Alonso eased the pressure on McLaren by taking eighth behind Force India duo Esteban Ocon and Sergio Perez.
Sauber grabbed the final points-paying positions with Charles Leclerc taking back ninth from team-mate Marcus Ericsson on the final lap - and a day of striking success for Ferrari-powered cars.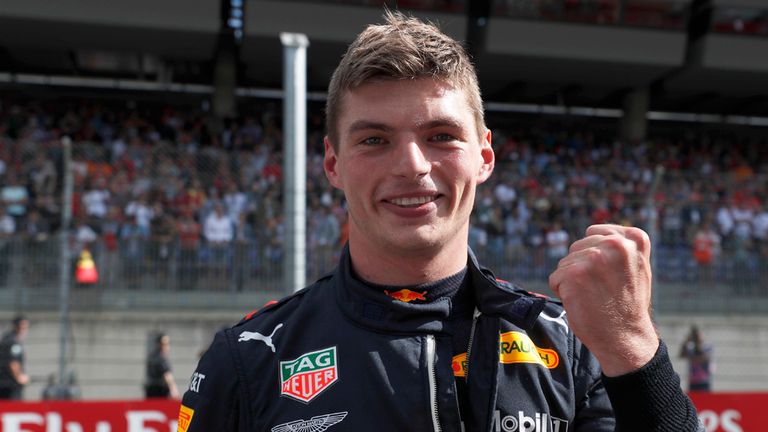 Verstappen shows his maturity for victory
With an estimated 20,000 Dutch fans providing a sea of orange around the Red Bull Ring, Verstappen shrugged off the complaints of Red Bull team-mate Daniel Ricciardo after qualifying to deliver a faultless performance for his fourth F1 victory.
After fending off Raikkonen through the first lap, Verstappen inherited the lead when Hamilton belatedly took a pit-stop seven laps after both Red Bulls and Ferraris had pitted under the Virtual Safety Car.
But after gaining track position Verstappen never looked back, nursing his tyres to the line despite a late charge from Raikkonen and Vettel - with Ferrari declining to order Raikkonen to let Vettel through in order to boost the German's title prospects.
Vettel supports Ferrari's equal treatment
"We always want more but we ran out of laps," Raikkonen said. "We gave it our best but it wasn't quite enough."
Ricciardo and Renault's Nico Hulkenberg, who suffered an engine failure, joined Hamilton and Bottas on the list of retirees on an unexpectedly-attritional day at the Red Bull Ring.
How Mercedes' double disaster unfolded
It had all looked so straightforward for Mercedes at the start.
After Bottas started from pole, Hamilton emerged from a tight squeeze at the first corner with the lead before Bottas swiftly dispatched Raikkonen to reclaim second place.
His joy didn't last long, though. "The luck I'm having this year feels like a bit of a bad joke at the moment," Bottas rued after his second retirement of the season.
But Mercedes' unravelling had only just begun.
One calamity almost instantly followed on from the other when Mercedes strategist James Vowles declined to pit Hamilton, five seconds clear of Verstappen, for a 'cheap' pit-stop behind the Virtual Safety Car.
"I have thrown away the win," radioed Vowles to Hamilton after the Mercedes had returned to the fray in a lowly fourth. "It's my mistake."
Confused and exasperated, Hamilton's woes deepened when he was overtaken by Vettel and his engine - only introduced three races ago - then suddenly expired with seven laps remaining.
"It's a tremendously painful day," Mercedes boss Toto Wolff told Sky F1. "For me and for the team, this is the most painful day of the last six years."
Ferrari turn the gloom into championship leads
Even with Verstappen's victory, Ferrari's day must have eclipsed even their most optimistic pre-race hopes.
But Vettel, on the backfoot following his grid demotion, drove a lovely race, the highlight his pass on Hamilton in the pair's first meaningful on-track confrontation of the year.
Raikkonen was no less impressive, although the Finn will rue losing out to Verstappen at Turn Seven - a change of position which was ultimately decisive on a day of unrelenting and utterly unpredictable high drama in the Austrian Alps.
Austrian GP Race Result
| | | |
| --- | --- | --- |
| Driver | Team | Time |
| 1) Max Verstappen | Red Bull | 1:21:56.024 |
| 2) Kimi Raikkonen | Ferrari | +1.504 |
| 3) Sebastian Vettel | Ferrari | +3.181 |
| 4) Romain Grosjean | Haas | +1 lap |
| 5) Kevin Magnussen | Haas | +1 lap |
| 6) Esteban Ocon | Force India | +1 lap |
| 7) Sergio Perez | Force India | +1 lap |
| 8) Fernando Alonso | McLaren | +1 lap |
| 9) Charles Leclerc | Sauber | +1 lap |
| 10) Marcus Ericsson | Sauber | +1 lap |
| 11) Pierre Gasly | Toro Rosso | +1 lap |
| 12) Carlos Sainz | Renault | +1 lap |
| 13) Lance Stroll | Williams | +2 laps |
| 14) Sergey Sirotkin | Williams | +2 laps |
| Stoffel Vandoorne | McLaren | DNF |
| Lewis Hamilton | Mercedes | DNF |
| Brendon Hartley | Toro Rosso | DNF |
| Daniel Ricciardo | Red Bull | DNF |
| Valtteri Bottas | Mercedes | DNF |
| Nico Hulkenberg | Renault | DNF |