Daniel Ricciardo's Renault switch: How close did McLaren come?
McLaren's Brown on their talks with Ricciardo before Renault deal
By James Galloway
Last Updated: 06/12/18 12:11pm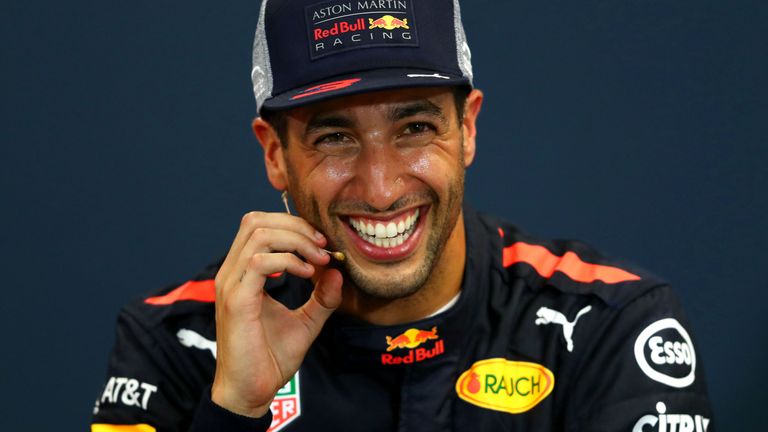 Zak Brown believes Renault-bound Daniel Ricciardo showed a "strong desire" to leave Red Bull, as the McLaren chief explained how they attempted to sign the Australian themselves.
In the biggest F1 transfer shock for several years, Ricciardo last week told Red Bull he was leaving them after a decade on their books and signing for Renault, with a two-year deal from 2019 announced on Friday.
McLaren's interest in the seven-time race winner emerged at June's French GP and while a move to Woking had been considered a long shot, Brown believes they had been in genuine contention after talks with the Australian.
"We had a couple of meetings and we are big fans of Daniel," McLaren's chief executive told Racer. "I think he's a great guy, I think he's a great race car driver. How close we came to getting him, I think only Daniel knows the answer to that question.
Ricciardo explains shock Renault switch
"Had we been running more competitively I think that would have increased our odds.
"I think he had a strong desire to leave and I think it was probably pretty close between us and Renault, but ultimately Daniel would be best to tell you how close."
Although Ricciardo had been widely expected to renew his Red Bull contract right up to last Friday, the 29-year-old did hint that a move to Renault or McLaren could interest him when quizzed about the two former world champions in June.
Speaking at the French GP, Ricciardo said: "I'm not going to say 'no, it doesn't interest me at all'. Probably more because of what Lewis [Hamilton] was able to do with Mercedes.
"Those two teams, they're not quite in that position yet but could they be? Maybe."
Does Ricciardo-Renault affect McLaren?
Despite interest in Ricciardo, Brown insisted the Australian's Renault deal "doesn't impact anything from my perspective" in terms of McLaren's plans to finalise their own driver line-up for 2019.
The team have maintained their desire to keep star driver Fernando Alonso, who has said he will use the current summer break to start to decide on his F1 future.
The sudden opening at Red Bull, three-time race winners this year, has inevitably resulted in Alonso's name being linked with them, with the double world champion currently third-second favourite for the seat.
But Brown said: "Never say never, but I don't think it changes anything in Fernando's world."
A move for the two-time world champion would certainly go against Red Bull's recruitment policy of the last decade. The team have not employed a driver from outside their young-driver programme since 2007, when Mark Webber arrived from Williams.
Red Bull are also switching to Honda power next year, whose engines Alonso criticised during the Japanese manufacturer's troubled three years at McLaren.
That all makes a Red Bull promotion for either Pierre Gasly, currently at junior team Toro Rosso, or Carlos Sainz, on loan at Renault, the more likely outcome, with Gasly currently considered the favourite.
Should Red Bull not place Sainz next to former team-mate Max Verstappen, then Sainz has tipped to move to Woking instead with Brown saying at the Hungarian GP that the Spaniard would "certainly be high up the list for a racing seat" if he was free and they had a place available.
Sainz, meanwhile, said in Hungary that the wheels would not start to turn on his 2019 plans until Ricciardo's Red Bull future was resolved.
Stoffel Vandoorne and Lando Norris are currently on McLaren's books and also in contention for 2019 race seats.