Red Bull remain confident Mercedes can be caught before 2014 title is out of reach
World Champions already nearly 100 points behind runaway leaders
By James Galloway
Last Updated: 29/04/14 2:03pm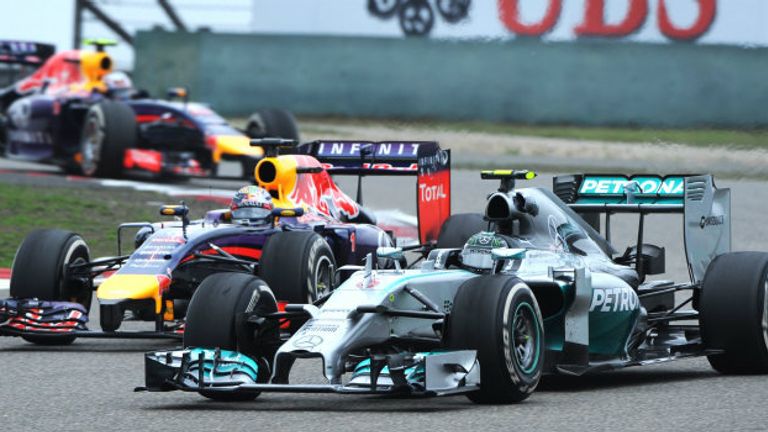 Mercedes have left their would-be title rivals trailing at the start of F1's new turbo era and established a near-100 point Constructors' Championship cushion over Red Bull with four successive victories in as many races since the start of the season.
Although Red Bull's engine suppliers Renault have made tangible progress with both the performance and reliability of their power units since the French manufacturer's disastrous pre-season, the difference between the straight-line speed of the RB10 and Mercedes' W05 was starkly highlighted at the last race in China when the Silver Arrows was over 20kph faster along the circuit's long backstraight.
Horner, Red Bull's Team Principal, says his outfit aren't yet giving up hope of a fifth straight title and "it's quite simple" where Mercedes are making the difference.
"We've got to if we're going to make a championship of it. We've got to take the fight to them," Horner told Sky Sports F1.
"We're going to give it everything. I believe we can take the fight to them, we just can't concede too much more ground.
"We were 22kph slower on that kilometre straight [in China], that represented almost 100 metres that we were giving away on the straight.
"That's where we've got to improve - it's quite simple. We know where we've got to fix our issues and hopefully there are some steps towards that in Barcelona."
Despite targeting a step forward for the start of the European season, Sebastian Vettel, who is currently experiencing his own problems with the RB10, conceded Red Bull couldn't yet contemplate eradicating Mercedes' advantage. He agreed, however, that the campaign was still retrievable.
"For sure not easy - definitely not a walk in the park as we still cannot think about catching up with Mercedes," the German told the official F1 website.
"Then again, the season is not over - at least I have not heard that yet - so we are still facing a long year. So anything should be possible - still!
"The truth is that we have a great car, and now we need to work on the upgrades and implement them in the best possible way to make sure we get more power out of the engine."
With all Red Bull eyes therefore on Renault to deliver the performance gains needed to get them back in the championship fight, the French engine maker is itself confident that its recent rate of progress can be maintained.
"While we have some way to go, we have made good progress across all our partners on energy management with the balance between ICE fuel usage and energy recovery allows the teams to extract close to the maximum performance from their packages," said Rémi Taffin, Renault's Head of Track Operations.
"We acknowledge we still have some further steps and need to consolidate the reliability we have developed, but we have three weeks before the Spanish Grand Prix and another intensive programme to build on this weekend. The trend is now there and we fully intend to stay on this curve."