Robert Kubica felt 'embarrassed' driving Williams as Pole makes race weekend return at Spanish GP
Kubica replaced Sirotkin in FW41 in Spanish GP Practice One and completed 24 laps as Pole assessed Williams' upgrades
By Jonathan Green and James Galloway
Last Updated: 11/12/18 1:58pm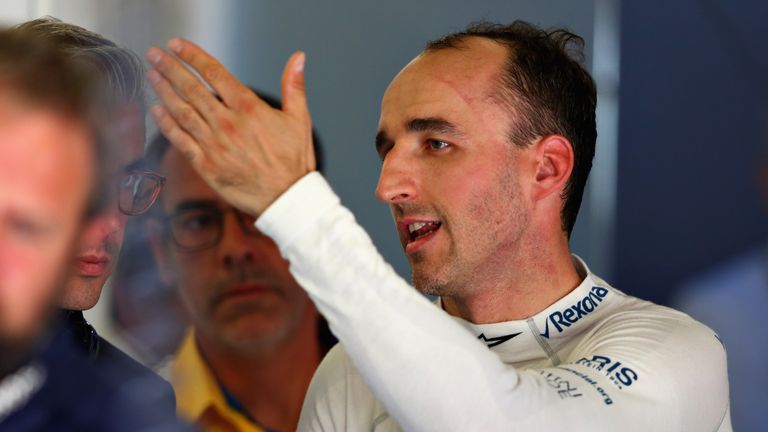 Robert Kubica says he felt "embarrassed" driving the Williams given the FW41's lack of pace and poor handling at the Spanish GP.
The Pole, Williams' development driver, made his long-awaited return in Practice One at the Circuit de Catalunya and completed 24 laps.
Williams have brought a number of new parts to Barcelona but it was another difficult morning for the team with Kubica - who ran the majority of the updates - 19th ahead of Lance Stroll in the sister car. Both drivers had moments with Kubica spinning at the chicane and Stroll beaching his car in the gravel.
"It has been a difficult session for us with difficult balance. Some we were expecting but not as bad. It was a bit of a shock for me," Kubica told Sky Sports F1.
"But actually I felt comfortable, although it is difficult to be comfortable in such a difficult balanced car to drive and difficult conditions.
"I think I did what I was asked and I am happy with what I delivered. I know I'm 19th but sometimes you have to realise that there are priorities and although the conditions and car balance was very, very difficult, I managed to drive well.
"Although, I felt embarrassed when I was driving inside the car because it was so difficult and I felt so slow in some places. But we couldn't do more."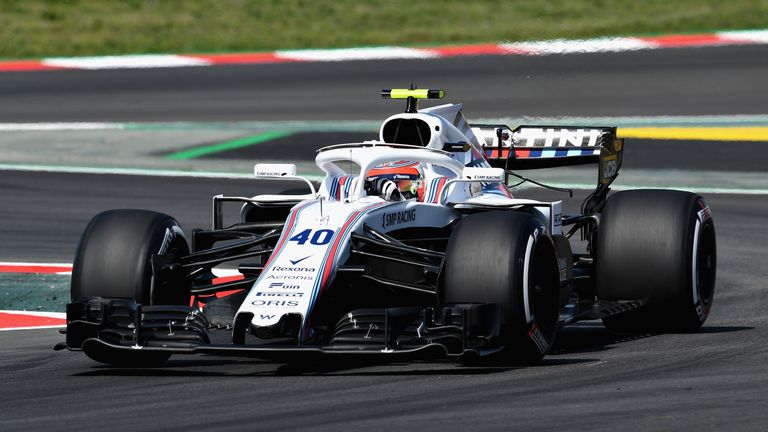 The wider context for Kubica is that his return to a grand prix weekend represented another important milestone in his attempts to return to a race seat.
It was the first time the 33-year-old had driven at a grand prix since the 2010 season-ending Abu Dhabi GP, three months before suffering career-changing injuries in a horrific rally crash in February 2011.
"That is a good test for me because you need to understand where is your limits and where is the limit of the car," Kubica added.
"In my position when I have to deliver feedback and cannot do silly things, I'm happy by how I reacted to those conditions.
"I was expecting to have bigger emotions. I had much bigger emotions in the past when I was testing for the first time or even in Abu Dhabi. Although I'm not driving often, it is becoming natural.
"For sure it's nice to be in an official session of a grand prix weekend but it would be nicer to continue."
Kubica previously drove the FW41 at the second pre-season test at the Circuit de Catalunya, and he has also been confirmed to drive on day two of the first in-season test of 2018 which will take place in Barcelona next week.
Kubica's comeback story so far
Kubica was tipped as a future world champion during his first stint in F1 in which he claimed 12 podium finishes and won the 2008 Canadian GP.
But a one-off participation in the 2011 Ronde di Andora rally dramatically changed the course of his career as he crashed into a church wall and suffered extensive damage to his right hand, arm and leg. He underwent several hours of surgery and suffered a partial amputation of his forearm.
After slowly reintegrating himself into motorsport, Kubica started his F1 comeback trail with two test drives at Renault halfway through 2017.
While he missed out on the Renault seat, Kubica was handed a lifeline by Williams as they looked to replace Felipe Massa, with the 33-year-old first driving the 2014 car before earning an official test outing in Abu Dhabi.
Though Williams selected Sergey Sirotkin to be Lance Stroll's team-mate for 2018, Kubica was named their third driver, securing him his first full-time role in F1 since his rally accident.