Williams aim to take the next step from podiums to wins with FW37 in 2015 season
Pat Symonds denies team handicapped by clauses in Merc engine deal
By James Galloway in Jerez
Last Updated: 02/02/15 4:39pm
Williams have stressed their desire to take the next step in their rejuvenation and challenge Mercedes for race victories in 2015.
After the best part of a decade in the doldrums, the nine-time constructors' champions vaulted back up the grid in the first year of F1's new turbo era to finish ahead of Ferrari and McLaren in third place in the standings.
Indeed, Williams arguably ended 2014 as the closest challengers to runaway champions Mercedes given they finished on the podium in all but three races after the August summer break. And with the team confident that the new FW37 represents a further step forward, technical chief Pat Symonds is hopeful the top step of the podium soon awaits.
"Competitiveness is a relative thing. We've certainly taken steps I hope will move us forward, but I don't yet know what our competitors have done," he told reporters at Jerez.
"I hope we at least start where we finished. Our development rate was one of the things I was particularly proud of, we really did add a lot of performance to the car relative to our competitors last season. We are applying all the same philosophies to doing that, so we want to get in there and be fighting."
Symonds, though, denied suggestions that Williams' attempts to return to race-winning ways could be directly compromised by Mercedes, their engine suppliers.
Asked by Sky Sports News HQ whether there was any truth to claims that their contract with the German manufacturer stipulated they couldn't release the full power of the engine when in combat with a Mercedes works car, Symonds replied: "There's absolutely nothing in the contract that goes to anywhere near that sort of level of detail.
"They had a really good car last year and that's what we aspire to."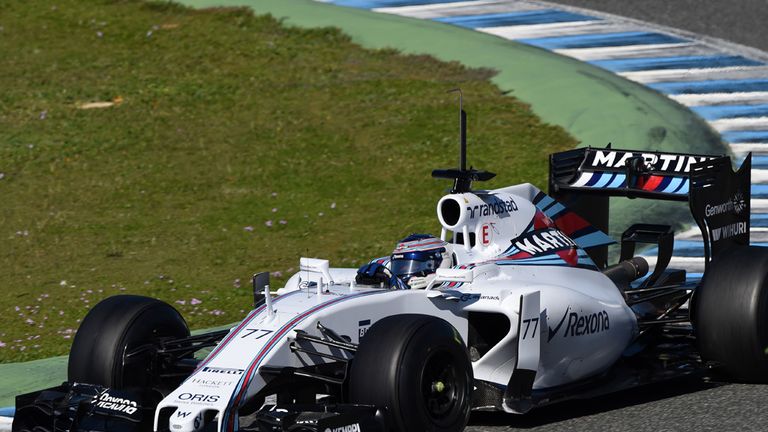 Williams opening forays with their new FW37 have started brightly with Valtteri Bottas completing more than 100 laps across his two days of testing in the car in southern Spain.
Symonds, who said the car would undergo plenty of changes between now and the final Barcelona test, was encouraged by Bottas's immediately positive reaction to driving the 2015 challenger.
"The first test - and particularly the first day of the first test - is largely about systems, it's about making sure everything is working the way you want it to and under control," the Williams chief technical officer said. "All that is working pretty well, but of course on top of that you're getting your first feel for the car. 
"A lot of data is coming in but one of the important bits of data is what the driver says and even in these days of it being a very technical sport I still pay a lot of attention to those first comments. Valtteri's comments were very positive, he feels the car is a step forward. We've had a lot of focus on aerodynamics, the new nose regulations and where engine development is going but we've had plenty of focus on other things as well. Our suspension geometry is different this year, etcetera, etcetera."
While the FW37 features refinements to its suspension and gearbox layout, Symonds believes Williams have reacted well to the new-for-2015 nose regulations after unveiling a shorter 'stubbed' design to a number of their rivals.
"An awful lot of work had to go into the nose and the regulations at first appeared quite innocuous, but actually there's a lot of work there," he said.
"It's the balance of getting a good aerodynamic solution with one that gets through the crash test as well. Our feeling was aerodynamically we wanted quite a short nose, but for an easy passage through the crash testing a long nose makes life a lot easier. So there was a fair bit of balancing to do there.
"I'm very pleased with the solution we've got. It's a good one, it wasn't easy to get through the crash test, but we did it and I think we've got one of the shortest nose out there which shows the quality of the design."
The Sky Sports F1 Online team will be providing live commentary from all four days of testing in Jerez –  from dawn on Sunday to dusk on Wednesday. Sky Sports News HQ will also have live updates from trackside