Alfa Romeo launch 'mean' new 2023 Formula 1 car as Valtteri Bottas-led team look to stick in midfield battle
Alfa Romeo become fourth team to reveal their new look for the 2023 season, ditching their red and white livery for the 'aggressive' red and black; Valtteri Bottas and Zhou Guanyu form unchanged driver line-up for team, who finished sixth last year
Last Updated: 07/02/23 10:50pm
Alfa Romeo have revealed their new-look C43 car for the new Formula 1 season as the team looks to build on an impressive 2022.
Describing the car as 'lean and mean' in a launch held jointly in Zurich and Sauber's nearby headquarters in Hinwil, Alfa have ditched their red and white livery from previous years in favour of an 'aggressive' red and black look, with new title partner Stake prominent throughout.
"I really like our new livery," said Valtteri Bottas, who again partners Zhou Guanyu in 2023. "I think it's stunning, and a fine evolution from last year."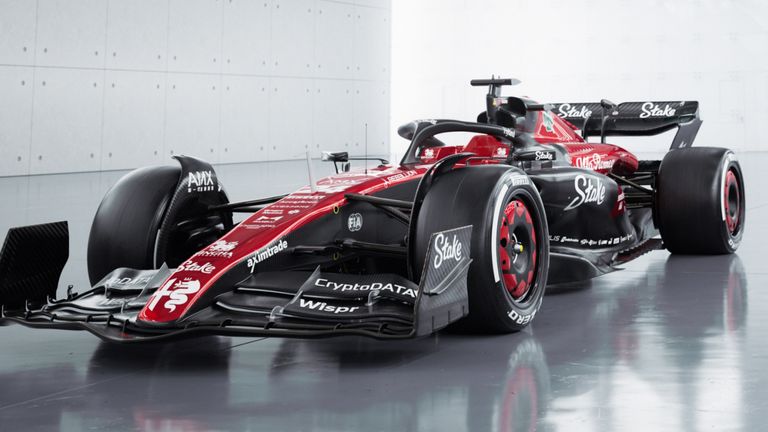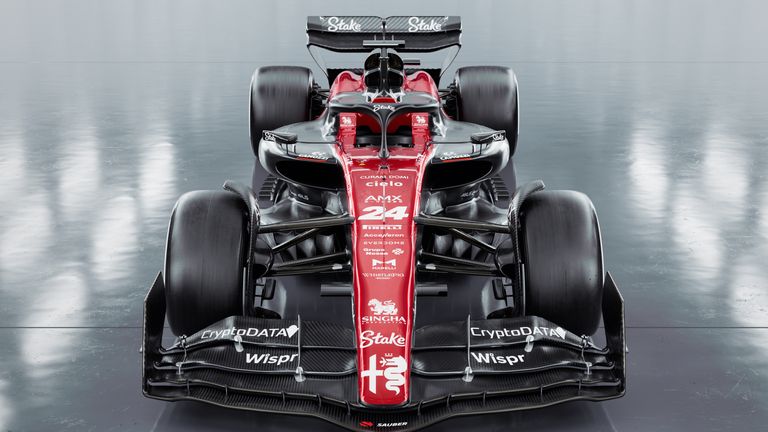 The car will be shaken down in Barcelona this week before it hits the track at pre-season testing on February 23-25 in Bahrain, all live on Sky Sports F1. The season starts a week later with the Bahrain GP on March 5.
2023 marks the final season for the team as we know it, with Swiss-based Sauber - who have raced under the Alfa guise for the last four years - going it alone becoming the Audi works team in 2026.
Alfa will be aiming for a repeat of last year, when they rose from backmarkers to the midfield after F1's rules refresh.
Bottas impressed alongside rookie Zhou to lead the team to sixth in the standings, edging out Aston Martin.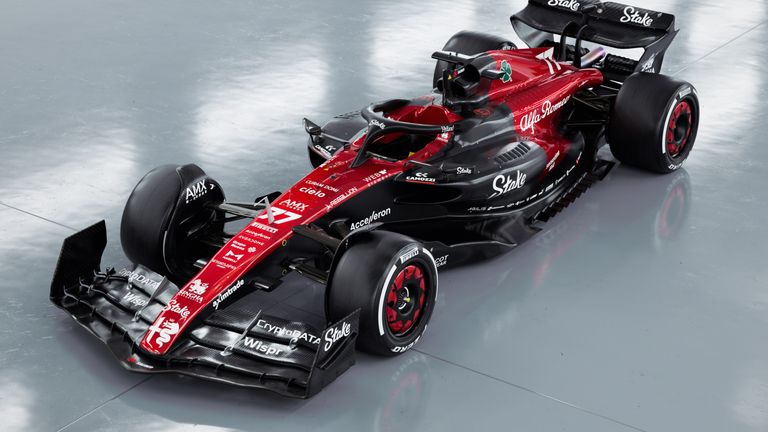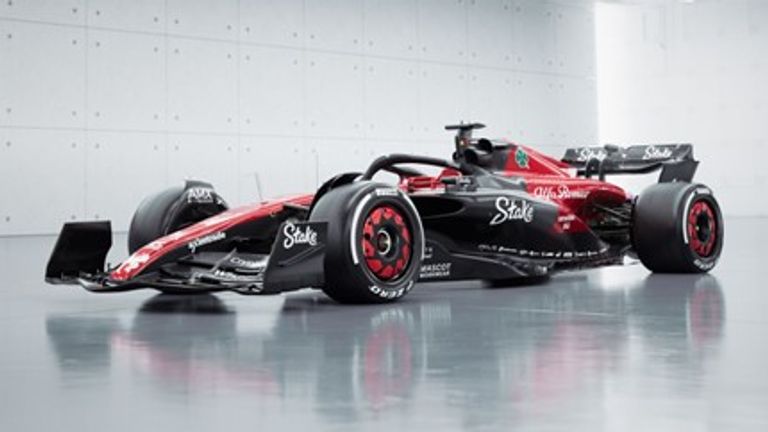 Alfa are the fourth team to have appeared in launch season so far after Haas and Williams revealed their liveries, and Red Bull unveiled their RB19 car - albeit one that looked almost identical to last year's title winner.
The next launch takes place this Saturday, February 11, with AlphaTauri taking centre stage in New York.
What to expect from Alfa in 'last' F1 season?
Alfa have undergone an off-season of change, losing team boss Frederic Vasseur to Ferrari - who coincidentally supply their engines - and opting for a different management structure.
Andreas Seidl arrives as a high-profile signing from McLaren, with the German to lead Sauber as CEO, while Alessandro Aluni Bravo is the effective Alfa Romeo team boss.
They have also promised changes on their car through the season. and a 'steep improvement curve'. The team predict all cars will be half a second slower at first due to the subtle 2023 car changes, but will find pace.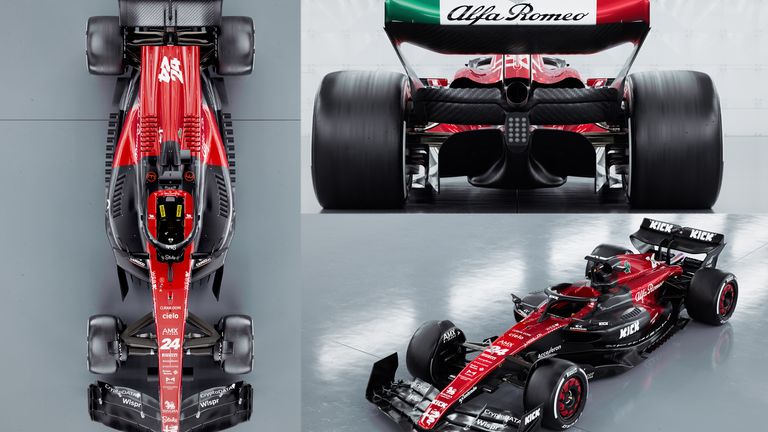 "Our new car is the result of months of work, but today is just the beginning of a journey: we need to keep working hard, with humility and dedication, to bring performance to the track," said Bravi.
"Everyone in the team is committed to this target and I am confident we will reap the rewards of our work."
Bottas added: "We made some pretty solid progress together [last year], and now there's only one direction to follow: up, higher, and better.
Alfa Romeo in F1 2023
| | |
| --- | --- |
| Driver | Valtteri Bottas |
| Driver | Zhou Guanyu |
| Team boss | Alessandro Alunni Bravi |
| Car name | C43 |
| Engine | Ferrari |
| 2022 championship finish | 6th |
| Best championship finish | 1st (1950, 1951) |
| Race wins | 10 |
| Podiums | 26 |
"There is obviously still work to do and things to improve, but I am confident we have it in ourselves to aim for even higher results this year.
"I cannot wait to go back to racing, I am fully charged and eager to get the new season started."
Alfa's 2022 car vs 2023 car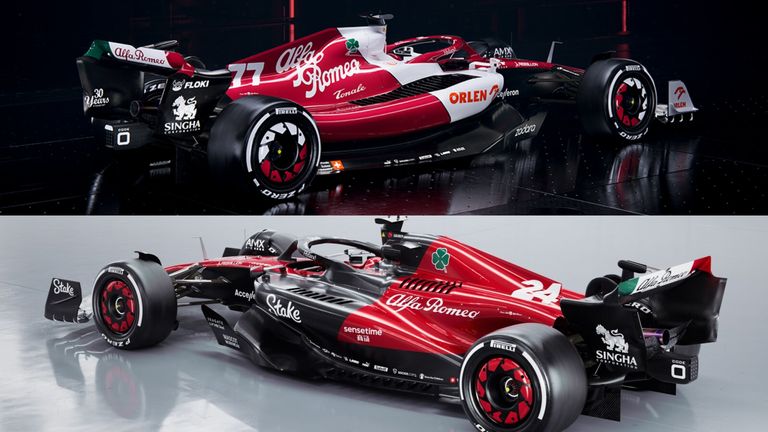 What's new on the cars for 2023?
While there is no rules overhaul for next year like there was for 2022, there are subtle changes to the rules and cars that teams can take advantage of.
The most notable is a higher ride height. This is essentially lifting the cars higher off the ground to help reduce the bouncing 'porpoising' phenomenon that affected teams - most notably Mercedes - in 2022.
F1 2023: When are the new cars being revealed?
| Date | Team | Location |
| --- | --- | --- |
| January 31 | Haas (livery launch) | Online |
| February 3 | Red Bull | New York |
| February 6 | Williams (livery launch) | Online |
| February 7 | Alfa Romeo | Zurich |
| February 11 | AlphaTauri | New York |
| February 13 | Aston Martin | Silverstone |
| February 13 | McLaren | Woking |
| February 14 | Ferrari | Maranello |
| February 15 | Mercedes | Silverstone |
| February 16 | Alpine | London |
This is done by raising the floor edge and throat, while the diffuser edge has also been stiffened. There is also an additional sensor to effectively monitor porpoising.
While these are mostly for safety reasons and are expected to initially cost teams time due to a stiffer floor, it could also narrow the field with a higher ride height thought to have been key to Red Bull and Ferrari's 2023 cars.
The other changes to the cars revolve around outlawing designs such as Aston Martin's rear wing and Mercedes' front wing from 2023, and more safety additions.
The roll hoops, for example, have been strengthened following Zhou's dramatic crash at Silverstone last year.