Abu Dhabi GP: Fernando Alonso says Lewis Hamilton only happy driver in 2018
Final F1 weekend of the season; Sunday's race starts at 1.10pm, live on Sky Sports F1 and Sky One
By James Galloway in Abu Dhabi
Last Updated: 24/11/18 6:01pm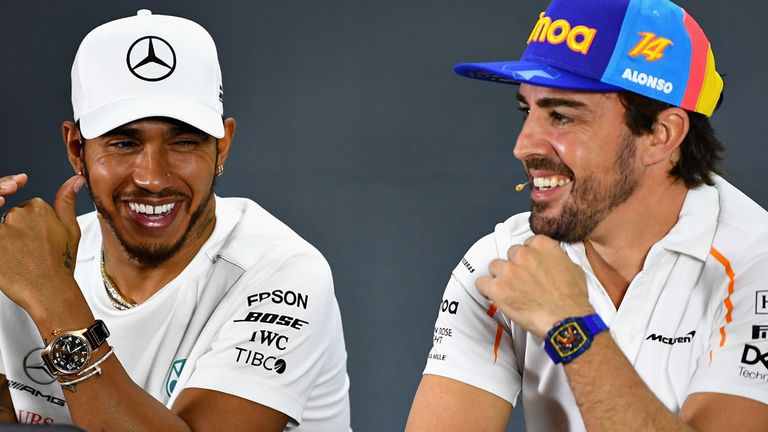 Fernando Alonso believes world champion Lewis Hamilton is the only one of F1 2018's drivers who can be truly happy at the end of the season.
Two-time champion Alonso, whose 17-year F1 career ends at the Abu Dhabi GP on Sunday, has faced repeated accusations over recent seasons that bad decision-making has cost him further success in the sport.
But Alonso insists he has no regrets about his career and points out there are many highly-talented drivers on the grid who have not even achieved his level of success yet.
Fernando Alonso leaves F1: What made him so good?
"In Formula 1 there is always one winning and all the others are not winning," said Alonso after his final qualifying session.
"Only one is happy here which is Lewis Hamilton this year.
"To finish second, seventh, 12th, it's the same. I won two championships, 97 podiums and I have mates here with a lot of talent like Nico Hulkenberg, zero podiums.
"Sebastian [Vettel] a lot of years now not winning.
"Verstappen, a great talent, zero titles.
"Ricciardo, a great talent, zero titles.
"They are all unlucky? Probably, but this is the way it is in sport and Formula 1. With all those things, coming from the north of Spain, go-karting guy, two-times world champion, no regrets on anything."
When's the Abu Dhabi GP on Sky F1?
Find out more about Sky F1
Alonso's two most recent career moves - his arrival at Ferrari in 2010 and then his departure to McLaren in 2015 - have often proved central to the debate about his decisions.
But the Spaniard believes few, if any drivers, would have turned up the same opportunities at the time.
"In my career I feel extremely proud to have driven for Renault, McLaren and Ferrari," he said. "They are the three teams that I spent 17 years of my career and probably, arguably, are the three teams with more wins and success in Formula 1. Now recently Mercedes has been dominating, but from my time I'm extremely proud of those three families I joined.
"I have been unlucky in some of the places that I have raced but without a crystal ball it's probably difficult to make decisions. After you finish your chapter it's easy to say, but when I joined Ferrari in 2010, I think 10 of 10 would have joined Ferrari in 2010 not another team.
"When I joined McLaren-Honda in 2015, all of 2014 I had been hearing it was a very good decision because the turbo engine from Ferrari was not good, we were fighting to be in Q3, and McLaren-Honda had one year of development for free. They were not racing in 2014 and that was a mega decision. So I was hearing that and so 9 of 10 were going into the direction.
"I don't regret many things, I'm happy with the decisions."
Alonso reflects on final qualifying
Fernando Alonso leaves F1: What has made him so good?
Given so much debate over recent seasons has focused on what more Alonso might have achieved in different circumstances, what he hasachieved remains significant and will inevitably carry even greater historical weight once memories of specific seasons and certain career decisions fade.
The headline achievements are certainly impressive... (Read more)
Sky F1's Abu Dhabi GP schedule
Sunday, November 25
9.30am: Abu Dhabi F2 Race Two LIVE!
11.30am: Pit Lane LIVE! (Simulcast on Sky One)
12.30pm: On The Grid LIVE! (Simulcast on Sky One)
1.10pm: THE ABU DHABI GP LIVE! (Simulcast on Sky One)
Sky Sports F1 is the only place to watch every Formula 1 Grand Prix, qualifying and practice session live in 2018. Get Sky Sports F1.