McLaren are understood to be seriously considering Kevin Magnussen for 2014 seat
Dane in the frame to replace Sergio Perez next season
By Mike Wise
Last Updated: 02/12/13 5:13pm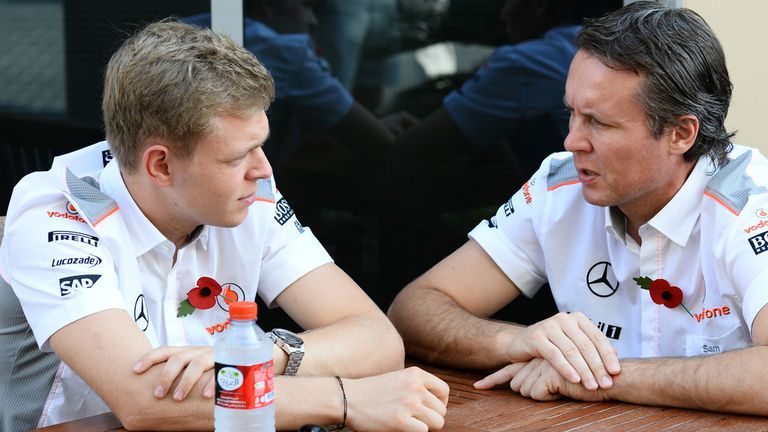 The rise to prominence of the 21-year-old Dane has come as McLaren have continued to stall on making any driver announcement for 2014. While Button's deal has been agreed but not yet officially confirmed, speculation has centred on the future of Perez, who has struggled in his first season at Woking.
Perez's cause has not been helped by the team's MP4-28 car, which has been off the pace. But the feeling persists that the Mexican is not the driver McLaren thought he might be.
The former Sauber driver has voiced confidence that he will be retained but it seems that the recent exploits of Magnussen have come at the wrong time for the 23-year-old.
The fifth-place finish Perez scored at the Indian GP equalled McLaren's best result of the season and suggested that the driver was responding well to speculation surrounding his future. Yet Perez's ninth place at the Abu Dhabi GP was described rather bluntly by Team Principal Martin Whitmarsh as a "disappointing result".
Meanwhile, Magnussen's stock has continued to rise. A member of McLaren's Young Driver Development Programme, he recently claimed the Formula Renault 3.5 Championship and was immediately on the pace for the team in his first F1 outing during July's Young Driver Test at Silverstone.
Whitmarsh has described Magnussen as "lightning quick" and it appears those vital tenths of a second are what they're after - and what they feel Perez has not yet found.
McLaren are already considering placing Magnussen at Marussia next season in order to gain more experience. However, it is understood that senior management increasingly see him as capable of stepping up to partner Button.
A decision has yet to be made but assuming Magnussen does get the nod then his arrival would bring obvious parallels with the emergence of Lewis Hamilton in 2007.
Back then, Hamilton had the benefit of extensive pre-season testing which is now at a premium - all the more so next year, which heralds a new era of 1.6-litre V6 turbocharged cars featuring enhanced energy recovery systems.
Yet the fact that McLaren are giving serious consideration to Magnussen even with those caveats suggests how highly they rate him.
Magnussen himself sees a much-revised car as an opportunity rather than a potential problem. "It could be an advantage for us rookies because if anything it means that experience counts for less," he told reporters in India. "No drivers will have experience of driving these cars.
"It's a very good opportunity for a rookie."
Related stories:
Kevin Magnussen ready to leap into Formula 1's deep end