Kevin Magnussen disappointed McLaren's Singapore update hasn't delivered step up
Rookie outqualifies Button again, but McLaren only ninth and 11th
By James Galloway
Last Updated: 20/09/14 6:26pm
Kevin Magnussen has revealed McLaren had been forced to row back on some of the upgrades that they have brought to the Singapore GP after the team delivered a "frustrating" qualifying performance.
On the back of an encouraging Monza, where Magnussen and Jenson Button locked out the third row of the grid, McLaren were optimistic of continuing their recent incremental improvement in Singapore, particularly as the MP4-29 was being upgraded with a number of new parts.
However, under the glare of Marina Bay's illuminations on Saturday, the team's pace wilted as they recorded their worst joint qualifying result for seven races with Button dropping out in Q2 in 11th and Magnussen only managing ninth in the top-ten shootout.
And although the result meant Magnussen moved two clear of his 2009 title-winning team-mate in their intra-team qualifying duel, the Danish rookie was more concerned with the underperformance of the team's upgrade package, which included changes to the MP4-29's front-wing and floor.
"I wouldn't say I'm pleased. It's frustrating we're not faster than we are, so I can't really say that I'm happy," he reflected to Sky Sports F1.
"But I can say that we did a good job as a team. We had a couple of parts on the car that didn't react as we expected and I think the team has done a good job, we went back to what we knew and get the most out of that from qualifying.
"We were hoping for more with the new parts that we took to the track. But they didn't deliver and I think we've done a good job as a team to go back to what we knew and get the most out of that."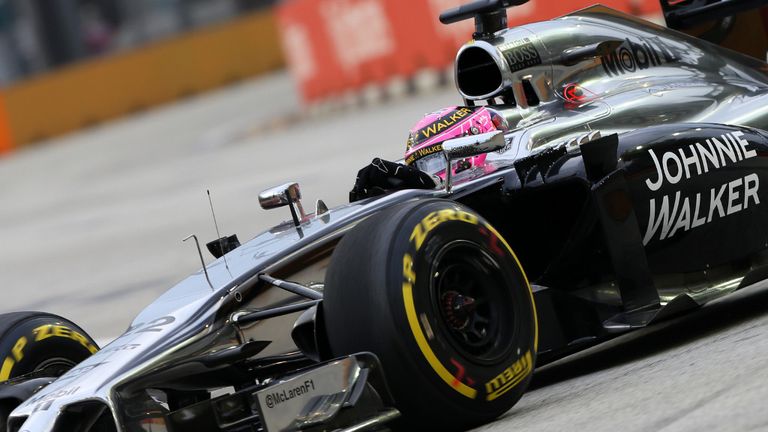 For Button, his sixth exit in Q2 of the season was confirmed by the narrowest of margins – 0.017 seconds – after the 34-year-old lost time via a mistake on his final lap. "I locked up at the hairpin, which probably cost me more than that [difference to Q3]," Button told his race engineer over the radio on his way back to the pits.
Even without the error, however, Button told Sky F1 afterwards: "I think Q3 would have been difficult anyway if we got through because I was really struggling with front-end [grip] at the end. We maxed-out front-wing in Q1 so it was going to be tricky with the circuit gripping up."
Starting 11th on Sunday, Button is the first driver on the grid who can select his starting tyre compound for the race's first stint. Strategy tactics are likely to be closely poured over by all teams overnight given the supersoft compound that the top ten will start on isn't expected to last many laps.
"That will be something we talk about tonight, we don't know yet," Button remarked.
Team boss Eric Boullier told Sky F1 via the pitwall during the session that "qualifying ninth, tenth or 11th is very similar. We can start the race with a different tyre choice and we will see if we get something out of it."
What was new on the MP4-29 in Singapore?
Here's what Sky Sports F1's Ted Kravitz spotted during Friday Practice when he examined the McLaren: "There is a change to the front wing, but also I believe a change to the way it is made up because they had a little camera on the nose [in practice] which was measuring the flexing front to rear of the front wing endplate. So they were looking for some of that front-wing flexing we have seen on the Mercedes and Red Bull in the past – it is perfectly legal – there is flexion allowed.
"And then if you get towards the rear of the car I think it is a new monkey seat below the serrated rear wing. There is a new bit on the floor as well just in front of the rear tyre – some integrate gaps – and it is quite nice detail from McLaren."
The 2014 Singapore GP is live only on Sky Sports F1 this weekend. Our race-day coverage begins at 11.30am on Sunday with lights out at Marina Bay at 1pm.