2014 German GP Qualifying: Nico Rosberg on home pole after Lewis Hamilton crash
Hamilton to start 14 places behind title rival after brake disc failure triggers shunt; Williams shine again as Bottas joins Rosberg on front-row; Magnussen fourth as Button and Raikkonen suffer Q2 exits
By James Galloway
Last Updated: 20/07/14 8:18am
Nico Rosberg secured pole position for his home German GP to capitalise on yet more qualifying woe for Lewis Hamilton after a brake failure sent his Mercedes team-mate crashing out in Q1.
On another Saturday of sharply contrasting fortunes for F1's two runaway championship challengers, Hamilton was consigned to a disastrous starting position of 15th for Sunday's Hockenheim race after a right-front brake disc failure on his W05 pitched him into a heavy shunt with the barriers when holding the second-fastest time in the first stage of qualifying.
Braking for the banked left-handed Sachs corner, Hamilton was sent spiralling off the circuit by the fault and, sounding as if he had been winded after coming to rest in the gravel, immediately suggested over the radio that his brakes had failed. After clambering gingerly out of his heavily damaged car, the 29-year-old was taken to the circuit's medical centre for a check-up and Mercedes soon confirmed he was "ok but sore from the crash".
"I'm in a little bit of pain but that's what usually happens when you have a crash like that. They said I pulled 30G or something, but it's okay," Hamilton told Sky Sports F1. "But even if something was broken I'd still be driving tomorrow."
Having cut Rosberg's title advantage to just four points with a victory at his home race at Silverstone a fortnight ago, the crash was especially bad-timing for Hamilton - particularly as he had targeted this weekend as the place to regain his trademark qualifying prowess after Q3 errors at three consecutive events.
And although the Briton can console himself on this occasion that the mistake was not of his own making, his starting position on row eight - which could yet get worse if Mercedes get a penalty for changing his brake material in parc ferme - means Hamilton faces the prospect of losing yet more championship ground.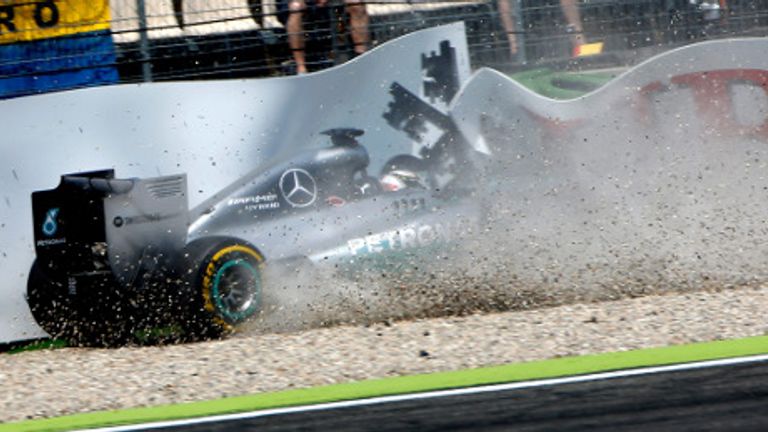 After a red-flag period to clear the striken W05, it was Rosberg who unsurprisingly took full control of proceedings with the championship leader going on to take his first ever pole position on home soil.
The German will be joined on the front-row by Williams' stunningly in-form Valtteri Bottas after the Finn comfortably beat team-mate Felipe Massa to second place.
Kevin Magnussen was another young gun to star and the Dane impressively beat the Red Bulls of Daniel Ricciardo and Sebastian Vettel to fourth, Germany's quadruple World Champion again slipping behind his Australian team-mate in qualifying.
Magnussen's performance was all the more commendable given his experienced team-mate Jenson Button dropped out in Q2, the Briton to start 11th after flagging up traffic problems in the closing stages of his final lap. A similar early exit befell off-colour Kimi Raikkonen as Fernando Alonso took seventh in the lead Ferrari.
Daniil Kvyat claimed eighth for Toro Rosso ahead of Force India duo Nico Hulkenberg and Sergio Perez, who claimed something of a surprise double Q3 result given they again appeared off the single-lap pace in practice.
Watch the 2014 German GP live only on Sky Sports F1. Race-day coverage from Hockenheim begins at 11.30am on Sunday